Jussie Smollett Hits The Stage, Speaks Out For First Time Since Brutal Attack - 'I Fought The F*ck Back!'
Feb 04 | by _YBF
Jussie Smollett isn't letting his attackers keep him down. He hit the stage in LA to speak out for the first time since he was brutally attacked in Chicago. Find out what he had to say and more inside...
Jussie Smollett is a fighter!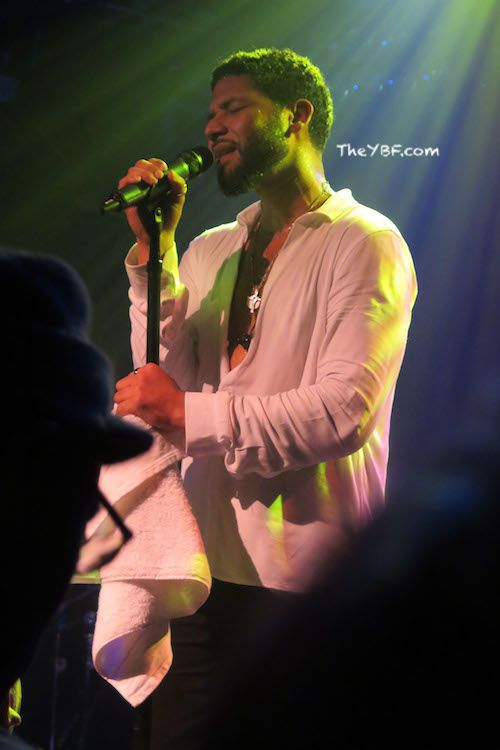 After he was brutally attacked in Chicago last week, the "Empire" star made his first public appearance at the Troubadour in West Hollywood over the weekend for a scheduled performance.
The nightclub was packed with fans with a few celebrities in the audience, including "Empire" co-creator Lee Daniels, Congresswoman Maxine Waters, producer/Get Lifted Film Co. partner Mike Jackson and members of the Smollett family.
As it was previously reported, the horrific attack is being investigated as a possible hate crime after the "Empire" star said he was attacked by two men who yelled out racial and homophobic slurs. He also made claims that the men put a noose around his neck. Chicago PD claims to have two "persons of interest," but no arrests have been made yet.
The 35-year-old actor said he's bruised, but he's NOT broken when he hit the stage after canceling the meet-and-greet portion for security reasons. He also cleared up several discrepancies that have been floating around about the attack.
During his speech, he said there were four points he wanted to address. He said his ribs were NOT cracked or broken despite reports saying so. He said he went to the doctor immediately - driven by choreographer Frank Gatson. He said he was not hospitalized. Both his doctors in LA and Chicago cleared him to perform.
"I'm not fully healed yet, but I'm going to and I'm going to stand strong with you all," he told the audience who cheered him on. "I had to be here tonight. I couldn't let those motherf*ckers win! Regardless of what anyone else says, I will only stand for love and I hope you will all stand with me."

"And above all, he continued. "I fought the f*ck back! I'm the gay Tupac," he joked.
Jussie's family also appeared on stage to speak about the attack.
Peep the clips below:
After his performance, Jussie expressed now is the time to be even more "blacker" and "gayer."
We're SO glad that Jussie is in good spirits and seemingly doing well after the attack.
Photos: Backgrid/Splash