Stacey Abrams Delivers Inspirational Rebuttal To Trump's SOTU Address, Says Government Shutdown Was A 'Stunt' & Calls These 'Political Games' A 'Disgrace'
​
Feb 06 | by _YBF
​ ​ ​ ​
Stacey Abrams calls for unity and social justice while slamming Trump for his disgraceful "political games" with the government shutdown. More inside...
Former Georgia gubernatorial candidate Stacey Abrams delivered the official Democratic response to Trump's State of the Union address. And she CRUSHED it! By the way, she's the first black woman to do so.
Stacey served up a speech of unity, hope and the need to push America to greater heights, accomplishing something Trump hasn't achieved yet as we're well into his 3rd year of leadership. It was a passionate response that touched on issues Trump didn't mention during his address, including LGBTQ support, the realness of voter suppression and mass shootings.
Standing in front of a diverse group of men and women, Stacey shared why she felt - as a black woman - she could run for Governor of Georgia.
"It is this mantra - this uncommon grace of community - that has driven me to become an attorney, a small business owner, a writer, and most recently, the Democratic nominee for Governor of Georgia," she said. "My reason for running for governor was simple: I love our country and its promise of opportunity for all, and I stand here tonight because I hold fast to my father's credo -- together, we are coming for America, for a better America. The former Minority leader of the House in Georgia criticized several of Trump's policies, including health care, gun safety and immigration. And she definitely called him out on playing "political games" with the government shutdown, which has become the longest shutdown in history.
"Just a few weeks ago, I joined volunteers to distribute meals to furloughed federal workers. They waited in line for a box of food and a sliver of hope since they hadn't received a paycheck in weeks. Making their livelihoods a pawn for political games is a disgrace. The shutdown was a stunt engineered by the President of the United States, one that defied every tenet of fairness and abandoned not just our people - but our values."
Where is the lie?
She talked about how when she led the Democratic Party in the Georgia House, she didn't always agree with her constituents, however, they were able to come together for the greater good of the American people regardless of their party affilation.
"For seven years, I led the Democratic Party in the Georgia House of Representatives. I didn't always agree with the Republican Speaker or Governor, but I understood that our constituents didn't care about our political parties -- they cared about their lives. So, when we had to negotiate criminal justice reform or transportation or foster care improvements, the leaders of our state didn't shut down -- we came together. And we kept our word."
"It should be no different in our nation's capital. We may come from different sides of the political aisle; but, our joint commitment to the ideals of this nation cannot be negotiable."
Show. Them. How. It's. DONE.
She went on to talk about how health care costs are literally killing Americans and putting them in debt, herself included.
"My father has battled prostate cancer for years. To help cover the costs, I found myself sinking deeper into debt -- because while you can defer some payments, you can't defer cancer treatment. In this great nation, Americans are skipping blood pressure pills, forced to choose between buying medicine or paying rent. Maternal mortality rates show that mothers, especially black mothers, risk death to give birth. And in 14 states, including my home state where a majority want it, our leaders refuse to expand Medicaid, which could save rural hospitals, economies, and lives."
While she said she disagrees with Trump on just about everything, she still wants him to succeed for the betterment of our country.
"So even as I am very disappointed by the President's approach to our problems -- I still don't want him to fail. But we need him to tell the truth, and to respect his duties and the extraordinary diversity that defines America."
"Thank you, and may God bless the United States of America."
Watch her powerful speech below:
Former Vice President Joe Biden tweeted our exact thoughts following Stacey's rebuttal:
Stacey Abrams achieved in a matter of minutes something Donald Trump failed to do in over an hour -- to embrace and give voice to the spirit and core values that make America great.

— Joe Biden (@JoeBiden) February 6, 2019
Senator Kamala Harris - who recently announced her 2020 presidential run - was also tweeting up a storm on Twitter:
Just a reminder that this State of the Union Address was originally pushed back because Trump shut down the government for 35 days — the longest shutdown in U.S. history. And in fewer than 10 days, there's a chance he will shut it down again over his vanity project. #SOTU

— Kamala Harris (@KamalaHarris) February 6, 2019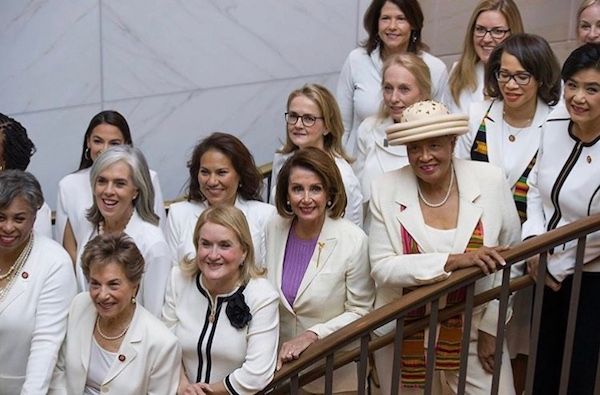 The Women House Democrats wore white for tonight's SOTU, as a nod to women's suffrage.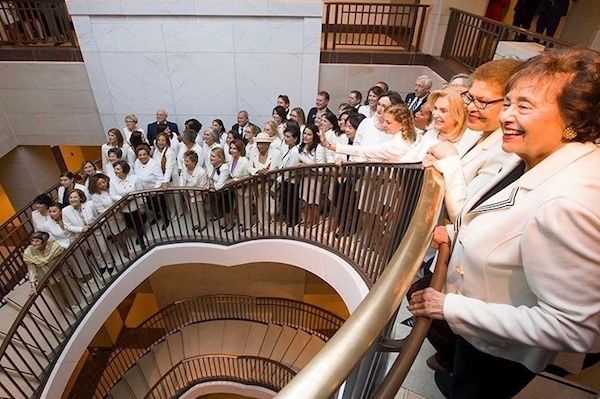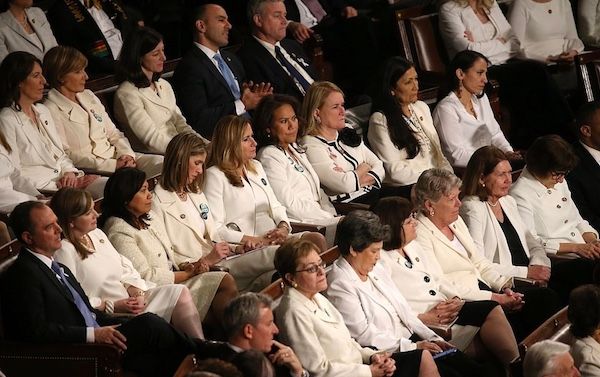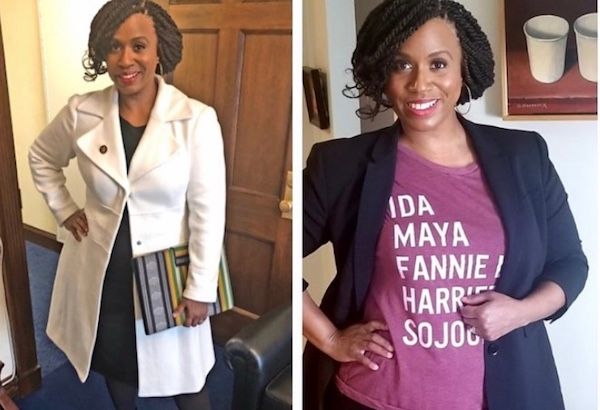 Rep. Ayanna Pressley (D-MA) made sure to also salute the women of color who were excluded from the women's suffrage movement.
As for Trump's speech...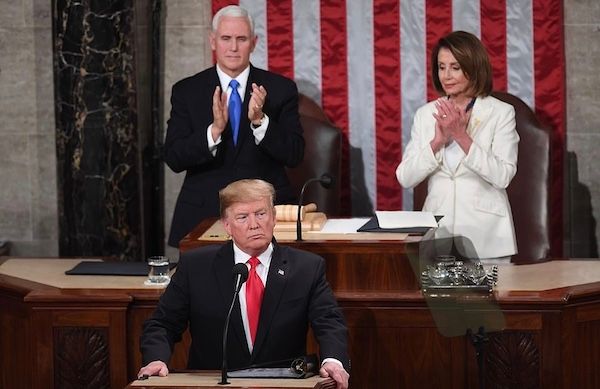 Trump's speech was pretty predictable. With House Speaker Nancy Pelosi and Vice President Mike Pence behind him, Trump urged Congress to approve every last one of his nominees, demanded they give him the money for his wall, AND he wants them the stop investigating him. Of course.
"If there is going to be peace and legislation, there cannot be war and investigation," he said. After he said that, it appeared Nancy laughed. Ha!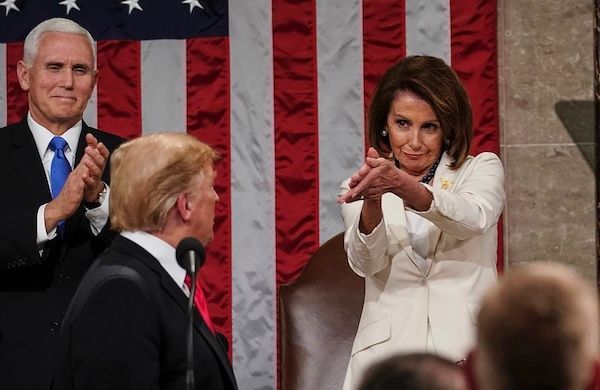 In case you were wondering, Nancy serbed up a saracsatic clap as Trump called for Americans to "reject the politics of revenge, resistance, and retribution, and embrace the boundless potential of cooperation, compromise, and the common good." By the way, this picture has already been turned into hilarious memes.
Trump went after the "left wing" of the Democratic Party, suggesting that some Democrats are issuing "new calls to adopt socialism in our country."
"America was founded on liberty and independence and not government coercion, domination, and control. We are born free, and we will stay free. Tonight, we renew our resolve that America will never be a socialist country," he said.
As expected, he spent a lot of time talking about immigration as he continues to build a case for his wall.
"The lawless state of our Southern border is a threat to the safety, security and financial well-being of all Americans," he said. "We have a moral duty to create an immigration system that protects the lives and jobs of our citizens."
Blah. Blah. Blah.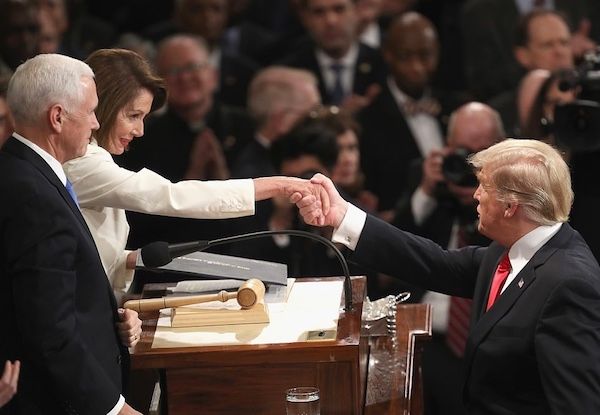 He also served up anti-abortion comments in his speech.
"Let us work together to build a culture that cherishes innocent life. And let us reaffirm a fundamental truth: All children — born and unborn — are made in the holy image of God."

"Lawmakers in New York cheered with delight upon the passage of legislation that would allow a baby to be ripped from the mother's womb moments before birth. These are living, feeling, beautiful babies who will never get the chance to share their love and dreams with the world," he said. "We had the case of the governor of Virginia where he basically stated he would execute a baby after birth."

"To defend the dignity of every person, I am asking the Congress to pass legislation to prohibit the late-term abortion of children who can feel pain in the mother's womb," he said.
Check out the key moments below because we know y'all aren't about to watch the full thing:
Also...
Alice Marie Johnson - the woman Kim Kardashian West helped to get out of prison - was in the audience.
The 63-year-old pardoned inamte was brought to tears when Trump praised her during his speech. She's a non-violent drug offender who served 22 years in prison for her involvement in a drug trakkicking operation.
"When I saw Alice's beautiful family greet her at the prison gates, hugging and kissing and crying and laughing, I knew I did something right," he said. "Alice, thank you for reminding us that we always have the power to shape our own destiny."
By the way, Alice just copped a book deal, along with deals for film and television rights. TIME reports:
Harper, an imprint of HarperCollins Publishers, announced Wednesday that Alice Marie Johnson's "After Life: My Journey From Incarceration to Freedom" comes out May 21. Kardashian West contributed a foreword to what Harper is calling an "honest, faith-driven memoir" and a "deep look into the systemic issue of mass incarceration." Film, television and "life rights" were sold to Endeavor Content and One Community.

"I feel humbled that the telling of my story gives hope and my years of pain were not in vain," Johnson said in a statement.

"My life has forever changed because of Alice Marie Johnson," Kardashian West said in statement. "Her story is a gift that will now reach so many millions more through her book and film. I hope Alice's case is just the beginning of a movement to help those left behind. I am invested in continuing to support Alice and this cause."
Thoughts?
Photo: AP/Getty/Reuters
​ ​
​ ​ ​