'EXTRA' Host A.J. Calloway Suspended After Several Woman Accuse Him Of Sexual Abuse & Misconduct, A.J. Vehemently Denies The Allegations
Feb 10 | by _YBF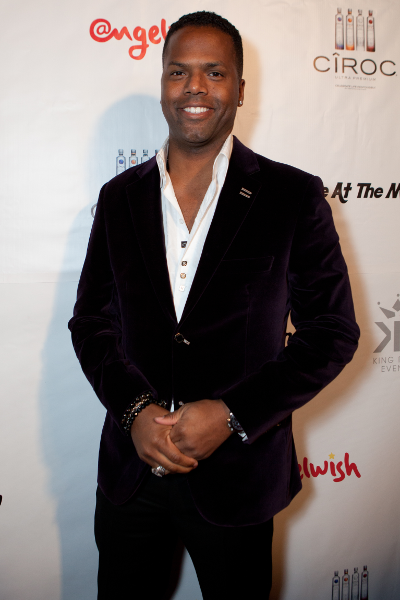 "EXTRA" host A.J. Calloway has been suspended after more women have come forward accusing him of sexual misconduct. This news comes on the heels of Sil Lai Abrams accusing him of sexual misconduct. The TV host denies it all. More inside...
A.J. Calloway - longtime "EXTRA" host - has been suspended after several women have come forward with sexual misconduct allegations. A Warner Bros. Television producer confirmed the suspension in a statement written to The Hollywood Reporter.
News of his suspension comes months after author and domestic violence activist Sil Lai Abrams went public with sexual abuse allegations made against Calloway AND as the publication has been preparing a NEW story with additional allegations.
"Upon becoming aware of allegations of sexual misconduct against AJ Calloway, we began an internal review to determine whether there had been any misconduct by Mr. Calloway on Extra and whether any employee of the show had been the victim of any such misconduct," Warner Bros. Television said in a statement. "To date, we have found nothing to suggest that Mr. Calloway has ever engaged in workplace misconduct."

"In light of additional allegations brought to our attention, we are expanding our ongoing inquiries, and Mr. Calloway has been suspended pending further review," Warner Bros. Television continued. "We take such allegations very seriously and are committed to doing everything we can to ensure a safe and inclusive workplace for all of our employees."
The former "106 & Park" host previously denied any wrongdoing. And he's still sticking to his story.
Lisa E. Davis, the TV personality's attorney, released a statement claiming the allegations are false and that her client denies ever assaulting anyone.
"Mr. Calloway maintains that these unsubstantiated allegations are patently false," Calloway's attorney told THR. "He vehemently denies that he ever assaulted anyone and looks forward to clearing his name."
"EXTRA" is a half-hour syndicated entertainment news program, which is produced and distributed by Warner Bros. Television and airs on NBC owned-and operated stations. The show is moving to FOX stations in Fall 2019. The 44-year-old host has worked for the program since 2005, interviewing prominent celebrities on red carpets and at major events.
Last June, THR first reported sexual misconduct allegations made by Sil Lai Abrams. She made claims that Calloway sexually assaulted her in 2006. At the time he was arrested, but the case was ultimately dismissed "on procedural grounds."
At that time, Calloway's attorney told THR that, "These decade-old allegations are false. They were false when they were first made and are false now. Mr. Calloway fully cooperated with law enforcement from the beginning, denied the allegations, and the case was completely dismissed in November 2007. After the case was dismissed, the court records were sealed as a matter of law and are no longer available."
A.J. also released a statement following the initial allegations, saying, "I was disappointed to read the false allegations about me in The Hollywood Reporter. As I have maintained from the beginning, these allegations are not true. When I was first notified about these allegations by law enforcement more than a decade ago, I fully cooperated from the beginning and the case was dismissed."
It's about damn time, Warner Bros. & @extratv #MeToohttps://t.co/vHTZmpFKfW

— Alecto AKA Sil Lai Abrams (@Sil_Lai) February 9, 2019
In Abrams' 2007 memoir, "No More Drama: Nine Simple Steps to Transforming a Breakdown into a Breakthrough," she recounts how Calloway - whom she referred to as a "Well-spoken B-list celebrity" named Ray - exposed himself to her in the car and then threw himself on her despite her asking him to STOP.
In a new interview with The Daily Beast, Abrams talked about how when she first came out with her story, nothing really happened. Warner Bros. Television didn't even release a statement about the sexual assault allegations.
TDB reports:
As reported in The Hollywood Reporter, Abrams' attempt to speak out was nearly derailed. In January, Abrams taped an interview with MSNBC's Joy Reid. After months of waiting, Abrams eventually came to learn that the network—a subsidiary of NBC, which aired Extra—had passed on her segment. Reflecting on her experience with NBC, Abrams told THR, "They took away my voice."

Abrams' allegations eventually came to light thanks to the thoroughly reported June exposé. But the writer and domestic-violence awareness activist is still disturbed by the lack of impact, specifically when it comes to her allegations against Calloway. And now, two more women have come forward to The Daily Beast alleging that Calloway sexually assaulted them—one of whom reported her claim to the police on Dec. 24.
By the way, Sil Lai Abrams also came forward with sexual assault allegations against Russell Simmons as well.
More accusers have come forward in an article published by The Daily Beast last month.
One woman - using the pseudo name Talia - shared how the TV host forced himself on her after they had dinner and went back to his home where he invited "a group of people to his home to party."
Please reconsider the need for there to be multiple victims willing to go public before the first accuser is believed. This is harmful to ALL victims & protects perpetrators from accountability when others are unwilling to come forward bc they are afraid of not being believed.

— Alecto AKA Sil Lai Abrams (@Sil_Lai) February 9, 2019
Here's an excerpt from her account below:
Once they arrived at his home with the group, she noticed that "he made everyone put their belongings on the kitchen table." The party proceeded downstairs to the entertainment room, which Talia said was complete with a home theater and a bar.

At around three in the morning, Talia remembered, Calloway walked the other guests out. When he came back, she recalled, "We started making out. And I knew I wasn't having sex—I knew adamantly I wasn't having sex because I won't have sex unless I'm in a committed relationship. So, you know, even though I'm kissing him, I'm thinking, this is the first date, we're just making out a little bit—because I've never even had sex on the first night with someone."

"Even though he's tall and he looks skinny, he has some weight to him," she explained. "He's heavy, you know, and he put his whole body weight on top of me. He kept trying to open my blouse. He really was going for my skirt, and I was literally pulling my skirt down because I was not going to allow him to go any further. And he thought it was a game or something because he kept laughing and giggling and I'm like, no, stop, stop. And the more I said stop the more he got aggressive, and that's when I started to realize, oh my God, this is serious. Like, he's really going to try and force me to have sex with him."

"I just remember trying to push him off of me, and this went on for 40 minutes straight," she continued. "Me attempting to push him off of me and fighting to keep him from taking my clothes off. Eventually he got tired, and I think it's because he was so intoxicated—it was wearing him out."

"And I just remember him pulling his penis out and he began stroking himself and he kept trying to put my hand on his penis and eventually he ejaculated on my hands."
You can read her full account here.
During an interview with The Grio in October 2017, Calloway discussed the importance of speaking out and supporting women of color that have come forward with stories of sexual abuse.
"I spoke to a lot of women today, and that's one thing that they said, they said that African-American women are sexually harassed more than women of other races, or white women," Calloway said. "We've got to support our sisters. We have to stand up for them."
Check it:
Interesting.