Folks Are Quite Confused Over Kareem Hunt's New Cleveland Browns Contract + Eric Reid Believes New Panthers Contract Is More Proof NFL Owners Colluded
​
Feb 11 | by _YBF
​ ​ ​ ​
It's an interesting day in the NFL! Ballers Kareem Hunt and Eric Reid have signed new contracts, but there's controversy behind them both. More inside...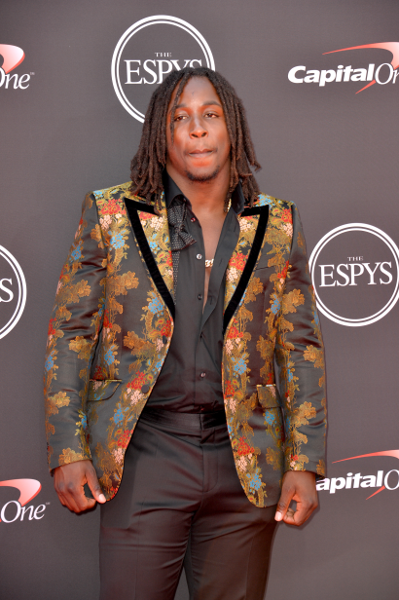 Kareem Hunt is getting a chance at redemption with his hometown team. But, folks aren't here for it.
Today, the Cleveland Browns announced they signed former Kansas City Chiefs running back Kareem Hunt to a one-year deal that could be worth more than $1 million, not factoring in his potential suspension, a source dished to the NFL.com.
You'll recall, the 23-year-old NFL player was cut from the Chiefs organization after a video of him shoving and kicking a woman in the hallway of a Cleveland hotel surfaced. It was reported the woman called him a "n*gger" and he lost it. The incident happened in Febraury 2018, but the video didn't make its way online until November 2018.
He admitted to lying to the Chiefs about the incident when they initially approached him about the matter in his first televised interview with ESPN's Lisa Salters.
2018 was in insane year for the football star. Here's everything he was involved in...allegedly:
In January 2018, Kareem (and former Chiefs running back George Atkinson) was accused of beating down a man at the Mosaic nightclub in Ohio. The aftermath of the fight was caught on video, which can be seen HERE. The alleged victim stopped cooperating with police and no charges were filed in that case.
Then, the incident with the woman in the hotel hallway went down in February 2018. Following that incident, the NFL revealed they were also investigating him for a third incident where he allegedly punched a man in the face at an Ohio resort back in June 2018 (there's no video from that alleged incident).
So yeah, this explains why people are up in arms over the NFL giving him another chance.
Here is your new Pro Bowl RB @Browns fans@Kareemhunt7 pic.twitter.com/3PItZm4qxr

— Bearded Browns Fan (@Browns_Beard32) February 11, 2019
Browns general manager John Dorsey released a statement, revealing their were two main factors that were considered when they decided to sign Hunt.
"There were two important factors: one is that Kareem took full responsibility for his egregious actions and showed true remorse and secondly, just as importantly, he is undergoing and is committed to necessary professional treatment and a plan that has been clearly laid out."
Read his full statement below:
Statement from GM John Dorsey: pic.twitter.com/TUgoBalvkg

— Cleveland Browns (@Browns) February 11, 2019
Hunt also released a statement, issuing another apology for his previous actions:
Statement from RB Kareem Hunt: pic.twitter.com/JPRFnkRdCy

— Cleveland Browns (@Browns) February 11, 2019
"First off, I would like to once again apologize for my actions last year. What I did was wrong and inexcusable. That is not the man I was raised to be, and I've learned a great deal from that experience and certainly should have been more truthful about it after the fact. I'm extremely grateful that John Dorsey, Dee and Jimmy Haslam and the Cleveland Browns organization are granting me the opportunity to earn their trust and represent their organization in the best way possible on and off the field. I am committed to following the necessary steps to learn and to be a better and healthier person from this situation. I also understand the expectations that the Browns have clearly laid out and that I have to earn my way back to the NFL. I'm a work in progress as a person, but I'm committed to taking advantage of the support systems that I have in place to become the best and healthier version of myself."
As far has his game suspension goes, the NFL.com reports:
NFL Commissioner Roger Goodell noted during Super Bowl week that if Hunt were signed by an NFL team "the clubs understand he'll go on the Commissioner's Exempt List at that point in time until the discipline process has concluded whether there is discipline or not discipline we will finish the investigation and then make a determination."

Rapoport also reported that Hunt, who has been undergoing alcohol and anger management counseling, has had his meeting with NFL investigators regarding the three incidents under review.
Folks are mad and confused over the Browns signing the troubled free agent:
Kareem Hunt is ON VIDEO kicking a woman while she's on the ground and still got signed.
Thank God he didn't take a knee protesting social justice.

— mike freeman (@mikefreemanNFL) February 11, 2019
Well kids, he might be an abuser, but he's really good at football and that's what really matters.

— Lebron Is The GOAT (@lebronbots) February 11, 2019
How many more women does Hunt need to beat up in order for him to not get anymore chances?

— OffSZN (@xCash24) February 11, 2019
Kareem Hunt: signed by Browns
Colin Kaepernick: still unsigned

Because remember guys...
Knee to the face of a woman = OK. Knee to the ground during a song = VERY NOT OK.

— Joe Praino (@FixYourLife) February 11, 2019
Kareem Hunt got a job before Kap. The NFL is trash lmao

— gene-dragon (@eugenehu) February 11, 2019
So the Browns just gonna sign Kareem Hunt and y'all gonna tell me Kaep still doesn't have a job? Lol NFL trash

— Fran Kilinski (@Fran_Kilinski) February 11, 2019
You cut Josh Gordon because it is in his best interest to get professional help. You have a successful RB committee in Duke Johnson and Nick Chubb. You have probably the biggest fan base you have ever had since the 70's... and to throw it all in the trash, you sign Kareem Hunt...

— Thats Mr Jones (@braedenjones27) February 11, 2019
Thoughts?
Like we said, today was a wild day in the NFL...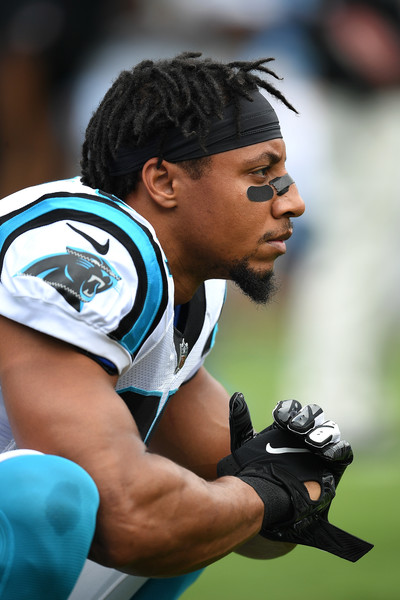 Eric Reid - who filed a collusion lawsuit against the NFL in May 2018 - just signed a three-year contract worth $22 million to return to the Carolina Panthers. The safety believes the move is additional proof that NFL owners conspired to keep him out of the league last season. Reid said he believes he got "fair market value" after only making $1.69 million last season from the Panthers.
The AP reports:
"If anything, it proves my point from last year," Reid said. "I didn't sign until the (fourth) week and did for almost the league minimum. And this year I signed a more substantial contract. And nothing has changed. I'm still the same player."

Reid still has a collusion case pending against NFL owners, alleging that he wasn't signed last offseason as a direct result of his decision to kneel for the national anthem alongside former teammate Colin Kaepernick in protest of social and racial injustice.
As we all know former 49ers quarterback Colin Kaepernick - who has also signed a collision lawsuit against the league - is STILL out of a job at the NFL and Reid believes that won't change anytime soon.
"Knowing what I know my hope tank is on E (empty)," Reid said.

Reid also addressed the joint statement from the NFL and the NFL Players Association in January that he was not targeted by the league with too many drug tests in 2018.

"I believe otherwise," Reid said.
He might be on to something.
No reaction from his homie Colin just yet.
Photos: Featureflash Photo Agency / Shutterstock.com/Getty
​ ​
​ ​ ​