Jussie Smollett Gets Emotional About Doubters During First Interview About Attack
​
Feb 13 | by Natasha
​ ​ ​ ​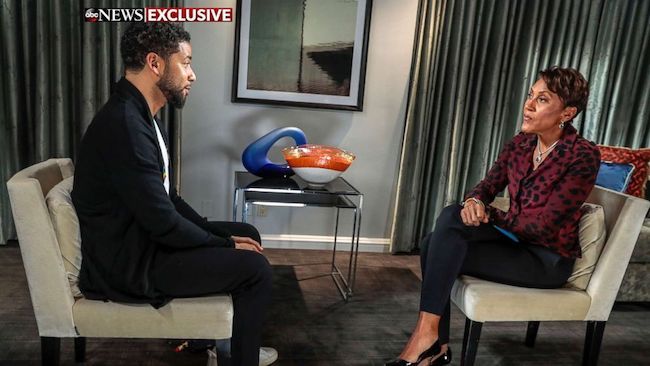 Jussie Smollett is speaking out for the first time on TV since his attack, and he's getting quite emotional about people not believing his story. The first look inside.
Robin Roberts secured the first interview with Jussie Smollett since his Chicago attack, and their sit down will air tomorrow (Thursday) morning. He spoke on being angry that people are doubting the truth of his story.
"What is it that has you so angry? Is it the...attackers," Roberts asked. "Attackers, but it's also the attacks," Smollett responded. "It's like, you know, at first, it was a thing of, like, 'Listen, if I tell the truth then that's it, 'cause it's the truth."

Then it became a thing of like, 'Oh, how can you doubt that? Like, how do you-- how do you not believe that? It's the truth.'" "And then it became a thing of like, 'Oh, it's not necessarily that you don't believe that this is the truth, you don't even want to see the truth,'" he added.
Jussie also spoke up recently about handing over his phone records, despite Chicago PD claiming he didn't. The police reportedly rejected his submission, saying they needed an original hard copy bill instead of a downloaded PDF.
Catch up on the latest HERE.
​ ​
​ ​ ​