21 Savage May Still Get Deported Due To Trump's Policy + D.C. ICE Officials Allegedly Ignored Rapper's Expunged Conviction & Kept Him Detained
Feb 14 | by _YBF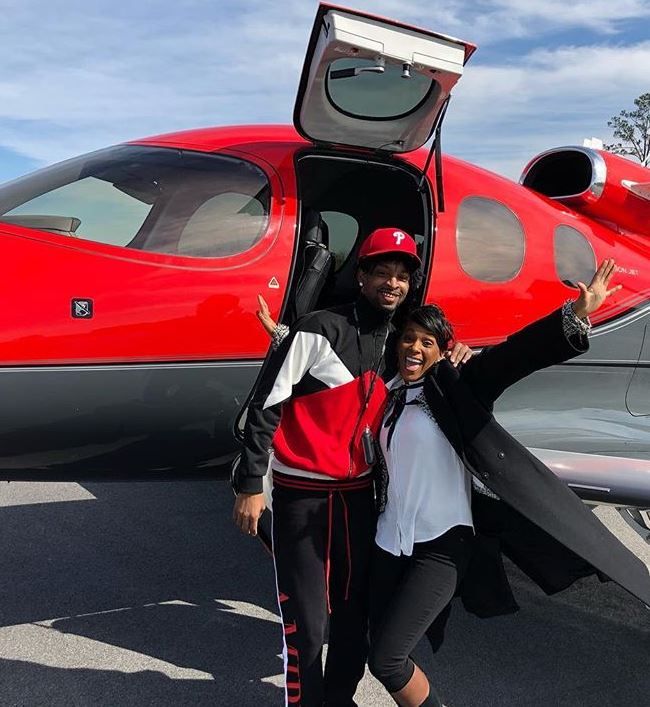 21 Savage is a free man after being released on bond (pictured above being picked up from near the detention center yesterday), but he could be deported thanks to Trump. Get the deets, plus find out how ICE officials were plotting and scheming (allegedly) inside...
More details about 21 Savage's arrest are trickling in and it seems ICE officials were up to no good, IF what's being reported is true. We'll get to Trump in a few.
So, 21 Savage (real name She'yaa Bin Abraham-Joseph) has been released from the custody of the Immigration Enforcement Agency (ICE) after he was arrested in Atlanta over Super Bowl Sunday during a "targeted operation." ICE claims 21 is a citizen of the United Kingdom and was living here illegally, but he filed for a U-Visa in 2017.
Apparently, ICE officials in Atlanta have been on 21's heels over the last few months. It's reported they wanted to arrest him and hold him without a bond until he could be deported.
The reason they wanted to keep him detained without bond? They THOUGHT he was a convicted felon and that would automatically disqualify him from being able to post bond. You see, 21 copped a drug conviction in 2014, however, it was expunged from his record. Somebody must have been sleeping on their job in the court system because his records weren't updated, so all ICE officials saw was the conviction. Supposedly.
So check it, once they have him detained, they allegedly found out that he's NOT a convicted felon as they previously thought. But apparently, they didn't care. TMZ reports:
We've learned just days ago ICE headquarters in Washington D.C. got involved in the case, and when they did, ICE had already figured out 21 was not a felon and therefore should have been released on bond. Our sources say ICE in D.C. IGNORED the fact that the conviction was erased and doubled down, saying 21 should NOT be released. No one we've spoken to has any idea why D.C. took such a position when it was not supported by the facts.
We wonder why they ignored the fact that the conviction was expunged.
Since the 21 arrest was a "targeted operation," ICE officials were on the scene when he was arrested in Atlanta. It's reported ATF first scooped him up and then handed him over to an ICE agent on the spot.
What's interesting is that it was previously reported the police first pulled 21 (who was driving) for allegedly "driving across a sidewalk" to get onto another street. So, were they following him waiting for him to do something to arrest him or what? And if they were looking to detain him, why not just go pick him up and arrest from his home? Questions that need answers.
So here's how Trump gets into the mix...
21's U-Visa application will be processed and it's very likely he'll be approved - even though it usually takes 4 years - now that he meets all the criteria. He has children in the country, he has no convictions (thanks to that expunction) and he has been here for more than 10 years. But, not so fast.
A new Trump policy could still have him deported. TMZ reports:
Turns out Trump changed the immigration policies from Obama and Bush. We're told Trump's marching orders are to deport people who have a pending visa application -- even if it's a slam dunk -- and they can come back if and when it's approved.

We've learned, before 21 Savage was released Tuesday, ICE agents told him they would drop deportation proceedings if he voluntarily left the country. We're told he passed and will fight to stay.
As you know, Jay-Z hired high-powered attorney Alex Spiro to assist in the case. While things are seemingly looking up for the "A Lot" rapper, it's still a waiting game.
His mom, Heather, posted some pictures of her son after he was released and thanked everyone, including Hov, Cardi B, Offset, and J. Cole - who has helped him in the case:
By the way, 21 Savage will sit down with "Good Morning America" tomorrow morning (Feb. 15th) to talk about his immigration arrest and case.
Photos: Heather's IG