SNEAK PEEK: Angela Simmons Gives Advice On How To Self-Love After A Toxic Relationship
Feb 14 | by Natasha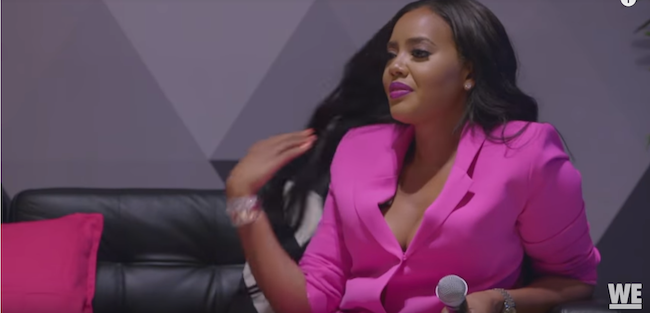 Just in time for Valentine's Day, single lady Angela Simmons is talking self-love, and how to achieve it after a toxic relationship. She dishes on her own experience inside...
On tonight's episode of "Growing up Hip Hop," Angela Simmons heads to the Fearless Conference to chat up ladies about bouncing back from a toxic relationship.
She doesn't name names, but it does seem like she could possibly be speaking about her recent relationship with her late ex-fiancé and father of her 2-year-old son SJ, Sutton Tennyson.
She gave advice on how to spot toxicity - like your significant other isolating you from family and friends - and how to love yourself enough to leave before it's too late.
Check it:
"Growing Up Hip Hop" airs tonight on WeTV.
Earlier this week, more information about Sutton's November 2018 murder leaked. His autopsy results were released, and he was shot a reported 13 times. TMZ reports:
We knew Sutton Tennyson was shot multiple times back in November, but now his autopsy reveals the exact number of fatal shots was 13 ... to his chest, stomach, legs and arms. The Fulton County Medical Examiner says 3 of the shots did an "enormous amount of damage" to his heart ... piercing several chambers of the organ.

Other shots were lodged in Sutton's lungs, and pierced his stomach and spleen. Nine of the shots penetrated his body, and 4 only cut or grazed him.
Sutton was in his Atlanta home's driveway when he reportedly got into an argument with the now arrested suspect Michael Williams, who reportedly fired shots then fled in a car. He denies the claims.
Photo: WeTV