Soulja Boy & Blac Chyna Celebrate 1st Valentine's Day Together + Lil Mo (Temporarily?) Drops Hubby Karl After He Facetime's Chick On TV
​
Feb 15 | by _YBF
​ ​ ​ ​
Love was in the air for Soulja Boy and Blac Chyna on Valentine's Day. Find out how the new couple celebrated, plus the drama Lil Mo is going through with her husband Karl Dargan inside
Yesterday was lover's day, so Hip Hop's newest couple celebrated their first holiday today.
Soulja Boy and Blac Chyna were spotted shopping it up in Beverly Hills on Valentine's Day. Chy loves a good shopping spree when she gets a new boo.
The new couple hit up Saks Fifth Avenue and were seen exiting the store holding hands. The "Crank Dat" rapper held several bags as he escorted his lady to a white Rolls Royce. He put the bags in the car while Chy signed an autograph, then he opened the door for her to help her inside the ride, but not without copping a quick feel on her butt.
On Instagram Stories, Soulja shared videos of Chyna opening Christian Dior candles and he also panned the camera over several Chanel handbags he gifted her.
"Happy Valentine's Day," Soulja wrote on IG, captioning a picture of himself with Chy in the passenger side of his Rolls Royce.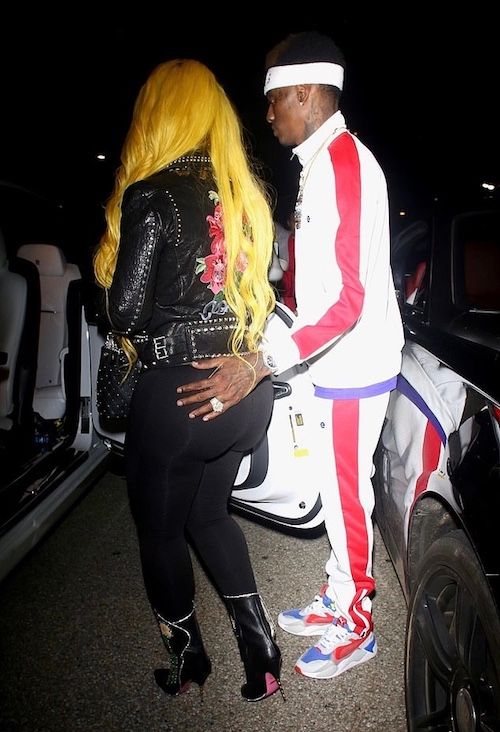 We just learned about Soulja and Chy's relationship this week after the rapper posted up pictures and IG Stories with the mom-of-two. After calling it quits with their previous partners, the two slide into each other's DMs and have been dating for about a week now. They reportedly met up at Sean Kingston's LA penthouse last week. During Grammy weekend, they were practically joined at the hip.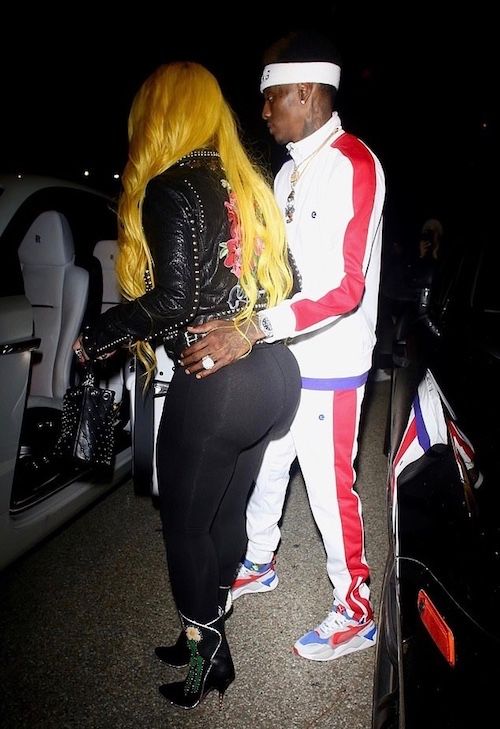 Looks like it's official. And it's safe to say he and Nia Riley are dunzo. At least for now.
Soulja's "Marriage Boot Camp: Hip Hip Edition" co-star Lil Mo is here for the new love:
Interesting since Mo has been supportive of Soulja and Nia on the show.
She has her own mess to deal with though. Apparently, her husband Karl Dargan made a very not-smart decision to Facetime a woman with 27 cameras on him at all times on the show. Hmm...PR stunt or???
Of course, he did it while Mo wasn't in the room, we're just confused why he thought he would get away with Facetiming ANOTHER woman on national television. Oh, and it gets worse.
"Tell me you love me," he is heard telling the unidentified woman on the phone. Dumb.
Peep the clip below:
Once she caught wind of the clip, Mo went slam off on Twitter. Peep the tweets:
— LIL' MO (@THELILMOSHOW) February 8, 2019
TELL ME YOU LOVE ME!!! FUCK YOUUUUUUUU YO #HipHopBootCamp

— LIL' MO (@THELILMOSHOW) February 8, 2019
almost done and this nigga do some CAP SHIT. now i'm mad all over again. i should kick him in his fcukin neck yo. dirty ass whores #HipHopBootCamp

— LIL' MO (@THELILMOSHOW) February 8, 2019
but i'm the mean one hmmmmmmm i would never disrespect nobody on TV like that especially when i'm tryna fix it. i wouldn't do nothing sneaky like that. EVER. but it's cool!!! i hope it was worth it. NO CAP #HipHopBootCamp

— LIL' MO (@THELILMOSHOW) February 8, 2019
Karl then hopped on Twitter, posting tweets asking the fellas to "flow" with him - whatever that means. Of course, Mo responded:
I just need all my male followers to just FLOW wit me on this one #hiphopbootcamp

— Karl Dargan (@DynamiteKO) February 8, 2019
dead ass wrong!! if i wasn't solid i would make an excuse. but there is literally no reason he should've done that EVER

— LIL' MO (@THELILMOSHOW) February 8, 2019
i guess there wasn't nothing else to do but to hurt me more

— LIL' MO (@THELILMOSHOW) February 8, 2019
I see everyone's comments in my mentions. THIS SHOW #hiphopbootcamp is EPIC.... just make sure y'all stay tuned in, and keep the SAME energy

— Karl Dargan (@DynamiteKO) February 13, 2019
After the spat, Mo tweeted she has a new song coming out with Wiz Khalifa:
i love y'all. thanks for taking this journey with me. i can't wait to drop MY song called "THE PLUG" featuring @wizkhalifa and my son Amazin Justin

— LIL' MO (@THELILMOSHOW) February 8, 2019
It was all good a week ago:
Well alright. Be sure to tune in to "Marriage Boot Camp: Hip Hop Edition" Thursdays at 10/9c on WEtv.
Back to the Valentine's Day Love....
We've rounded up V-Day posts from your faves! Check them out:
We see Valentine's Day brought Lala and Carmeo Anthony back together...officially.
We hope you all enjoyed lover's day!
Photos: MEGA/Backgrid/Soulja's IG
​ ​
​ ​ ​