NBA ALL-STAR GAME RECAP: Anthony Hamilton's Marvin Gaye-esque National Anthem Has Folks Divided + J. Cole, Meek Mill & Janelle Monae + #TeamLeBron Wins!
​
Feb 18 | by _YBF
​ ​ ​ ​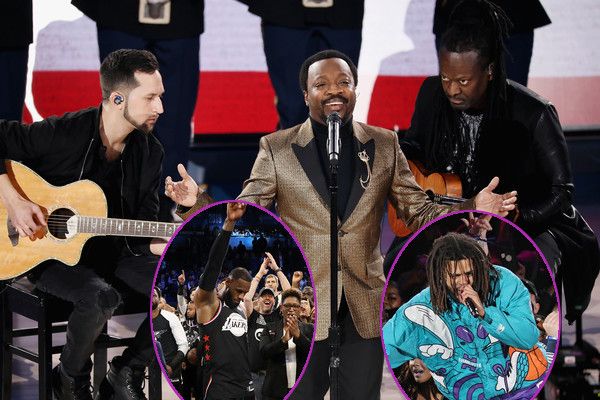 We've got a recap of the 2019 NBA All-Star Game! Get into Anthony Hamilton's National Anthem performance and why it has gone viral, J. Cole paying homage during his halftime performance, LeBron James' team nabbing the win, Kevin Durant winning MVP, Meek Mill's performance and more!
Anthony Hamilton, a Charlotte native, was tapped to perform the National Anthem during the 2019 NBA All-Star Game in Charlotte. We all know Anthony can blow, however, folks are divided about his rendition of the "Star Spangled Banner."
Some tweets on Twitter praised Anthony's rendition, comparing it to the late Marvin Gaye's rendition when he performed the anthem during the 1983 NBA All-Star Game. Others...not so much. First, peep his performance below:
To compare, here's Marvin Gaye's performance from 30-years ago:
Thirty six years ago today, Marvin Gaye performed the National Anthem at the 1983 NBA All-Star Game. pic.twitter.com/p114lsks9G

— evan auerbach (@evboogie) February 14, 2019
Below are the mixed reviews of Anthony's performance:
Anthony Hamilton's rendition of the anthem was almost as good as Marvin Gaye's...ALMOST...He was great

— Mychal Thompson (@champagnennuts) February 18, 2019
Don't go chasing Marvin Gaye waterfalls, please stick to the Anthony Hamilton that you're used to?!?!? #AllstarGame

— LJ (@Leen73A) February 18, 2019
Might have to put Anthony Hamilton in my top 3 anthems ever with Marvin Gaye at the ASG and Whitney at the Super Bowl. Really like that rendition.

— DVS (@DVSWhatItTweets) February 18, 2019
I should clarify... I didn't hate Anthony Hamilton's version, nor am I one of these people who's overly strict or precious about the anthem. Just... dunno, that was a reeeeaaaalll departure

— John Slick (@johnmslick) February 18, 2019
During Anthony's performance, folks couldn't help but notice the guitarist's face that has since gone viral:
#NBAAllStar
Lmao Anthony Hamilton must of farted

Look at the guitarist reaction he deserves MVP for the All-Star game pic.twitter.com/almLI7aSGM

— UltraInstinct (@shanshan888888) February 18, 2019
The dude behind Anthony Hamilton is like, "That's not what we rehearsed" pic.twitter.com/zDYG8NLcmy

— MB (@babyitsmb) February 18, 2019
WEAK!
Were you feelin' Anthony Hamilton's rendition or nah?
Charlotte native J. Cole was tapped to perform during the halftime show and he took it back while showing hometown love. The rapper whipped out his throwback Hornets jacket for his performance and folks loved it. Peep her performance below:
Everyone's new favorite rapper-activist Meek Mill kicked off the All-Star game with a performance during the announcements. Check it:
After the game, someone put up $4,000 that the "Dreams & Nightmares" rapper couldn't shoot a three. See if he nabbed the bag below:
Janelle Monae put on a whole pre-game concert too backed through AT&T:
As for the game....
It started off a bit rocky for LeBron James' team, but they pulled off a WIN against Giannis Antetokounmpo's team.
Once they hit the court for the 2nd half, Team LeBron flipped a 20-point deficit into a 178-164 victory. King James got to play with his homie Dwyane Wade one last time as this was D. Wade's last NBA All-Star appearance and his final season in the NBA.
Warriors forward Kevin Durant copped the All-Star Game MVP after wrapping up the game with 31 points and seven rebounds.
#NBAAllStar MVP

Congrats, @KDTrey5! pic.twitter.com/7GJQAzWtB1

— Golden State Warriors (@warriors) February 18, 2019
Congrats, Durant!
Several celebs were in the mix, including Janelle Monae, Gabrielle Union, Allen Iverson, Antonio Brown, Ludacris, Gucci Mane, Keyshia Ka'oir, Spike Lee, Chris Tucker, JB Smoove, Guy Fieri, 2 Chainz, Quavo and more:
.@2chainz was collecting jerseys last night! #NBAAllStar pic.twitter.com/wpZWRQ79zR

— NBA on TNT (@NBAonTNT) February 18, 2019
And here's how the NBA GOAT - Michael Jordan - celebrated his 56th birthday:
Fun times.
Photos: Getty
​ ​
​ ​ ​