Fyre Festival 2.0? Ja Rule STILL Hinting At Planning An 'Iconic' Music Festival
Feb 19 | by _YBF
Scammer szn is never over, apparently. Ja Rule is determined to bring the greatest music festival ever even after all of the drama and chaos with the Fyre Festival. Find out what he said about his new "iconic" festival inside...
With all the attention the Fyre Festival has received, Ja Rule is looking to cash in on it and bring his fans the greatest music festival of all times.
We all saw the sh*tstorm that went down behind-the-scenes as Ja - co-founder of the alleged Fyre Festival - and his business partner Billy McFarland tried to produce a "luxury music festival" on TWO documentaries via Netflix and Hulu. It was created with the intent of promoting Billy's Fyre app for booking music talent.
It def looked all good on social media, but when it was time to execute, it was a total FAIL. Like, HUGE fail. People had coughed up thousands of dollars for what was supposed to be this super luxe music festival in the Caribbean, only to be met with cheese sandwiches, FEMA-like tents and no concerts.
We dished on all the foolywang material on a recent podcast. Take a listen below: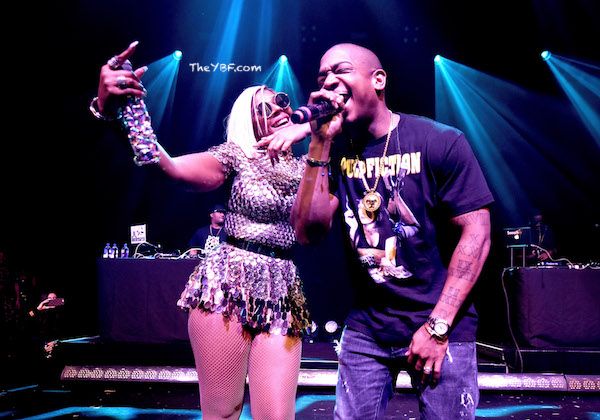 Now, Ja (pictured above performing with Ashanti over the weekend) has his own artist booking platform, ICONN, which is similar to the Fyre app. He's looking to create an "iconic" musical festival, minus the scammer season steez.
"[Fyre Festival] is the most iconic festival that never was," the 42-year-old rapper told photogs at LAX. "So I have plans to create the iconic music fest but you didn't hear it from me."
Needless to say, Bill McFarland won't have anything to do with this festival. He's currently in jail for fraud associated with the festival. He pled guilty to wire fraud and was sentenced to six years in October 2018.
Ja said watching the festival go up in 'fyre' was "heartbreaking," but he seemingly wants to redeem himself.
Peep the clip below:
Meanwhile...
The "Mesmerize" rapper is currently jetting around the States, hitting the stage with his Murder Inc. partner Ashanti. The two rocked out at The Warfield Theater in San Francisco (pictured here) recently.
So, would you trust your coins with Ja for a Fyre Festival 2.0 situation, or nah?
Photos: MEGA