Tekashi 6ix9ine's Cooperation With The Feds Is Confusing AF, His Freedom Isn't Necessarily Guaranteed + 50 Cent Lawyers Up After NYPD Cop's Alleged Order To Kill
Feb 19 | by _YBF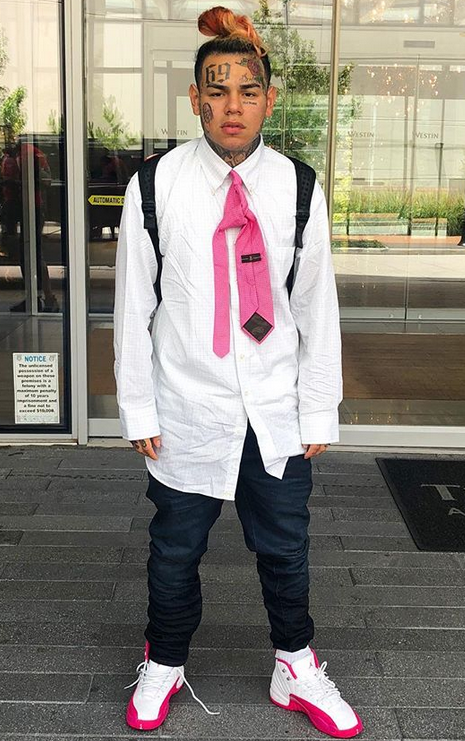 Tekashi 6ix9ine struck a plea deal with prosecutors, but his release isn't as cut and dry as it may seemas. Get the latest, plus 50 Cent is considering lawyering up after an NYPD cop allegedly threatened his life. Everything inside...
Rapper Tekashi 6ix9ine (real name Daniel Hernandez) has struck a plea deal with federal prosecutors in Manhattan where he admitted to several crimes, including raketeering, conspiracy, weapons possession, drug trafficking, and more. He was facing a minimum sentence of 47 years and a maximum of life behind bars after pleading guilty to several charges. However, the mandated time could be reduced now that he's confessing.
After news hit that the "FEFE" rapper reportedly struck a plea deal, folks automatically assumed he would walk free, but that doesn't seem to be the case.
It's been reported Tekashi testified before the Grand Jury and the U.S. Attorney in the Southern District of New York agreed "not to prosecute [69] for the crimes set forth in Counts One through Nine of the Superseding Information as well as additional crimes that the defendant has told the government about."
That could possibly mean the crimes he confessed to would be wiped off his record and prosecutors wouldn't go after him for crimes he told prosecutors about, but have not yet been charged. So, he's off the hook, right? Not so fast.
The Blast points out some very important verbiage was left out from the paperwork, which still means Tekashi could still do some time behind bars and NOT be immediately released.
Also, Tekashi's ex-girlfriend/daughter's mother Sara Molina - who claims she was physically and sexually abused by the rapper and now fears for her life from enemies mad at Tekashi for cooperating - sat down with VLAD TV where she read part of the hearing transcript.
"He basically admitted to the crimes he took part of, his participation, and he's agreeing to disclose any other information as far as what happened and who was there and how it happened," Sara explained. "And set forth, since he has done that, as long as he doesn't get into any further criminal activity or crime, all nine counts are out the window. That's how I take it. Basically, we could read in between the lines of what his agreement was."
Take a listen below at the 2-minute mark:
The site reports:
But according to our sources, that passage is missing a very important word — further — as in, the document should have stated that the U.S. Attorney's Office "agrees not to prosecute the defendant further [emphasis added] for the crimes set forth in Counts One through Nine of the Superseding Information as well as additional crimes that the defendant has told the government about."
So yes, his sentence could be reduced a lot, however, it seems to depend on how much he cooperates and if the judge can be convinced to give him a lighter sentence.
Also, with all the information Tekashi has given federal prosecutors, they may require that he be placed in witness protection. That's going to be hard with all his tattoos, especially that 69 tatted on his forehead. Folks have been dragging Tekashi for "snitching" on his former crew. It's a sticky situation now that people know that he told on his former affiliates. That not only puts himself in harm's way, but it also puts his mother, daughter and daughter's mother in danger.
In other legal news...
An NYPD cop is being investigated after he allegedly threatened 50 Cent's life.
According to reports, the "Power" producer/star was scheduled to attend a police sanctioned boxing match in the Summer of 2018. Officer Emanuel Gonzalez, a 30-year vet, allegedly told officers to "shoot him on sight."
Following the news, Fif hopped on Twitter to react, revealing he's consulting with his lawyers in regards to his options on moving forward with a possible case. Check it:
This is how I wake up this morning, This guy Emanuel Gonzales is a dirty cop abusing his POWER. The sad part is this man still has a badge and a gun.
I take this threat very seriously and im consulting with my legal counsel regarding my options moving forward. pic.twitter.com/5HWk2tqYFo

— 50cent (@50cent) February 17, 2019
Mayor de Blasio we have a system in place that doesn't work with out good people. This piece a shit Deputy Inspector Emanuel Gonzalez has to be dealt with. He is a embarrassment to Law Enforcement's. pic.twitter.com/XqA12wHD15

— 50cent (@50cent) February 17, 2019
Smh this guy is a Gangsta with a badge emanuel gonzalez, is not fit to be a commanding officer. #nynotsafe #thegangstagotabadge pic.twitter.com/nm2FLMPxrk

— 50cent (@50cent) February 18, 2019
Keep in mind there are some good people working in Law Enforcement. Like the officers that reported what he said to them. Emanuel Gonzalez is Gangsta with a badge. pic.twitter.com/t5g4ygdPbb

— 50cent (@50cent) February 18, 2019
now I'm looking at the cops different. pic.twitter.com/Dyc5et9cVh

— 50cent (@50cent) February 18, 2019
How does a commanding officer head of Precinct regress to this point. Oh he been doing shit for 30 years He a Gangsta. Emanuel Gonzalez NYPD pic.twitter.com/kWTMe5nImd

— 50cent (@50cent) February 19, 2019
Cray.
Photos: Tekashi's IG/Jamie Lamor Thompson / Shutterstock.com