BLACK BOY JOY! POTUS Obama Addresses Toxic Masculinity & Hip Hop Culture At Empowering 'MBK Rising' Town Hall With Steph Curry, John Legend & More
​
Feb 21 | by _YBF
​ ​ ​ ​
President Barack Obama hosted a town hall discussion with Steph Curry, John Legend and more to celebrate the fifth anniversary of his "My Brother's Keeper" initiative. Go inside to see POTUS address toxic masculinity, Hip Hop culture, and he even cracks jokes on Steph...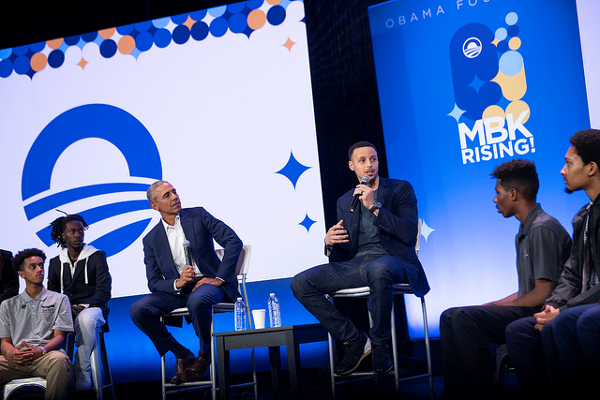 Five years ago, former President Barack Obama launched "My Brother's Keeper," an initiative started he started while in office, following the death of Trayvon Martin. And it clearly wasn't just for Presidential clout, because he's keeping it going even 2 years out of office.
Celebrating all of the work put into the initiative, POTUS hosted "My Brother's Keeper Rising! (MBK Rising!), a two-day national gathering of hundreds of young men of color and leaders from organizations in the growing network of MBK Communities at the Scottish Rite Center in Oakland. Golden State Warriors player Stephen Curry joined Obama on stage for a Q&A where young men of color were able to ask questions about issues they're currently facing in today's society.
One young man asked how can young men change the narrative of "what it means to be a man," which is forcing them to follow a path that doesn't align with their true identity.
"Being a man is first and foremost being a good human and that means being responsible, being relible, working hard, being kind, being respectful and compassionate," POTUS responded. "The notion that somehow defining yourself as a man is dependent on are you able to put someone else down instead of lifting them up, are you able to dominate as opposed to support. That is an old view. A view that thankfully I see a lot of people rejecting," he continued.
We love that he is speaking on this very important issue so candidly.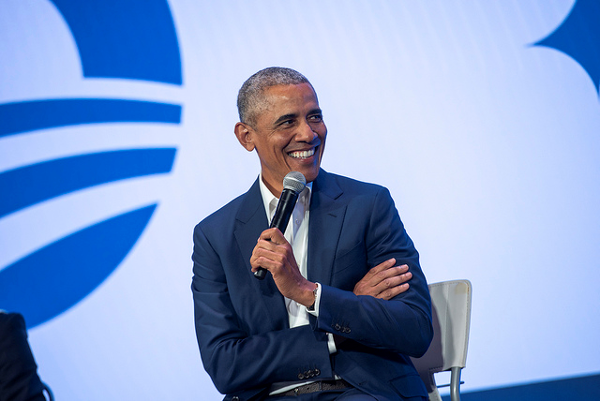 President O said everyone has gifts where we can express ourselves in different ways and that's magic. He said he wants to create a space for young men of color, so they don't have to feel as if for them to be respected and admired in their community that they have to act a specific way. He said a lot of the violence and pain we suffer in our communities arises out of young men who haven't been taught what it means to be respected.
"They're looking around like 'I guess being respected means, I have to shoot you. I can make you back down. I can disrespect you and there's nothing you can do about it.' That is a self-defeating model for being a man," he explained.
Mr. Obama said we have to lift up examples of successful men who don't take that approach and that's hard to do in this society. He said a lot of Hip Hop/Rap music is built around "me showing you how I have more money than you, I can disrespect you and you can't do anything about it. I can talk about you and punk you." That actually shows the vulnerability of men who think like that feel.
"If you were really confident about your financial situation, you probably aren't going to be wearing an eight pound chain around your neck because you know, 'I got bank. I don't have to show you how much I got.'"
"If you're very confident about your sexuality, you don't have to have eight women around you twerkin', he said. "You seem stressed that you got to be acting that way because I have one woman who I am happy with. And she's a strong woman."
"If you're confident about your strength, you don't need to show me by you putting someone else down. Show me how strong you are by lifting someone else up, and treat somebody well and be respectful. Lead in that fashion."
YOSSS! We totally agree with all of this and every man needs to hear this. Steph couldn't even say anything after Obama's response.
"I've just been mentored," Steph reacted.
Oh, POTUS had jokes too. Check it:
Ha!
Watch below at the 51:10-minute mark where Obama addresses masculinity and Hip Hop culture: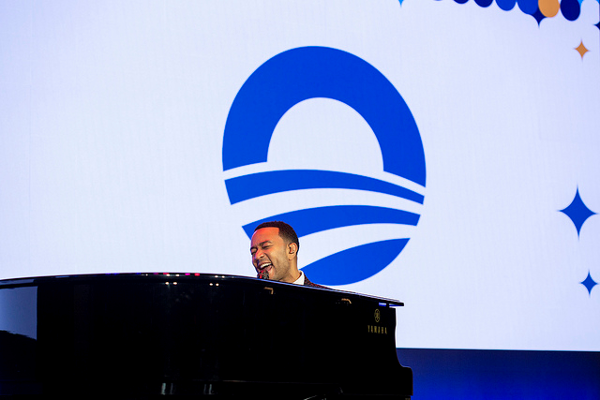 During another session at MBK Rising, John Legend engaged in a discussion with Sybrina Fulton, the mother of Trayvon Martin; Rev. Wanda Johnson, the mother of Oscar Grant; and Rep. Lucy McBath, the mother of Jordan Davis. EGOT Legend also performed.
Check it:
Retired NFL star Victor Cruz joined a panel discussion with with Chicago and Albuquerque MBK Impact Communities about criminal justice reform and on how California and New York State MBK Communities are making progress on systemic issues.
On President's Day...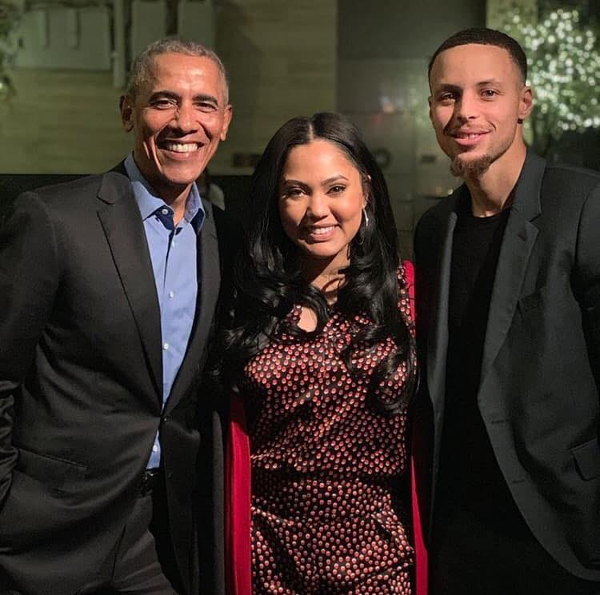 POTUS linked up with Steph and Ayesha Curry for some good barbecue eats at Ayesha's San Francisco restaurant International Smoke on Monday.
"'Could you imagine the unimaginable?!'" Feeling blessed beyond measure," Ayesha captioned on Instagram.
Last night...
POTUS - styling in his 44 bomber jacket - received rockstar treatment when he hit up a game between rivals Duke Blue Devils and North Carolina Tar Heels.
Oh, and this happened during the game...
Zion's shoe tore last night as he played. Nike's stocks have take a big hit reportedly#DukeNation #ZionWilliamson #NBA #NBATwitter
pic.twitter.com/OmRzEqTjt9

— Midwest Sports Network (@MWSNsports) February 21, 2019
Zion broke out of his SHOE pic.twitter.com/FnVkbZ5MOT

— ESPN (@espn) February 21, 2019
Duke University forward Zion Williamson got hurt during the game after his Nike shoe came apart, twisting his knee.
Basketball shoes turning on us is the last damn straw in what has been a truly humbling Black History Month for us all.

— Candice Fortman (@Cande313) February 21, 2019
Not funny that he's hurt, but that tweet took us out.
Photos: Obama Foundation/ The Mira Group
​ ​
​ ​ ​