Jussie Smollett ARRESTED, Police State He Staged 'Despicable' Attack & Racist Letter Because He Was Dissatisfied With Salary
​
Feb 21 | by Natasha
​ ​ ​ ​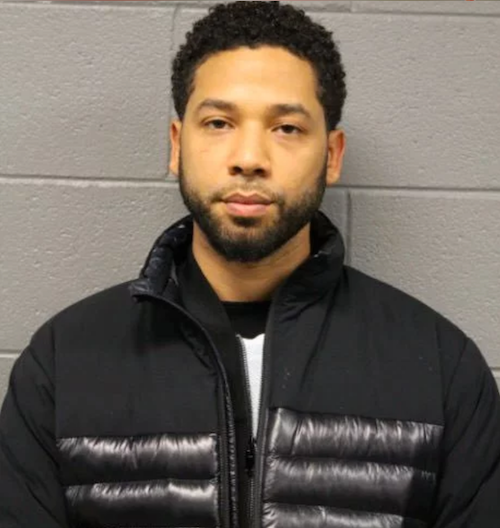 Jussie Smollett was arrested this morning on a felony charge of disorderly conduct in filing a false police report. This is all surrounding him allegedly staging his own hate-crime attack. Now, police have revealed the answers to all the questions we've had. And we're BEFUDDLED.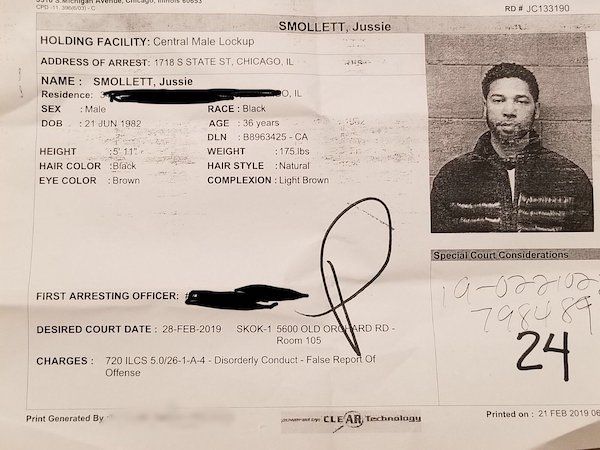 Earlier this morning, Jussie Smollett turned himself in after yesterday's grand jury hearing ended with Jussie facing felony charges due to his alleged hate crime attack in Chicago that police now say was staged.
Jussie Smollett's made arrangements to turn himself in last night (away from cameras)

Now being processed. Fingers prints, mug shot..

He will be transported to court.

"He has made no statement to police."-CPD spox @cbschicago

— Charlie De Mar (@CharlieDeMar) February 21, 2019
He will appear later today in court for a bail hearing over perpetrating a crime.
STATEMENT FROM JUSSIE SMOLLETT'S LEGAL TEAM @cbschicago pic.twitter.com/xSPsGLdZPT

— Charlie De Mar (@CharlieDeMar) February 21, 2019
Jussie's reps and lawyers still maintained his innocence as of yesterday. This morning, though, Chicago Police's Superintendent Eddie Johnson isn't having it. He had words for his fellow black man.
In a press conference that just wrapped, Superintendent Johnson angrily berated Jussie, all understandable if Jussie is actually found guilty. He revealed Jussie staged the attack because he was dissatisfied with his salary.
Did his agent quit a while back? Because that is literally their job to get you more coins. But not like this bruh.
CNN Correspondent Ryan Young stated he was told this motive a few days ago, but didn't feel comfortable revealing.
According to police charges, Jussie sent that racist, threatening letter to himself at Fox Studios to gain attention, then paid $3500 to two Nigerian brothers - one was an "Empire" actor - who are fitness trainers Jussie works with. The brothers supposedly did not know they were being paid for this hoopla and did not know what the staged attack would be used for. It was said they were shocked to see Chicago Police meet them at the airport a few days ago when they arrived back into Chicago from Nigeria (this may explain why they were possibly encouraged to leave immediately after the staged attack).
EXCLUSIVE:

I tracked down surveillance of the Osundairo's buying supplies before "attack"

Sources say Jussie Smollet told brothers what to buy.

Countless phone calls placed for this.

Visited more stores than I wish to admit. @cbschicago https://t.co/GT6h2g6Y9a pic.twitter.com/ULr3UTDe9Q

— Charlie De Mar (@CharlieDeMar) February 20, 2019
The timeline of events is quite baffling, including surveillance video of the brothers buying all the items. The date on the video - marked 2/20 - is unclear as this could have been a recording of a recording that was done yesterday. They also took a rideshare service back home afterwards, and Jussie paid them with a check. Jussie is also accused of self inflicting his wounds.
"We have the check he used to pay them," Superintendent revealed, and also revealed that the bodybuilding brothers were promised another $500 upon return from their trip to Nigeria.
"They punched him a little bit," he added, but the scratches to the face and burises to his body were "likely self-inflicted."
Superintendent Eddie Johnson remarked that he is "offended and angered by what happened." He says he is angry that anyone, especially a black man, took advantage of the pain of racism of others, especially using a noose.
Phone records from the brothers that prove they spoke to Jussie MANY times around the "attack", including an hour before and after the "attack" and while they were in Nigeria.
The fact the brothers took a rideshare afterwards also helped the detectives learn who they were.
The police are interestingly calling the brothers "victims" in this attack as well. Detective Commander Wodnicki explained it's because of the position the brothers were put in and they may not have known what Jussie was using this staged attack for.
More than 30 city cameras and 25 private sector cameras were used to track the brothers and find out where they went. The holes were filled in by the brothers' attorneys.
As for why this investigation took the time that it did: "This isn't TV, this is real life. It takes time," Superintendent Johnson said.

This case didn't shift to Jussie being a suspect until the 47th hour, according to Johnson. "One more hour, we would have had to let the brothers go." He says they treated Jussie as a victim and gave him the benefit of the doubt, up until that point.
As for the leaks, Johnson said "Who's to say the leaks came from us? I heard many things that weren't true, but it doesn't mean it was from CPD."
Johnson berated Democratic Presidential candidates, celebrities and media for jumping to conclusions before the investigation was complete.
As for what Johnson wants from Jussie now: An apology to the city that he smeared, admit what he did, and be man enough to offer what he should offer up in regards to all the resources put into this case.
Johnson angrily said that he wishes the victims of gun violence in Chicago got this much attention, and we're not mad at him for using this huge platform of a press conference to put a spotlight on bigger problems the city is fighting.
The Superintendent says he admits their city has problems, but it was shameful to "disparage a city we work and live in," when he's a celebrity and knew this would get this type of attention.
He said Jussie did this for financial gain and "dragged Chicago's reputation through the mud in the process."
"I love the city of Chicago … but this publicity stunt was a scar that Chicago didn't earn and certainly didn't deserve," he added.
Jussie will soon have his day in court to give his story.
​ ​
​ ​ ​