R. Kelly Pleads NOT Guilty On Aggravated Sexual Abuse Charges, STILL Behind Bars Because He Can't Afford Bail + Michael Avenatti Turns Over ANOTHER Alleged Sex Tape
​
Feb 25 | by _YBF
​ ​ ​ ​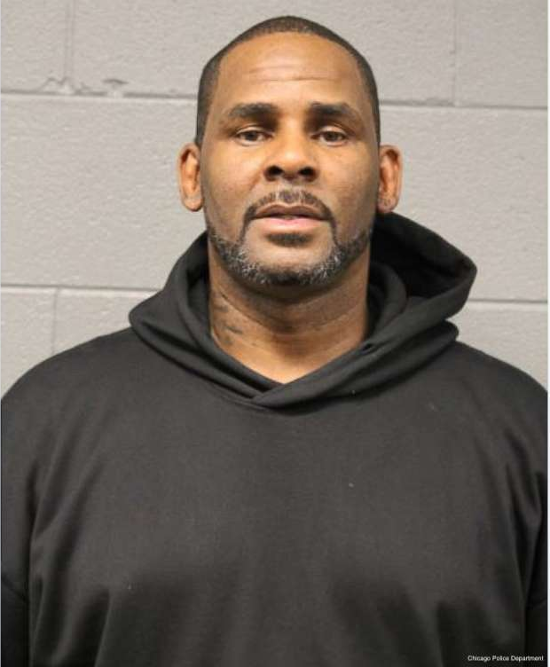 R. Kelly pleads not guilty on 10 felony aggravated sexual abuse charges. He's still behind bars since he hasn't posted bail yet. And lawyer Michael Avenatti - who represents two victims - says he's turning in yet ANOTHER alleged sex tape featuring the singer with an alleged underage girl. More inside....
R. Kelly has entered a NOT guilty plea via his attorney Steven Greenberg after he was indicted by a Cook County grand jury on 10 charges of aggravated criminal sexual abuse - a Class 2 felony - involving four victims, three of them under the age of 17. If convicted, the R&B singer faces three to seven years in prison for each count.
The R&B singer wore an orange DOC jumpsuit to court this morning and he was not handcuffed. It's reported his attorney Steven Greenberg tried to negotiate a lower bond, but the judge wasn't trying to hear it. And it doesn't look like R is going to be able to scrounge up the cash.
#RKelly is in court with no handcuffs, he is wearing a orange DOC jumpsuit. Arraignment on 4 separate indictments from the grand jury.

All are class 2 felonies 3-7 years and could be up to 14 years in prison. Kelly's attorney says his client is not guilty on all counts.

— Tia A. Ewing (@TIA_EWING) February 25, 2019
#RKelly's attorney tried to negotiate a lower bond, but the judge didn't even allow him to go there.

— Tia A. Ewing (@TIA_EWING) February 25, 2019
March 22nd is next court appearance at 10am. #RKelly @fox32news

— Tia A. Ewing (@TIA_EWING) February 25, 2019
His next court date is scheduled for March 22nd at 10am.
In addition to his legal troubles, R. Kelly also owes tons of back child support to his ex-wife Andrea Kelly. Kelly's attorney, Steve Greenberg, said the R&B crooner is several months behind on child support payments that amount to $20,000 each month.
On Friday, the Grammy Award winning singer surrendered to police and he has been sitting behind bars ever since.
At his bond hearing on Saturday afternoon, a judge set his bond at $1 million. That amount equals $250,000 for each of the four people he's charged with sexually abusing.
A prosecutor told the judge he met one of the four people he's charged with sexually abusing during his 2008 child pornography trial. The victim was featured in LIFETIME's "Surviving R. Kelly." Prosecutors also revealed one of the victims he's being charged with sexually abusing is the girl seen in the first video from his 2008 child pornography case.
Peep Cook County State's Attorney Kim Foxx's press conference following his bond hearing below: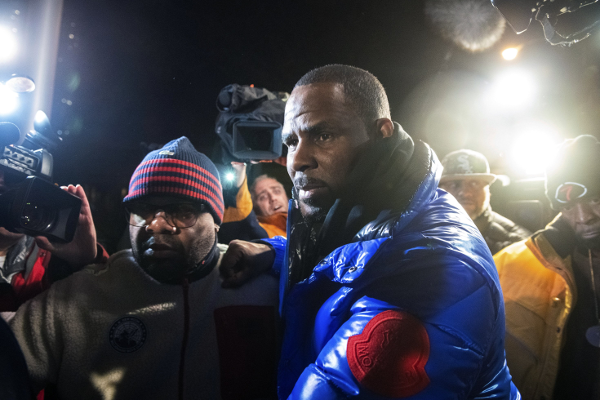 The "I Believe I Can Fly" singer is still sitting behind bars because he can't post the $100,000 (10% of the bond) required to get out of jail. Reportedly, his confidants are trying to scrape up the funds to get him released as he awaits trial. Among the conditions of his release, he can not have any contact with the victims and no contact with females younger than 18.
At that bond hearing, Joycelyn Savage and Azriel Clary - the two women featured in "Surviving R. Kelly" who are still living with the singer - was spotted walking in holding hands:
Jocelyn Savage (left) & Azriel Clary walk into the Leighton Criminal Courthouse for R. Kelly's first court appearance following his arrest on charges he sexually abused four people, including three underage girls https://t.co/DWWV41FHdE pic.twitter.com/JwYz7M54V7

— Ashlee Rezin (@Ashlee_Rezin) February 23, 2019
Joycelyn and Azriel's parents have been trying to get their daughters to leave R. Kelly and come home to no avail. The girls were not in court this morning, however, their parents were.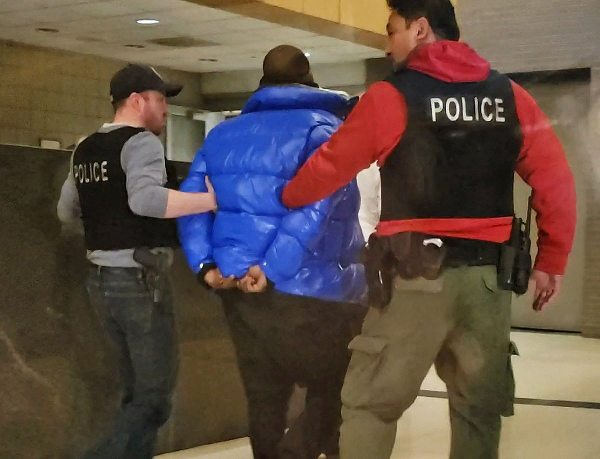 Kelly's attorney Steven Greenberg revealed the singer doesn't have $100,000 laying around to get himself out of jail:
R. Kelly has to post $100,000. Attorney Greenberg says R. Kelly "really doesn't have any money at this point. I don't think he even owns the rights to 'I believe I can fly.'" Says bond is reasonable. @cbschicago

— Megan Hickey (@MeganHickeyCBS2) February 23, 2019
So where's his money? Here's a good recap of why he may be struggling:
12 cancelled concerts. 8 protests. Sony dropped him. Radio stations stop playing him. Streaming services limited promoting him, 12 international chapters, political support and an estimated $1.75 million in lost revenue. Since July 2017. Now you know why. #MuteRKelly #strategy https://t.co/MDBVnaW7n9

— Kenyette Tisha Barnes (@LegisEmpress) February 24, 2019
Apparently, fans began making GoFundMe accounts in an effort to help the singer raise the $100,000 he needs to get out of jail. FOX 32 News reporter Tia A. Ewing reached out to GoFundMe to find out their policy on accounts created for people who have criminal charges against them and here's what they said:
I asked @gofundme what are their policies for having accounts set up for those who have criminal charges against them like #RKelly. The accounts set up to help the self-proclaimed king of R&B with bail have been deleted. @fox32news pic.twitter.com/8FiFDJMRsn

— Tia A. Ewing (@TIA_EWING) February 25, 2019
The company has removed all of the accounts as of the time of this post.
R. Kelly's attorney appeared on the "TODAY Show," still defending Kelly's innocence. Greenberg said Kelly made people show IDs, sign contracts, and he never knowingly had sex with anyone underage.
Singer R. Kelly spent another night behind bars after being charged with 10 counts of aggravated sexual abuse. He was unable to make bail over the weekend, @ronmott reports. pic.twitter.com/4JgKN1Nrsn

— TODAY (@TODAYshow) February 25, 2019
This morning...
I can confirm that we will be providing a second video showing R. Kelly engaged in sexual assault of a minor to prosecutors this morning. This tape was recently uncovered in connection with our ongoing nationwide investigation on behalf of victims. Justice must be done.

— Michael Avenatti (@MichaelAvenatti) February 25, 2019
Lawyer Michael Avenatti - who's representing 6 clients involved in the charges (2 alleged victims, 2 parents and 2 people within R.Kelly's circle during the time in question) - turned over yet another alleged sex tape involving R. Kelly and an alleged underage girl to the Cook County Attorney's office. This is the 2nd tape turned over to authorities by Avenatti. And there may be a third.
Avenatti also said he's in the process of investigating Kelly's enablers - his attorneys, his agents and his managers - who allegedly allowed the singer to commit these acts for over 25 years.
Peep his press conference below:
Photos: Chicago PD/AP
​ ​
​ ​ ​