MATURITY? Offset Explains Why He Went So Hard For Cardi B, Keeping Kulture Low Key, Dealing With All His Kids' Mothers & More On 'The Breakfast Club'
​
Feb 27 | by _YBF
​ ​ ​ ​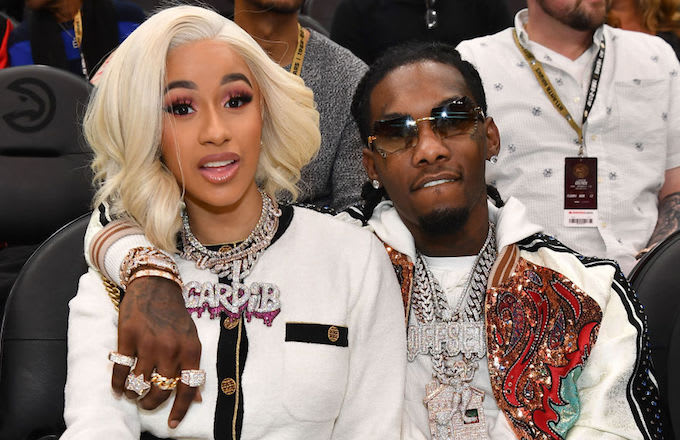 Offset opens up about how he almost lost his wife Cardi B, keeping their daughter Kulture out of the spotlight, how he's trying to kick his drug habit, juggling all of his kids' mother and more on "The Breakfast Club." Highlights inside...
Offset wants the world to know he's a changed man. On his recently released his debut solo album, Father Of 4, the Atlanta rapper let fans into his life as he shared things he had never spoken about before.
The 27-year-old rapper opened up about taking a more mature approach with the content in his songs during an interview with Power 105's "The Breakfast Club." He said it's too much "drug talk" in music nowadays, and that he wanted to give his fans something they could feel. Well, that's a first these days.
The Migos rapper has not said much about the cheating accusations brought against him that almost caused him to lose his wife. He was put on blast TWICE since hooking up with Cardi B. And now, he's sharing how he felt about it, why he did it, and why he went so hard to get his wife back.
"I just want people to be realistic. I'm wrong," he said. "I did some thing that [were] wrong, but please don't kill me. Allow me and my people [Cardi] to work this out. This ain't no game."
The father-of-four explained he knew the "Money" rapper loved him when she took him back.
"Off the rip, just off a mistake and people be around here making mistakes all the time," he explained. "You run into the same wall sometimes, bruh. I'm new to being married. I was 26 married. I'm 27. In my prime. After having the best -- 2017 was the best year for my career, for my group, everything. You have to learn that it aint no game. It's a family thing and you can lose it."
When folks found out Offset cheated a second time, Cardi went on social media to announce they were over. Offset did everything in his power to win her back and he caught a lot of heat from her fans for doing so. Cardi made history as the first female to headline the Rolling Loud Festival in LA. Offset decided he would crash her set in an effort to win her back. Folks bashed him over it, calling him selfish for stealing her shine, but he doesn't care.
"I don't give a damn," he said. "I love my girl. This is real. This is love."
He said he wasn't giving her NO space after he messed up because he didn't want to lose her for good.
"I'll lose it all. I'm pressing, I'm pulling up. I'm pulling up. That thing might not come back. I done hurt this girl like this, in front of my family, in front of her family."
How about just not cheat?
He said he will never find a girl that loves him as much as Cardi and that their love is "a beautiful thing."
"We get hurt too, bro. It's OK. I'm very spiritual. This was done the right way. I got married and had a child. So for my Christianity, it's a beautiful thing. I can't mess it up. It's for life."
The ATL rapper admitted they did marriage counseling to work on their relationship. Cardi mentioned Offset wanted them to go to marriage counseling in her Harper's Bazaar cover story. She said she wasn't feeling it, but it seems she may have gave it a try.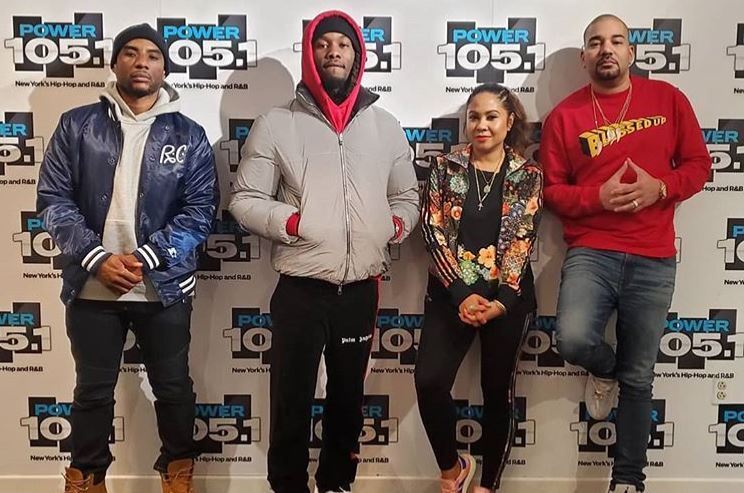 Offset and Cardi kept their daughter, Kulture Kiari Cephus, out of the public eye after she was born up until Offset cheated. One day, Cardi randomly posted a picture of baby Kulture on her Instagram. And it seems she may have done it out of spite since Offset seemingly wanted to "reveal" her for his debut solo album. Even though we've seen a few flicks of baby Kulture since, don't expect to see her on social media often.
"People got so much to say. This our daughter," he shared. "We still will probably not be posting her all the time because its our kid. You have to keep some stuff private."
Kulture does not have a nanny. The rappers' mothers take care of her when necessary. He said it's scary out here because "people are crazy." Well, we can agree with him on that.
So, will Offset and Cardi take the Carters route and do a collaboration album soon? He said, no. At least not right now.
He said "she needs to do another Grammy nominated album" before he does something like that. He said it would be selfish of him to make an album with her now.
"She still new. I want her to have a long career. I feel like I'd be selfish if I did that. I got my layout. She need to have her layout and when we do it, it'll be 10 times bigger."
AS you know, Offset has four children, but he also has four different baby's mothers. He has a 9-year-old son, 3-year-old son, 3-year-old daughter and 7-month old Kulture. Is it hard for him having so many different personalities to juggle?
"At times. But not at this point, nah. You have to learn who each person is. I feel like they beef with you more when you not doing [what you're supposed to do]. You have to keep it about the kids," he explained.
Offset said he'll provide schooling, housing and transportation just to make sure his kids are straight. He said all of his childrent have to live in good school districts. He said he wants to keep everything balanced, but all the baby mamas aren't riding around in a Bentley truck. Ha.
The "Lick" rapper talked about how he didn't know his first daughter was really hisbiological child because he didn't even know her mother. It seems he conceived his first daughter while out on the road touring. He said it was hard for him in the beginning because he didn't know the mom, but the baby looked like him, and he knew it was his kid.
"I felt crazy because I do for my kids, but I still feel crazy because it's a weird situation. She's so beautiful, I couldn't do her like that. I just had to man up."
He said he felt relief opening up about his situation with his daughter on his album because a lot of people didn't even know about it. He said he never talked about it before, it was something he kept in.
Offset also talked about shaking his drug habit:
"Right now, I'm cleaning that up right now. On lean, I'm not going to make $100 million. I want $100 million. I don't want this to be for right now. If I don't have a clear mind, I can't really work foreal."
Glad he realizes this, and wish his fellow mumble rappers would as well. Offset said he started to question his use of drugs because it wasn't doing anything for him or his family. He said Cardi B - who has been openly adamant against personal drug use including marijuana - would talk to him about quitting.
"I'm just maturing, bruh," he said. "Certain things you do, if you don't change it, you'll lose people around you. And you make poor decisions."
The rapper also addressed his social media beef with singer Chris Brown:
"I don't even want to talk about that. Who I am, I ain't even supposed to be replying, going on shawty sh*t. I been shot at foreal dog. I been through real life, so I'm not gone let nobody, period. It can go so left field, and when it goes left field, ain't nobody gone do nothing but point [implying that they would snitch]."
He said he got kids to take care of. He's shaking his lean habit and shaking off all of the stress. He sees the bigger picture and everything he does now needs to reflect the good because he already did the bad. He talked about his 16 mugshots and criminal charges he's racked up over the years.
Offset said he took the memes about 21 Savage personally because they go way back, even before either one of them were famous.
The "Legacy" rapper said he's on his grown man ish and he wants his music to reflect that.
"I can't keep talking about these diamonds and these cars because I go through real life all the time. And the people we have influence on, I know they tired of hearing about something they don't have."
He said he kept pushing the album back because he wanted full control of the content.
"I feel like content music coming back around. All the swag, that's finna go out the door."
Also in the interview, Offset opened up about how hurtful it was not having a father growing up, investing in properties to leave something behind for his children ("I ain't know, condos ain't nothing but a little Benz"), his 16 mugshots, how jail was "therapy" for him, the car crash that almost took his life, and more.
Take a listen below:
Also, 'Set just released a new video "Quarter Milli" off the Father of 4 album featuring Gucci Mane. Check it out below:
Photos: Paras Griffin/Getty/Angela's IG
​ ​
​ ​ ​