Jordyn Woods Was Allegedly NOT Drunk, Tristan Thompson Unbothered Amid Cheating Scandal + 50 Cent Says He's Coming For Teairra Mari's Lace Front After Court Win
​
Feb 28 | by _YBF
​ ​ ​ ​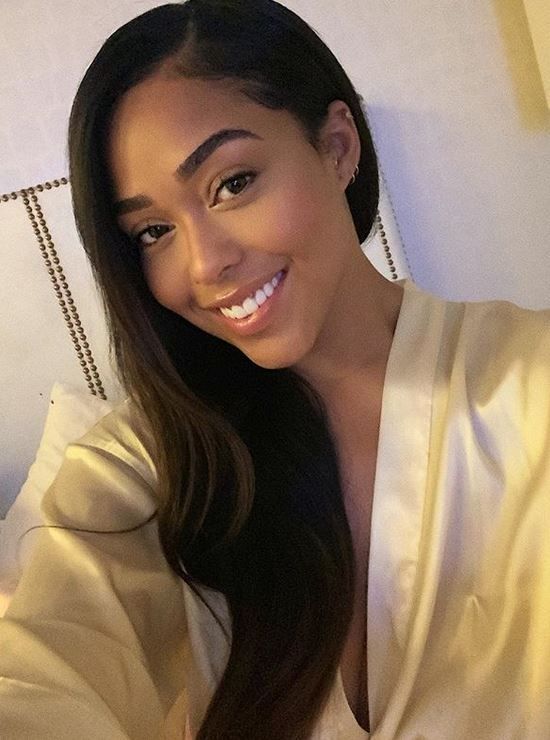 Another day, another Jordyn Woods/Tristan Thompson update. Find out what sources are saying about Jordyn NOT being drunk and Tristan hitting the scene totally unbothered inside.
Also, 50 Cent is still trolling Teairra Mari over the $30K he won in court. Everything inside..
Alleged details about the Tristan Thompson cheating scandal continue ahead of Jordyn Woods' sitdown interview with Jada Pinkett Smith on "Red Table Talk."
It was previously reported the 21-year-old former Kardashian-Jenner friend was allegedly "black out drunk" when she made out with Tristan, and that she didn't recall making out with him.
Now, sources who heard her interview with Jada are telling TMZ that she said was NOT drunk and that she was aware of what was going on when she hooked up with the Cleveland Cavaliers baller last Sunday. She's also reportedly going to apologize to Khloe Kardashian.
TMZ reports:
Woods made no excuses for her actions, which sent the Kardashians into outer space. She admits she was totally lucid during the party a week ago Sunday.
It's reported after Jordyn was able to get everything off her chest, she felt "a lot better about her future."
As you know, Jordyn moved out of her bestie Kylie Jenner's guesthouse once news hit the fan about her making out with Khloe's baby daddy. We'll get the REAL tea when her "Red Table Talk" episode airs tomorrow.
Since the scandal, the Kardashian machine has been working over time to paint Jordyn in a bad light. However, there hasn't been much, if any, reports about cheater Tristan. Just yesterday, a story came out that said Jordyn "hooked up" with Khloe's ex-boyfriend/Houston Rockets ballter James Harden.
While the former Good American model has been catching heat, the NBA player is unbothered AF. He went out to dinner with friends at Carbone in NYC last night. It was first believed he was out on a date with a woman, but it was later revealed he went out to eat with three of his friends, including teammate Jordan Clarkson.
The Cavs baller hopped on Instagram Stories with his pinky up, sipping wine:
THIS guy.
In other news...
50 Cent is STILL trolling Teairra Mari after a judge ruled in his favor following their recent court battle.
A judge ordered the "Love & Hip Hop: Hollywood" star to pay the "Power" producer $30,000 after he prevailed in the revenge porn lawsuit she filed against him. She also sued her ex-boyfriend Akbar Abdul-Ahad for the same offense.
T-Mari hasn't paid up yet, so Fif is doing everything he can to get the money he feels he's deserved.
In recent court documents, the NYC rapper was granted an order for T-Mari to bring her financial records to court so that he can determine which assets he can seize to collect on the money he's owed, according to The Blast. He's reportedly seeking financial examination of her income, bank accounts, and property.
Fif hopped on social media to continue to clown her, claiming he's going to make her "hand over her lace front" if he doesn't get his monet. He then put their court date - April 22nd - in the caption.
See the petty post below:
If T-Mari doesn't show up in court on April 22nd, she could be punished for contempt of court and/or arrested.
This isn't the first time he took to social media to troll her about the case. Last month, he posted up a screenshot of a headline about the case with the caption, "Now Teairra you can cough up the money or you can go with R.Kelly and sh*t in a bucket. LOL #lecheminduroi." So immature.
Last week, T-Mari hopped on IG to respond where she told him he's not getting a dime from her: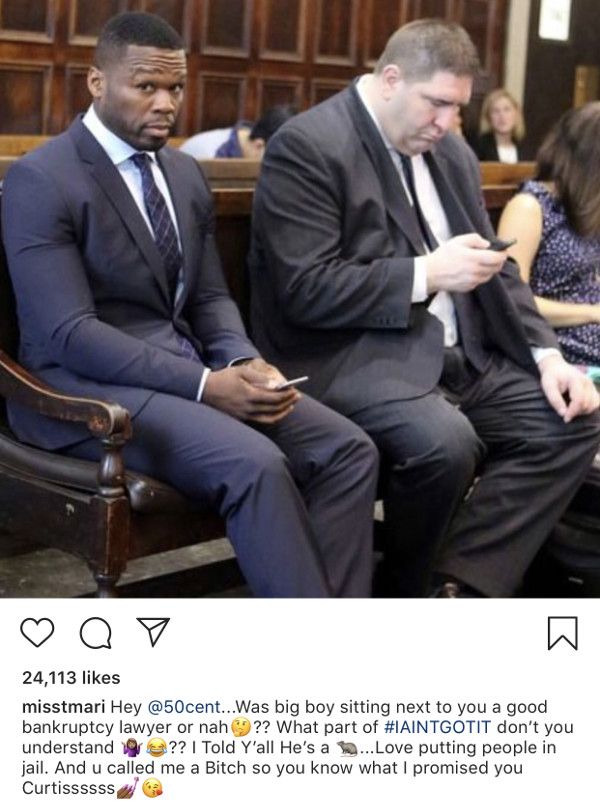 Lordt.
Photos: Jordyn's IG/Teairra's IG/50's IG
​ ​
​ ​ ​