Jordyn Woods Breaks Her Silence! Says She Did NOT Sleep With Tristan Thompson, He Kissed Her + Khloe Kardashian BLAMES Jordyn For 'Breaking Up' Her Family
​
Mar 01 | by _YBF
​ ​ ​ ​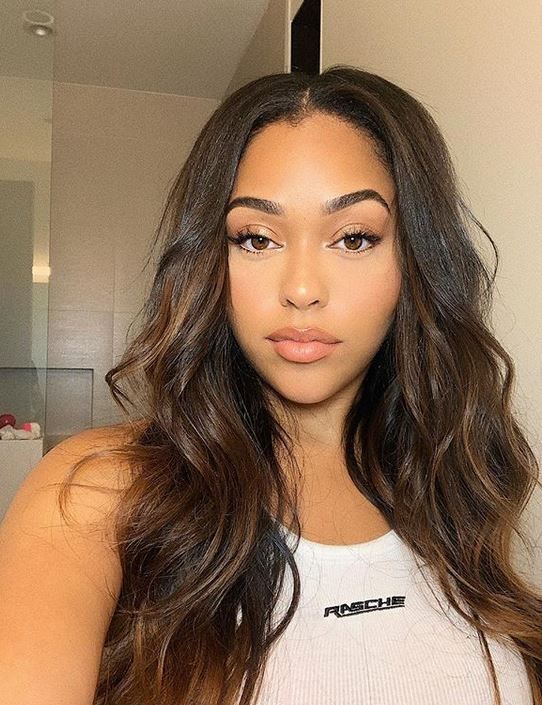 Jordyn Woods breaks her silence and shares details of what happened between her and Tristan Thompson. Hear her side of the story and see Khloe Kardashian's response inside...
Jordyn Woods is finally speaking her truth about what really went down between her and Tristan Thompson last Sunday after she was accused of making out with him and spending the night at his house.
The 21-year-old sat down with "auntie" Jada Pinkett Smith on her "Red Table Talk" series to discuss the cheating scandal involving herself and Cleveland Cavaliers baller Tristan Thompson.
If you didn't know, Jordyn and her family have strong ties to the Smith Family. Jordyn's late dad, John Woods, was a sound engineer on the "Fresh Prince of Bel-Air" for the show's entire run, where he and Will Smith became friends.
Before the interview, Jada's mother Adrienne Banfield-Jones offered up a gem we all can relate to.
"As women, we've all let our little girl behavior get us into some grown women mess," Jada's mother said before Jordyn and Jada sat down at the Red Table.
Hollywood actor Will Smith called in on a Facetime call (while shooting Bad Boys 3) to assure Jordyn that he and the Smith Family have her back.
"You are supported. I got you and we got you. Take your medicine and tell your truth. This is a part of what growing up is and what learning is. This world is not going to break you. We're not going to allow it," Will said in the clip before the interview.
In the interview, Jordyn began to explain how she and Tristan Thompson crossed paths on the night she was accused of sleeping with him. She said she was enjoying a night out with friends at a bar in Los Angeles and he was there.
"I was minding my business, dancing, drinking," she said. "Tristan was there, he was doing his own thing. That was it."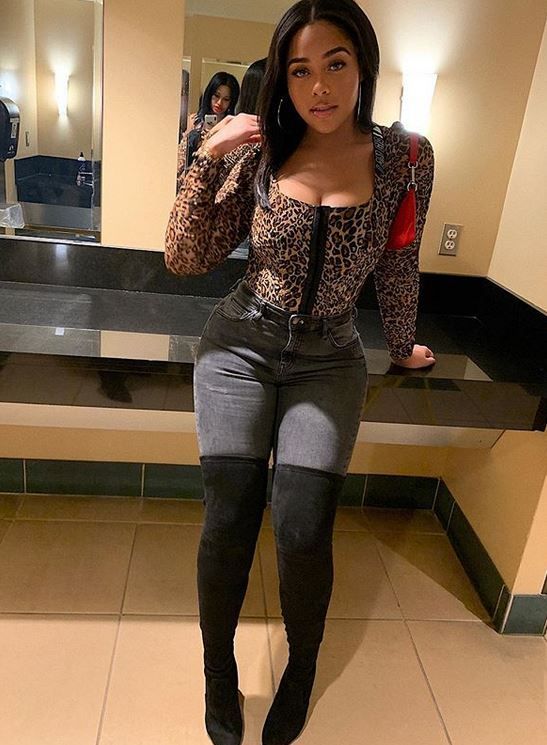 The girls she was hanging out with suggested they were going to Tristan Thompson's house after the club for a house party. She said it's typical L.A. culture to go to someone's house after the club. Tristan never personally invited her. She admitted they were all drinking.
"He didn't even personally invite me there," she explained. She said she felt comfortable going to his house because she knew him.
When it comes to reports about everyone's phones being taken away, she didn't know anything about that. She said she had her phone.
"I'm not thinking, 'I shouldn't be here,'" Jordyn said. "And that's my first step where I went wrong," she admitted. "I should have gone home after the party.
Someone at the party accused Jordyn of making out with Tristan and that she gave him a lap dance. She said that's not the truth.
"Never once was I giving him a lap dance, making out with him, sitting all over him. It's just — we're all together," she said. "We're in a group. Never once did we leave the public area to go to a bedroom, a bathroom — we're all in plain sight."
The 21-year-old said in hindsight, she could see why someone would say "oh, they're getting cozy." She said she didn't have her arm around him, but admitted that her legs were over his.
"Never anything intimate," she said.
When the story broke, it was said that Jordyn was "black out" drunk.
Jordyn admitted to being drunk, but she was "not beyond the point of recollection. I know where I was."
Jordyn admitted to staying at Tristan's house until 6AM and there was still people from the party there. She said as she was leaving, the Cavs baller randomly kissed her on the lips. She said there was no "making out" or anything like that.
"It was a kiss on the lips, but no tongue kiss. No making out. Nothing," she said. "I don't think he's wrong either because I allowed myself to be in that position. When alcohol is involved, people make dumb moves. People get caught up in the moment."
After he kissed her, she was in shock and left.
"I didn't know how to feel. I was like 'That didn't just happen. I was just like, I need to go. I was more so in shock. I was like 'Hmm...let me pretend like this didn't happen.'"
She said she went home and she talked to her former best friend Kylie Jenner and Khloe Kardashian.
"I was honest about being there, but I was not honest about the actions that were taking place," she explained. She said she didn't tell the whole truth because she didn't want to "add more fuel to the fire."
Jordyn said she didn't tell the truth because she was "just scared."
"I'm no homewrecker. I would never try to hurt someone's home, especially someone that I love. I never would try to steal someone's man. I don't need your situation."
When asked if she felt like she was the reason that Tristan and Khloe aren't together she responded:
"I know I'm not the reason that Tristan and Khloe aren't together. Now, this situation may have made it harder for her to want to be with him and I understand that. But, I know I'm not the reason."
Did she sleep with Tristan?
"Never. Never a thought. Never a consideration. Never will I," she responded. She clarified that there has never been a relationship between her and Tristan.
Jordyn said she spoke to Khloe a "little bit" and confirmed she apologized to her via text and over the phone. She said she's willing to do whatever it takes to give Khloe peace of mind, even suggesting that she would take a lie detector test.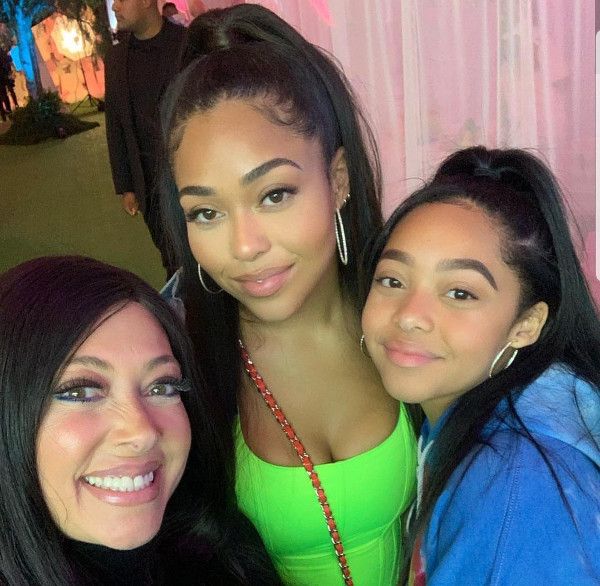 Now, she has to deal with her family and the hurt. Since the scandal broke, she said she has been bullied online and now she fears for the safety of her family. The former Good American model said she broke her silence because of the safety of her family.
"Everyone's safety is now - we can't leave the house," she said breaking down in tears. "My brother can't go to work. My sister can't go to school, she's 12-years-old. My mom can't even go to the grocery store.

"When the safety of the people I love is in jeopardy, I have to speak."
Jordyn didn't want to point the finger. She owned up to her mistake and said she didn't tell the whole truth because she was fearful.
"I'm not here to play the victim. I'm here to take responsibility. And when I was asked about what happened that night, I didn't tell the truth to the people that I love. Not because of malicious intent, but because I was just scared."
Jordyn talked about how instead of the media putting their focus on real world problems, "they're putting their focus on a young black woman who made a mistake. And not a mistake that's worth public crucifixion."
"Well, you know what they say, black women can be the disregarded and disrespected creatures on the earth," Jada said. "Being a black woman in the game for so long, just seeing that without people even hearing your side, and just not given the benefit of the doubt. It just always seems like it's so easy to target black women, put everything on us, even when there's other people involved," Jada continued.

"And it took me getting here to feel it because I saw it, but never felt it," Jordyn responded.
Jordyn confirmed this is NOT a publicity stunt for the new season of "Keeping Up With The Kardashians."
"Now, I feel like I'm free," she said at the end.
Check out the interview below:
After the interview was released, Khloe Kardashian hopped on Twitter to respond: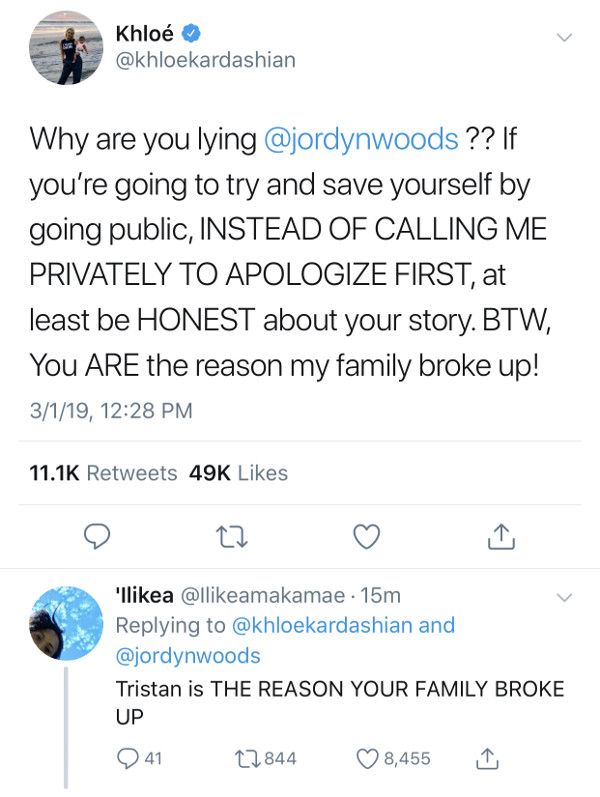 No, Khloe. TRISTAN is the reason your family broke up. Did she forget this man was caught on MULTIPLE videos making out with several girls right before she gave birth to their daughter, True Thompson? Oh.
Following that tweet, the "KUWTK" star then said that she and Tristan have been addressing the situation privately:
Girl, you were addressing Jordyn BEFORE she went public.
Speaking of Tristan...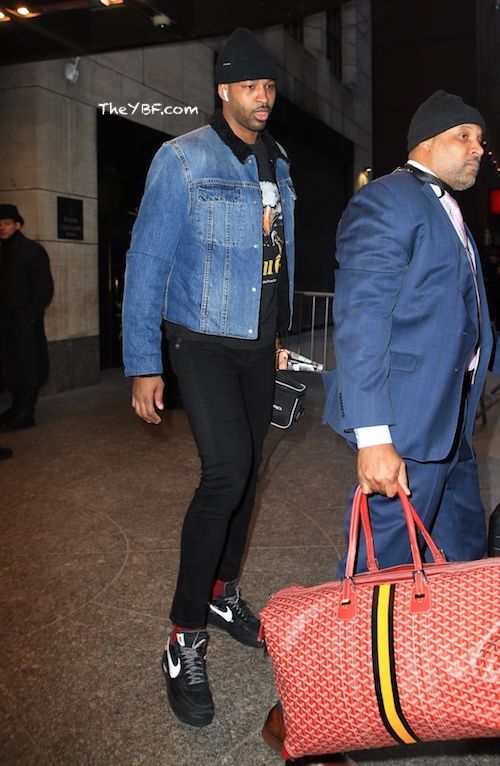 The Cavs baller was spotted leaving his hotel in NYC yesterday after his team played the Knicks. The Cavs won, 125-118. He's headed back Cleveland to play against the Detroit Pistons tomorrow.
We hope Jordyn learned her lesson about how the Kardashian Klan uses and abuses our culture until your black a** is their scapegoat. Check out TheYBF's brand new podcast where we break down the Jordyn Woods/Tristan Thompson cheating drama HERE.
Photos: Jordyn's IG/Backgrid
​ ​
​ ​ ​