STAGED! Baltimore Woman's Husband & Stepdaughter ARRESTED, Charged With 1st Degree Murder For Staging Her Death
​
Mar 05 | by _YBF
​ ​ ​ ​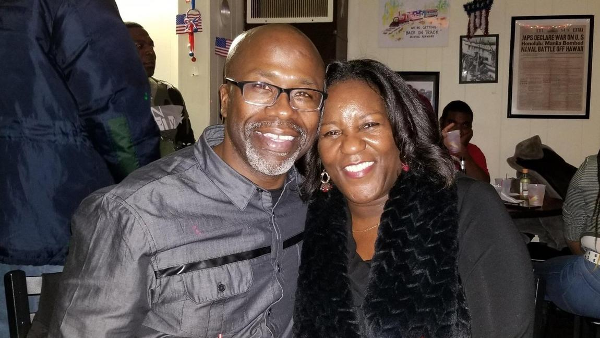 A father-daughter duo was arrested and charged with first-degree murder in the death of Jacquelyn Smith - the wife and step mother to the suspects. Horrendous. Details inside...
We live in scary world and news reports are getting more and more bizarre.
Last December, there was a report about a black woman, 54-year-old Jacquelyn Smith, that was fatally stabbed by a panhandler. The story sent shock waves through the city and the murder ended up making national news.
Even Oprah spoke on the tragedy:
This story struck my heart. I've done this a 1k times. But will think twice before ever doing again. To J.S. family I hope her death gets people "woke" to change! https://t.co/ZbFqkLsdF9

— Oprah Winfrey (@Oprah) December 4, 2018
Turns out, that's not what happened to the woman at all. Jacquelyn's husband, minister Keith Smith, 52, and her stepdaughter, Valeria Smith, 28, have been arrested and charged with first-degree murder in her death. The Baltimore Sun reports:
In interviews, Keith Smith spoke of a woman who appeared to be holding a baby and had a cardboard sign that said, "Please Help me feed my Baby." Although Smith said he was reluctant to open the window late at night, his wife "felt moved to give her some money." Later, Smith claimed that another man approached to snatch his wife's purse and necklace — and then stabbed her to death.
Here's a clip of Keith and his daughter's interview from December below:
This is a portion of the media interview in December with Keith Smith and Valeria Smith. Both now charged with 1 degree murder in the death of Jacqueline Smith, his wife and her stepmother.They blamed the murder on panhandlers. Both arrested in Texas near Mexican Border. pic.twitter.com/ZWGscGrUbB

— Barry Simms (@BarrySimmsWBAL) March 3, 2019
Wow.
Commissioner Harrison says motive will be a "trial matter" #WBAL pic.twitter.com/70NtXcBHX2

— Vanessa Herring (@VanessaWBAL) March 3, 2019
The father-daughter duo was arrested by Texas State Police, near the U.S.-Mexican border. It's reported they were trying to flee the country, according to acting Baltimore Police Commissioner Michael Harrison said. Keith and Valeria Smith waived their rights to contest extradition, and are waiting to be brought back to Baltimore to face charges.
NEW: @BaltimorePolice release mug shots of Keith and Valeria Smith #WBAL pic.twitter.com/7S7I5eO1v2

— Vanessa Herring (@VanessaWBAL) March 4, 2019
"The information and evidence points it wasn't a panhandler," Harrison said. "People take advantage of Baltimore. We want to make sure the truth comes out and justice is done."
Jacquelyn Smith, 54, an electrical engineer at Aberdeen Proving Ground, was stabbed to death about 12:30 a.m. on Dec. 1 at North Valley and East Chase streets, according to police.

Baltimore State's Attorney Marilyn Mosby said the Smiths exploited the city and its violence. Smith's death was one of more than 300 in Baltimore in 2018.

"Often times, we have these negative depictions of our city and it's rather unfortunate when people take advantages of these negative perceptions," she said at the news conference.
Keith and Valeria Smith waived extradition in Texas on charges related to murder of Jacquelyn Smith. Cameron Co DA in stmt said case "generating national interest because Smiths accused of fabricating an elaborate story in which..victim was killed by panhandlers" pic.twitter.com/5yGLLiLLP5

— Jayne Miller (@jemillerwbal) March 4, 2019
Jacquelyn's brother said he knew her husband/his brother-in-law had something to do with her murder from the beginning:
Several members of Jacquelyn Smith's family had doubted that story from the beginning, said her brother Marcel Trisvan of Havre de Grace.

"I already know it's Keith," he said. Trisvan said police provided no information to the family, but detectives had increasingly been asking the family about his sister's relationship with her husband.

"All the questioning has been specific to Keith. That kind of sums it right there," he said. "It never made sense. I told [detectives] from the very beginning there are no suspects out there."
It's unclear what the father and stepdaughter's motive was for killing her. We suspect an insane story will come out when all the facts are laid out because this is bizarre.
There's also this - uncovered by WBAL-TV investigative journalist Jayne Miller:
New: in 1999 & 2000 murder suspect Keith Smith robbed same bank in Timonium 3x, took ~ $60k, told cops he was HIV positive and needed the money, court records, police reports say. MO: used gun to order tellers to floor
Smith now accused of killing his wife-- blamed panhandlers. https://t.co/etD7wfJVbZ

— Jayne Miller (@jemillerwbal) March 4, 2019
Lordt. We're happy justice is being served, but quite saddened by the unnecessary death of the victim.
Photos: Kevin Richardson / Baltimore Sun
​ ​
​ ​ ​