R.Kelly Acted Belligerent In Gayle King Interview, Said Parents 'Sold' Their Children To Him – He Cursed, Screamed, Cried In 'Innocence'
​
Mar 06 | by Natasha
​ ​ ​ ​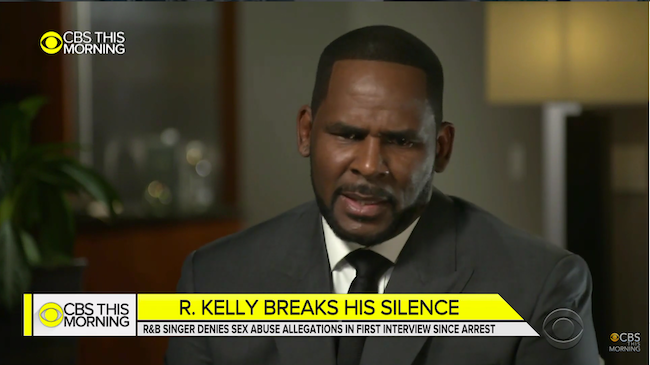 If you were lost for words before with R.Kelly, get ready for the foolywangery of an interview with him and Gayle King. Watch his first, explosive interview since being charged inside.
UPDATE: Michael Avenatti, attorney for at least 3 plaintiffs involved in R.Kelly's current case, had this to say after the interview aired:
Key things we learned from the R. Kelly interview: 1. R Kelly is a much better singer than he is an actor; 2. He is desperate and distraught because he knows he has been caught. 3. He thinks sexual assault of young girls in the "way way past" cannot be charged. 4. He is guilty.

— Michael Avenatti (@MichaelAvenatti) March 6, 2019
Further stmt regarding Azriel Clary's comments: "It is pathetic and disgusting that R Kelly has manipulated these young girls and lied to them about their families. It has been his modus operandi for decades and part of his abuse. Alice and Angelo Clary want only two things...

— Michael Avenatti (@MichaelAvenatti) March 6, 2019
...from R. Kelly -
1) they want their daughter back & 2) they want him to die in prison for the emotional and physical abuse & assault he has inflicted on their daughter and well over 20 other young girls for nearly 30 yrs. This is not about money. It is about truth and justice.

— Michael Avenatti (@MichaelAvenatti) March 6, 2019
UPDATE 2: Joycelyn Savage's family also spoke out after the interview aired:
------------
Robert Kelly cut ALL the way up on CBS This Morning's interview with host and the most unbothered black woman in America, Gayle King.
Gayle put on a masterclass in interviewing while Robert ("Robert....Robert....Robert") stood up, showed out, screamed, cursed, and delusion'd his way through the interview.
For starters, his lawyer and publicist should no longer have licenses or jobs if they encouraged or even allowed their client, who has been indicted on 10 criminal abuse charges, to do an interview on national tv.
While Robert awaits trial, he decided to tell his side of a two decade long story. He swears he "never did those things" - like influencing underaged girls to have sex with him - and all of his accusers are lying and looking for book deals.
His nonsensical rants, which began to get physical at one point, caused Gayle to STOP recording so he could get himself together. It's unclear if he really believes he did nothing wrong, or if he's playing up feeling so convicted about his innocence because he sees the walls of justice closing in on him. Or, maybe he's laying the groundwork for an insanity plea. Who knows.
When asked if he has preyed on young, underage or vulnerable women, creating a cult like atmosphere under his roof, he said, "I don't really know what a cult is, but I know I don't have one."
Sir, how do you know then?
Robert also said he's "fighting for his f---ing life" and it would be "stupid" of him to do these things in public. As for who is to blame, he interestingly called out parents of the young girls, now women, saying they were selling their children to him. And when the money stopped coming in, he alleges, they now are going the lawsuit route. So, is he admitting to BUYING children? Hmph.
Robert also remarked that his own molestation as a child had no effect on him.
CBS will also be airing an interview with R.'s two girlfriends Azriel Clary and Joycelyn Savage - who confirm they are all three in a relationship together - on Friday.
WATCH: @GayleKing spoke to Joycelyn Savage and Azriel Clary about living with R. Kelly and their estranged relationship with their families. It made them very emotional.

We'll bring you more of their interview, tomorrow only on @CBSThisMorning. pic.twitter.com/R9IWQmy8RR

— CBS This Morning (@CBSThisMorning) March 6, 2019
Watch R. Kelly break his silence below:
R also squeezed out some tears and gave another Oscar worthy performance when Gayle asked him about his kids. He broke down saying he just wants to see his kids, and pours out his heart about how much he misses and loves them.
Let us not forget, Robert still owes his ex-wife Drea Kelly nearly $200k in child support, with the minimum amount of $161k due today. He's known since last month today was the deadline, and he could be thrown back in jail at any time for failing to pay. We guess he thought phone calls and love would pay for these kids - whom he says he loves so much - to survive. You can't bring tears and love to the grocery store or bank for food, water and shelter. Just saying.
BONUS: One of the alleged victims involved in his case, Jerhonda Pace, had this to say:
Photo: CBS
​ ​
​ ​ ​