Sir, You're Wilin': R. Kelly Gets 'Explosive' During Interview With Gayle King
​
Mar 06 | by Natasha
​ ​ ​ ​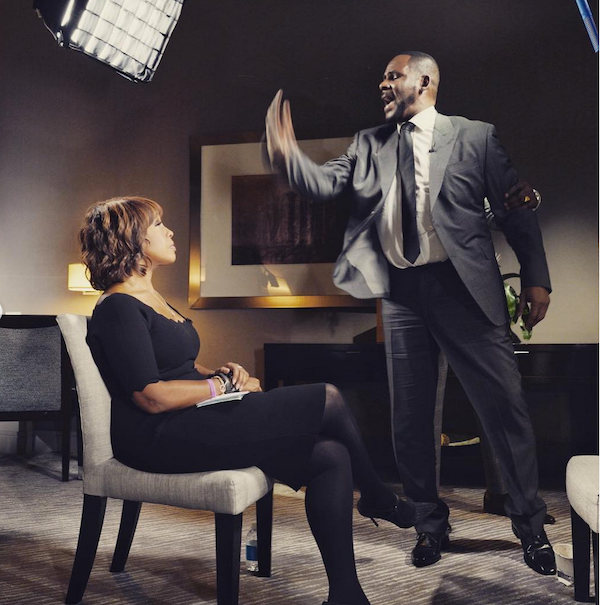 R.Kelly is set to appear on CBS "This Morning" on Wednesday where he claims through tears and hella emotion that the sexual abuse allegations against him are lies. A first look at him needing to be physically held back during the interview, inside...
R.Kelly might have officially gone off the rails. While he's out on bail for his 10 criminal abuse charges, he decided to do an interview with Gayle King for CBS "This Morning," and he looks even more guilty just from the preview. Needless to say, after these pics below surfaced from the interview, the internet memes were a-plenty.
Robert can even be seen being restrained by someone while he gets physically emotional in Gayle's face as she remains unbothered.
The Grammy Award winning singer, who was charged and jailed about two weeks ago after new evidence came to light that led to new charges of him committing sexual abuse on underaged girls and one who was not, is still claiming he's innocent:
"I didn't do this stuff! This is not me! I'm fighting for my f-ing life!"

.....

"Something like this can happen to any artist. Anybody famous. Anybody famous can get accused of so many different things."
Here's the sneak peek:
Somebody said Robert is crying Pedo tears, and we can't even.
Attorney Michael Avenatti, who brought forth multiple new video tapes that he claims proves R.Kelly had sex with his 14-year-old client on camera, also released a statement from 2 of his other clients - the parents of Azriel Clary. Azriel is one of the "girlfriends" currently living with R.Kelly.
Here is a statement from my clients Alice and Angelo Clary in advance of the @CBSThisMorning @GayleKing interview with R Kelly airing tomorrow. pic.twitter.com/fnnNp93RgP

— Michael Avenatti (@MichaelAvenatti) March 6, 2019
Avenatti says Robert never fully denies the allegations:
Watch this please. Importantly, R. Kelly does NOT deny sexually assaulting underage girls. In fact, his answer demonstrates his guilt. He fails to understand that it doesn't matter "how long ago" it happened. And he also has no clue as to how "double jeopardy" works. https://t.co/ntGt8I5zBC

— Michael Avenatti (@MichaelAvenatti) March 5, 2019
He also states this interview was a bad idea, because, obviously.
Someday very soon, law students from across the country will learn what NOT to do by studying the decision to have R. Kelly sit (and stand) for an in-depth TV interview while facing multiple felony charges. Truly unbelievable.

— Michael Avenatti (@MichaelAvenatti) March 6, 2019
R. Kelly's tears are out of fear and despair. Because he knows that after over two decades of sexually abusing underage girls, we blew this wide open and have him and his enablers dead to rights. #Justice

— Michael Avenatti (@MichaelAvenatti) March 6, 2019
The full interview airs Wednesday, 7am EST on CBS.
Photo: Gayle King
​ ​
​ ​ ​