Jussie Smollett Indicted By Grand Jury On 16 Felony Charges For Allegedly Lying To Police
​
Mar 08 | by _YBF
​ ​ ​ ​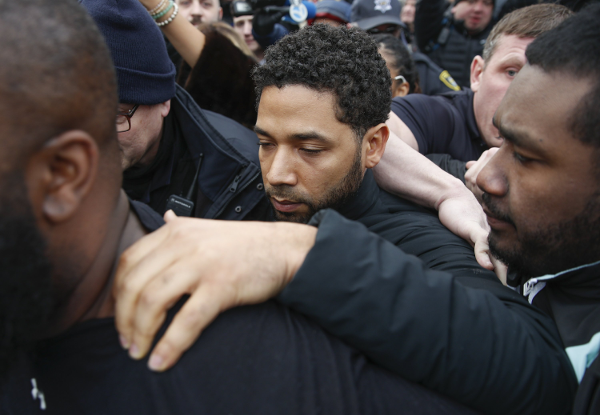 Jussie Smollett has just been indicted by a Cook County grand jury on 16 felony counts for allegedly filing a false police reports. Deets inside...
Jussie Smollett's legal troubles just got worse.
The "Empire" actor has been indicted by a Cook County grand jury on 16 felony counts for allegedly lying to police about being the victim of a racist and homophobic hate crime, according to NBC News.
As you know, the State Attorney's Office charged him with felony disorderly conduct last month and he was released on a $100,000 bond.
It's alleged he staged the attack because he was upset about his pay on the show.
"Jussie Smollett knew that at the time … there was no reasonable ground for believing that such offenses had been committed," according to the indictment.
So, how did he end up raking up so many felony charges on top of the first charge?
Apparently, the grand jury handed up two sets of charges - one for his initial reports to Chicago PD and the others from his 2nd interview with Chicago PD. The specific allegations–"false report of offense"– are Class 4 felonies.
Each of the new charges could carry up to four years in jail.
As you know the Osundairo brothers - Ola and Abel - blew up the case when they revealed Jussie allegedly hired them for the "attack" that went down at 2AM on January 29th. The actor allegedly paid them #3,500 (although some reports suggest the money was for training him in preparation for a music video) to physically assault him, tie a noose around his neck and shout racial and homophobic slurs.
Hate mail was sent to Jussie at the Chicago studio where "Empire" is filmed and it's still unclear who exactly sent the letter. Chicago Police Department Superintendent Eddie Johnson announced Jussie was the one who sent the racist, homophobic letter. However, the FBI confirmed they have not drawn any conclusions yet. The brothers allegedly told the grand jury they did not send the letter.
Whoever sent the letter - if convicted - could be facing five years behind bars.
The "Empire" star has denied any involvement in orchestrating an attack. He later sat down with Robin Roberts for an interview on "Good Morning America" to try and prove his innocence.
Jussie Smollett is due back in court from the disorderly conduct charge on March 14th.
Also, the Chicago PD has reportedly opened an internal investigation to determine who leaked information about Jussie's case. Also, several Northwestern hospital workers have been fired for accessing his medical records.
While Jussie should be punished for his actions IF he lied, are 16 felony charges overkill or nah?
Photo: AP/Kamil Krzaczynski
​ ​
​ ​ ​