MAKE IT MAKE SENSE! How Does Tyga Keep Buying More Whips While Constantly Getting Hit By The Repo Man?
​
Mar 08 | by _YBF
​ ​ ​ ​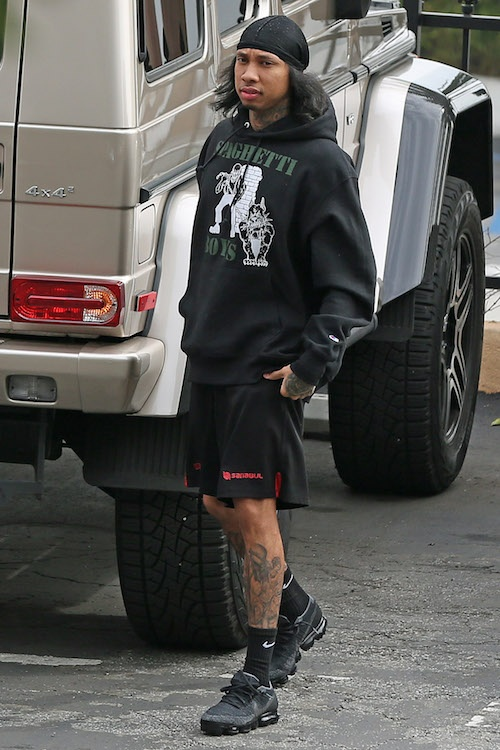 Tyga stays getting his cars repossessed, but folks keep giving him new whips. Deets on his latest vehicle splurge and more inside...
Tyga is literally the king of having his cars repossessed as luxury whips have been taken from his possession several times in the past. However, folks keep lending him new whips, and he keeps getting them.
One thing is for sure, he isn't going to let a repossession keep him from riding around in style. According to TMZ, the "Taste" rapper just copped a red 2019 Rolls-Royce Cullinan - the luxury line's new SUV. Oh, he's fancy.
The reported purchase hit him steep in his pockets (IF he paid for it) since they start selling at $325,000. Not only that, the site reported Tyga was spotted in Beverly Hills shopping for a Lamborghini last week. Really?
He posted from his new whip yesterday:
So check it, remember when Tyga got dragged out of Floyd Mayweather's birthday bash last month? Well, it's reported he copped the red luxury SUV before the club drama, which actually popped off over a Maybach that got repo'd. It's reported the club dispute was over a Maybach that was loaned to Tyga. The individuals involved wanted to "chat" with him about the loan, and it resulted in the west coast rapper getting thrown out the club. A photographer on the scene said he tried to grab gun from a security guard to handle the situation.
Days later, Tyga posted a picture with the men who yoked him up on his Instagram, confirming everything was all good between them. He has since deleted the post.
But, there's more drama...
A rental company, Midway Rent-A-Car, recently filed a lawsuit against the rapper for a pair of luxury whips he neglected. According to TMZ, he bailed on payments for a 2012 Ferrari 458 Spider and a 2012 Rolls-Royce Ghost back when he rented them in 2016. They said payments stopped coming in and now they want $128,000 in damages.
Oh, and there's more....
A warrant was reportedly issued for Tyga's arrest after he missed a recent court appearance. A woman named Shyanne Riekena sued him after she was injured at one his concerts years ago. She received a 4-inch gash in her head after a light stand fell from the ceiling. His name was on the paper work for the rented equipment and she ended up winning her case in 2015. He owes her $250,000 and she has yet to receive it.
A rep for Tyga explained to TMZ why he didn't make it to court: "Due to a last minute work obligation Tyga was traveling and was forced to miss his debtor's exam. The judge issued the bench warrant for the sole purpose of ensuring Tyga will sit for the next Debtor's exam."
Hmph.
This is only more fuel for Tyga's rap enemy Soulja Boy if/when he drops that diss track he has been teasing on social media.
EXTRAS:
1. A sound producer is suing J. Cole and Bryson Tiller (as well as Sony Music, Roc Nation and RCA Records) for allegedly using his track for their own respective tracks. STORY
Photo: Backgrid
​ ​
​ ​ ​