RUN ME MY COIN! Gayle King Wants 'George Stephanopoulos Money' To Stay On 'CBS This Morning' + Talks R. Kelly Interview On Late Night TV
​
Mar 08 | by _YBF
​ ​ ​ ​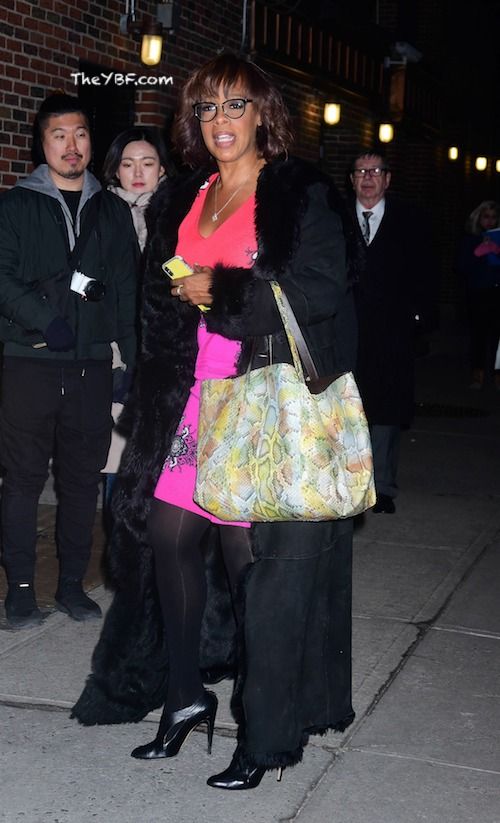 Gayle King is in negotiations with CBS News to stay on "CBS This Morning" and she wants all her coins. Get the latest, plus what she said about the R. Kelly interview on late night TV inside...
Can a sister get equal pay?
Gayle King has been all in the headlines this week after clips from her explosive R. Kelly interview was released. And it just so happens, she's currenly in the midst of a multi-million dollar renegotiation with CBS News to stay on "CBS This Morning." Perfect timing.
According to Page Six, Gayle wants "George Stephanopoulos money" to stay on the morning show. The morning show host currently receives $6 million a year and she has one-year left on her current deal.
"Gayle is holding the show together, she wants George money — he got between $15 and $18 million to stay on at ABC," a source dished to the site.
The site shared details about how Gayle was ready to chuck the deuces to CBS following the firing of Charlie Rose and Les Moonves.
Here's what went down and more behind-the-scenes deets:
She was furious over the departure of her EP Ryan Kadro in December after his exit was mistakenly linked with CBS's payoffs.

We were also told how her co-host Norah O'Donnell's future on "This Morning" is in doubt as she may oust Jeff Glor from the nightly news spot and take the show to DC.

It's also believed that new CBS News president Susan Zirinsky is keen to spend more money to keep great talent at the network.
Tonight, Gayle King will take over television with her Friday night special, "The Gayle King Interview with R. Kelly." The hour-long special will feature her sitdown with the embattled singer, unaired footage from the 80-minute chat, and interviews with his "girlfriends," Joycelyn Savage & Azriel Clary.
Be sure to tune in TONIGHT at 8pm EST on CBS.
Also...
The daytime co-anchor stopped "The Late Show with Stephen Colbert" (atop, outside the studio) to share the backstory of how her interview with R. Kelly went down. She shared she met Robert Kelly five years ago at a birthday party, however, they did not have a friendship, so she wanted to introduce herself before the interview. She revealed he has a Christmas tree that he's had up since 1993 as tribute to his mother.
The infamous photo of the Grammy Award winner standing over her, waving his arms, while yelling and screaming was taken by her makeup artist, Lazarus, who she didn't even know was in the room. She said he captured about 800 pictures from the interview. Sheesh.
When clips of R. Kelly came out, showing him cutting up during the interview, people were concerned for her safety. Not Gayle. She said she never felt like he was going to do anything to her. Her first thought was "please don't stop the interview."
"My initial thought was, 'Please don't leave. Please don't leave. Please don't leave,' because I thought 'I'm not done with my questions,'" she said.
Oh, and she also CHECKED FOX News' "The Five" commentator Jesse Watters. He tried to give her a backhanded compliment by saying her R. Kelly interview was better than her Jussie Smollett interview. His co-panelist Dana Perino corrected him and told him that he confused her with Robin Roberts. She said she emailed Dana and the email said: "Thank you for letting [Watters] know we're two different people. And could you let the rest of your colleagues know that all black people do not look alike."
YAS!
Peep the interview above. She also dished on her interview with Joycelyn and Azriel, and whether or not she will be muting R. Kelly (and Michael Jackson) below:
Photo: INSTAR
​ ​
​ ​ ​