Andrew Gillum Is Up To Something! Making 'Major Announcement' Soon + Michelle Obama's Alma Mater Names Athletic Facility After Her
​
Mar 09 | by _YBF
​ ​ ​ ​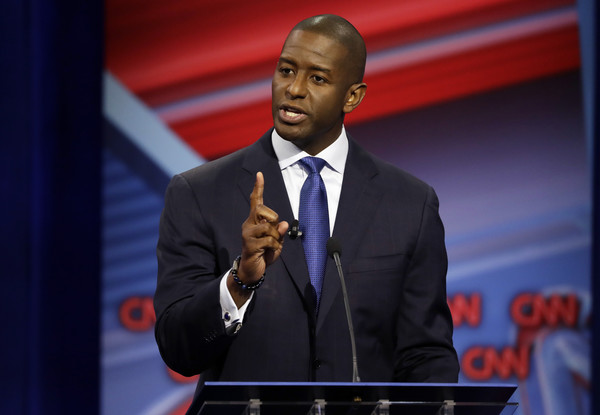 Andrew Gillum has a major announcement coming up. Is he running for President? Go inside to find out, plus deets on Michelle Obama's alma mater honoring her...
Get ready! Andrew Gillum has an announcement to make.
The former Tallahassee Mayor is set to make a "major announcement" on March 20th in Miami, according to his website that he used during his gubernatorial run. He's using the same slogan, "Bring It Home."
Gillum posted a video on his Twitter account (Forward Florida, Gillum's statewide political action committee) to put everyone on notice he's cooking up something:
3.20.19 | Miami, Florida | https://t.co/WjeSoEEkjr pic.twitter.com/INXSsbMGMx

— Andrew Gillum (@AndrewGillum) March 8, 2019
He also sent out an email that sounds real president-ish:
Friend -

We came so close to winning our state back last year. It still stings — especially when I think about the people who lose when we lose elections.

But what I've realized, is that the legacy of our campaign was never going to be defined by victory or defeat on one day.

Last year, we inspired the biggest progressive movement in the history of our state. Over 70,000 of you took Florida's future into your own hands, volunteering to knock on doors, make phone calls, or text your friends.

And on Election Day, more than four million Floridians, from every corner of the state — black, white, Latino, rich, poor, men, women, young and old — showed up to support our campaign, because we believed in hope, decency, and a government that represents all of us.

And let me tell you: I still believe.

That's why I'm inviting you to join me on March 20 in South Florida when I announce the future of this movement. Will you join me?

We'll announce the details soon, so save the date — I need you there.

Because what we fought for last year still holds true today. Health care should be a right and not a privilege. Teachers should be paid what they are worth. Our water and air should be safe for our children.

And most importantly: we need to do everything in our power to make Donald Trump a one-term president.

This fight is about the future of our state and our nation. I'm not going anywhere — and I know neither are you. We have to stand strong and speak out.

I believe that we will win. I'll see you on March 20.

Let's bring it home,

Andrew Gillum
It's unclear what exactly his major announcement is. Some people think he's going to run for president, while others believe he may run for Senate. Maybe he's gunning for Marco Rubio's spot.
Last night, Mr. Gillum was in Austin, TX for the SXSW Festival (standing alongside Chris Bosh) where he served up a speech about voter turnout in Florida and committing to making a better life for the American people. He also talked about wanting to encourage Democratic voters to make it to the polls and reversing Republican gains in Florida:
— Andrew Gillum (@AndrewGillum) March 9, 2019
Hmm...what do you think the big announcement will be?
By the way, Mr. Gillum is asked to be present for a hearing on April 24th after a state Ethics Commission found probable cause that he violated ethics laws when he accepted trips to Costa Rica, New York, and tickets to the Broadway hit musical, "Hamilton."
In other political news...
Forever First Lady Michelle Obama is getting honored by her alma mater.
According to reports, Mrs. Obama's high school Whitney Young Magnet High School is name its brand new athletic complex after her, which would be her first namesake since leaving the White House.
ABC7 Chicago reports:
Construction began last summer on the new $4.3 million facility. Crews are waiting for warmer weather to finish the project.

Obama visited the high school during a visit to her hometown for an exclusive interview with "Good Morning America" anchor Robin Roberts in November 2018. As a photo of a young Obama, then named Michelle Robinson, hung on a wall nearby, the former first lady shared lessons with the girls about how she found her voice in high school.
Sweet!
Whitney Young Principal Joyce Kenner said they told her about the namesake back in November when she visited the school.
"She didn't say very much, but she seemed very excited that we would consider doing that. And since it's for the community, she said she was happy to be part of it," Kenner told the Chicago Times. "She understands the importance of exercise. It's all about keeping students fit. She embodies that spirit of athleticism."
Congrats, FLOTUS!
Photo: Getty/JStone / Shutterstock.com
​ ​
​ ​ ​