R. Kelly Allegedly Pressured Joycelyn Savage To Lie To Police + Ex-Girlfriend Dominique Gardner Speaks Her Truth, Says He Shouldn't Go To Jail + Kelly Appears In Court Again
​
Mar 14 | by _YBF
​ ​ ​ ​
R. Kelly allegedly made his girlfriend Joycelyn Savage lie to police and her parents have the proof. Get the latest, plus his ex-girlfriend Dominique Gardner (who escaped) is speaking out, and Kelly was back in child support court. Everything inside...
Jocelyn Savage (left) & Azriel Clary walk into the Leighton Criminal Courthouse for R. Kelly's first court appearance following his arrest on charges he sexually abused four people, including three underage girls https://t.co/DWWV41FHdE pic.twitter.com/JwYz7M54V7

— Ashlee Rezin (@Ashlee_Rezin) February 23, 2019
R. Kelly was really doing the most to initially try and keep his relationship with Joycelyn Savage low key, supposedly.
There are multiple investigations going on as authorities try to figure out if the Grammy winning singer broke any laws while dealing with younger girls.
The 52-year-old reportedly coerced his girlfriend Joycelyn Savage to make false statements to law enforcement throughout this "relationship", and her parents - Tim & Jonjelyn Savage - allegedly have proof. The Savages claim to have tons of digital evidence of Kelly orchestrating this plan, which includes text messages, emails and audio recordings between the singer and their daughter. They have turned over the evidence to federal investigators after law enforcement officals jetted to Atlanta to meet with them.
TMZ reports:
We're told the Savages had lots of digital records that they say display shady tactics from both R. Kelly and folks who were working for him, including a woman named Cheryl Mack ... an ex-assistant who allegedly facilitated a meeting between Joycelyn and R. Kelly early on.

According to our sources, the records show Mack had arranged for Joycelyn to fly to Palm Springs to see R. Kelly in 2015. We're told that meeting led to Joycelyn dropping everything and moving in with him, without her parents' knowledge.

For the record, Joycelyn was 19 at the time this happened. She has been living with him since then.

There's a lot more the Savages had. Per our sources, they also handed over old emails and texts between them and Mack, as well as audio recordings of R. Kelly allegedly coercing her into lying about her situation if authorities ever talked to her.

We're told in some of the other audio recordings obtained, you hear R. Kelly discussing how he'd conceal his relationship with Joycelyn ... and in another, we're told you hear R. Kelly demand Joyceln text him a statement that she herself was lying in the event she ever ratted him out.

Our sources say the Savages also handed over social media messages they say came from R. Kelly's camp through the years to show he had others working for him to procure young women.
By the way, Cheryl Mack is Kelly's former assistant and one of the women interviewed for BuzzFeed's explosive article about Kelly's "sex cult." She's also the mother of producer London on Da Track.
As for one of Kelly's exes...
Dominique Gardner - the woman seen leaving R. Kelly in the "Surviving R. Kelly" docu-series - is speaking out publicly for the first time to share what it was like over the nine years she was with the Grammy Award winner, who is currently facing 10 aggravated sexual abuse charges.
In the documentary, we saw Dominique's mother, Michelle Kramer, track her down to a Los Angeles hotel and eventually convinced her to leave. She ended up going back to R. Kelly and stayed with him an extra two weeks before leaving him for good.
Now, the 27-year-old is trying to get her life back on track and she decided to open up to Chicago music journalist Jim DeRogatis for an interview in The New Yorker to "give her truth."
She first revealed she has not watched any parts of the six-part LIFETIME series.
"What's the point of seeing it when I lived it?" she said. "People are using it as entertainment, when it wasn't entertainment for me, you know?"
While chatting with the reporter in a Chicago bar, Dominique revealed she has two tattoos of Kelly's face on her body. One on her left leg and another on her rib cage.
She was once one of several girls living with the "I Believe I Can Fly" singer, but that all changed when he wouldn't let her attend her brother's graduation. As we saw in the documentary, Dominique left R. Kelly last May, but she went back. After he denied her of going to her brother's graduation, that was the last straw for her, and she left for good.
"I would probably still be there," she said. "But when he told me 'No' ... I'm, like, 'What is wrong with you?' You don't let people see their families, I guess, because we might realize how much freedom and happiness we have out there with our families."
After R. Kelly's interview with Gayle King made waves in the news and social media, Dominique admitted she hadn't seen the full interview, but she saw the dramatic clip of Kelly going off the rails.
"That's not genuine. That's the devil talking," she said. "Talking about 'I'm not Lucifer.' Yes, you are." But she is clearly conflicted about Kelly; she also insisted that "he is a giver, because when everything between me and him was good—oh, my God, it was, like, perfect. But, as soon as he gets mad, he turns into a person like, oh, what up, the new Rob."
When asked if she regrets the time she spent with R. Kelly, she said she didn't. She denied being in a sex cult and being brainwashed.
"I loved him to death, you know what I'm sayin'? But he needs help. Who doesn't need help?" I am not just about to spread lies about him," she said—but she struggles to find a better way to describe a situation that, according to her, people don't really understand, at least not the way she does. "I wouldn't even say 'mind games.' It was just the fact that he tried to break me," she said. "I couldn't be broken. He wanted that control over me, and I wouldn't give him that power. So, he figured, like, If I don't give her food, she'll come around. Nope. I'd rather die than come around and give you my soul."
Dominique confessed to cheating on Kelly, sleeping with two other men during their relationship.
"At the end of the day, I am not playing victim. I done did some shit," she said.
Dominique met the "Trapped In The Closet" singer in mid-2009 after her friend Jerhonda Pace - who is one of the four victims in the current sexual abuse case - introduced them. After graduating from high school in 2009, she enrolled to study dental hygiene, per her mother's wishes. She said that was the first time she became intimate with Kelly at the age of 17, which is the age of consent in Illinois. Kelly was 42 at the time. She lived with her mom for a few years while she was seeing Kelly. In 2015, she quit school and moved in with Kelly, whom she calls "a musical genius," and five other of his girlfriends. When she moved with him to Atlanta, everything changed.
"Atlanta is where he changed," she said. "It was like something switched. [Before that] I used to go home on a regular basis. I was able to call my family. Then, all of a sudden, it was no."
Dominique said some of what Kelly's accusers have been saying about him is wrong. She said she was allowed to watch TV and use the Internet. "[There were] no lock on no doors . . . If them two other girls, Joy and Azriel, wanna walk out, they can do that."
However, she did say he took their cellphones, replacing them with new ones to be used only with him; he did not allow them to contact their parents, family members, or friends; he decreed that they should all wear baggy gym clothes, so other men could not admire their bodies; he did not want them to look at or speak to other men; and they had to ask for his permission to eat or go to the bathroom.
"I couldn't even have a drink without his permission," she said. "I'm a grown-ass woman, and I've gotta ask you if I want a drink? Everything you do, you have to ask him. That's not living, that's not normal. I've got to ask to use the f*cking bathroom? Are you serious? I'm about to pee on myself if I can't get in contact with you. What the f*ck is this?"
She admitted she was the tomboy of the group and her fiesty attitude would get her into trouble all of the time. She was considered the most "rebellious," often times disobeying his orders. And when she did, he would spank, slap and beat her. One time he beat her with an extension cord. She then recalled what he did one time she threw a carrot at him:
"He grabbed me and he pulled my hair out, and I had, like, patches torn from my hair," she said. The "consequences" came when Kelly "felt as [if] we disrespected him or disobeyed him. It's like a parent when your children go against your word."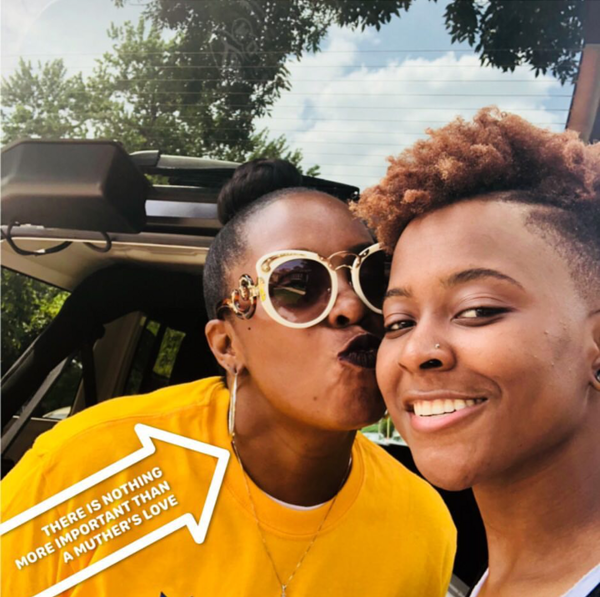 Dominique still can't answer why she stayed so long. She pulled up his recent mugshot and said:
"It's, like, I know them eyes," she said. "Every time I looked in his eyes, I knew he was sorry. Like, when he hit us, hit me, he was, like, he apologized. Like, he said, 'I done did some things, and I apologize for it.' I'm, like, you did, you did! But enough was enough. Yes, you did say, 'I'm sorry, I'm sorry.' O.K. But, then again, you do it again when shit don't go your way."
While everyone else has been championing to have Kelly behind bars, she feels like he shouldn't go to jail because "he's a victim too."
"At the end of the day, he's a victim, too, because he went through some shit, and people—they don't understand," she said. "I feel like he should be on house arrest in a studio, because, like I said, his music makes him get through the situations, what's he going through. Jail time, no. He needs to have a twenty-four-hour therapist at his house." And, she added, he needs to be honest about his behavior. Here, she addressed the man whom she claims to still love. "You can stop the cycle," she said. "Just be honest. People don't want you in jail."
She said she was approached by investigators from the Department of Homeland Security, but she didn't talk to them.
"They're, like, 'We've been trying to reach you and talk to you,.' I'm, like, 'About what?' . . . They gave me a card. I just ripped it up. And I'm just—whatever. I'm not talking to you guys."
Dominique opened up about what took her so long to share her story.
"I just want to heal. I just want my privacy." "People may disagree or hate me for what I'm saying," she continued. "That's the reason why I never wanted to come out. Because I'm not trying to defend him and what he has done, but, at the end of the day, you don't understand what he's been through, as a child."
Prayers up this young lady can find healing.
In other Kelly news...
Yesterday, R. Kelly (above alongside publicist Darryll Johnson) was back in court over child support after being released from jail on Saturday (March 9th) over unpaid payments after spending three days behind bars.
Kelly's publicist said the singer wants his child support payments lowered, but it's not happening.
The AP reports:
The judge in Kelly's child support case has sealed it and prohibited attorneys from talking to the media about it, so it's unclear if Kelly made such a pitch during Wednesday's hearing in Chicago. However, the Chicago Sun-Times reports that Kelly's criminal defense lawyer, Steve Greenberg, said there would be "no change in anything."
You'll recall, he owed $160,000 in back child support. Someone - who has remained anonymous - coughed up the cash to get him out. His publicist claims his friends and family came up with the money. His next court date for his criminal case is scheduled for March 22nd at 10am.
Photos: Ashlee Rezin/Chicago Sun-Times via AP/Michelle Kramer's IG
​ ​
​ ​ ​