Nick Young Wants All The Negative Nancies To Simmer Down After Making Baby #3 Announcement + Kobe Bryant & Baller Daughter Cover SLAM Mag
​
Mar 19 | by _YBF
​ ​ ​ ​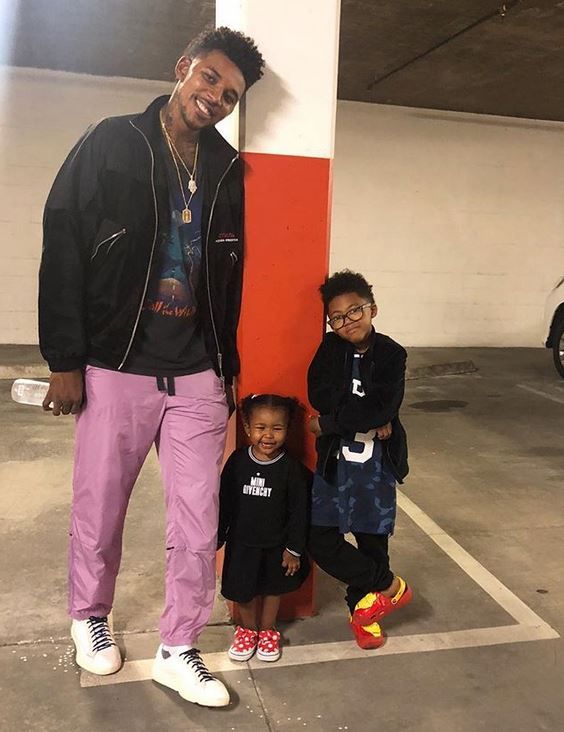 Nick Young is expecting baby #3 and he's already over the hate he's getting for it. Find out what he has to say to the haters, plus see Kobe Bryant and his basketball loving daughter Gianna Bryant cover SLAM magazine. Get it all inside...
Nick Young is about to be a dad again!
The NBA baller - who was waived from the Denver Nuggets in December - hopped on Twitter to announce he's gearing up for baby No. 3.

We see what he has been up to during all this free time.
We assume the new baby is with his children's mother/on-and-off longtime girlfriend Keonna Green, based on his lovey dovey dovey social media comments and posts.
Earlier this month, he hinted at wanting another baby with Keonna, whom he has been dating on-and-off since high school. The 33-year-old - who was once engaged to Iggy Azalea - took his son Nick Jr. to the Captain Marvel LA premiere where he dished on wanting another baby with his 29-year-old girlfriend.
"One more," he told US Weekly on the red carpet.
Nick and Keonna already have two children together, Nick Jr., who just turned 7, and 2-year-old Navi. The couple has been flooded with congratulatory messages, but trolls have also been hard at work. He responded to the negative nancies in a tweet: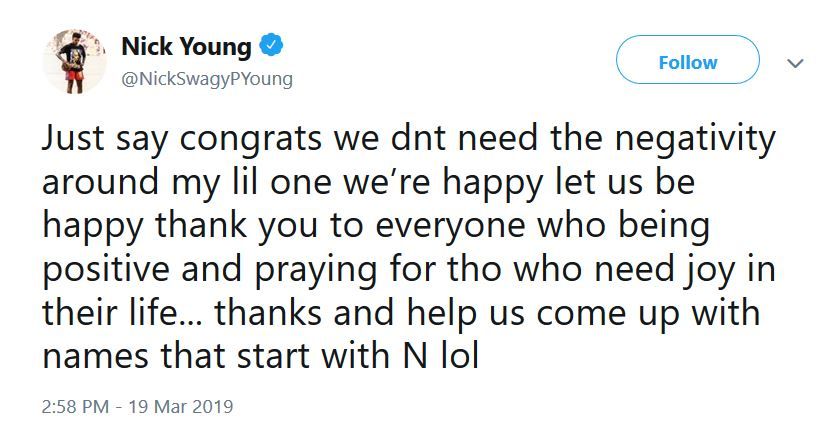 Now, they just need suggestions for another N-name to stay with their theme.
Go inside Nick Jr.'s recent b'day bash below:
Cute.
Speaking of dads...
Kobe Bryant's daughter Gianna Bryant is following in her dad's footsteps. And he's right by her side to guide her all the way.
The NBA icon (aka Black Mamba) coaches his 12-year-old daughter and her AAU team called The Mambas. And coach Kobe plays NO games. They practice every night during the week.
"You should have seen us six months ago," says Bryant. "The girls are making incredible progress. Just wait until you see us in six years."
Like father, like daughter.
Not only is he coaching, he's also working on young adult novels, an ESPN show, and he's producing a podcast.
"A friend asked me the other day," Bryant pauses, "'Does it bother you that when Bianka [his 2-year-old daughter] grows up she will know you as a creator and producer and not a basketball player?'"

"I thought about it for a bit and said, Yeah, that's true. She won't know that part of my life, but that doesn't bother me at all. In fact, it excites me."
Crazy, right?
You can read their full profile here.
Peep the behind-the-scenes clip from the shoot and see The Mambas in action below:
Photos: Nick Young's IG
​ ​
​ ​ ​