Nicki Minaj's Boo's Ex-Girlfriend Claims Someone Shot At Her At Home & Left Her Bloody [GRAPHIC PICS] + Keshia Knight Pulliam Scores Victory Against Ed Hartwell In Custody Case
​
Mar 20 | by _YBF
​ ​ ​ ​
Noelle, the ex-girlfriend of Nicki Minaj's current boo Kenneth Petty, posted up graphic pics and videos after someone allegedly tried to shoot her inside her home. See her receipts, plus deets on Keshia Knight Pulliam's custody victory over Ed Hartwell inside...
Something bad happened to Noelle - the ex-girlfriend of Nicki Minaj's boyfriend Kenneth Petty - and she shared the aftermath on social media.
Last night, Noelle, a Queens club bartender, hopped on Instagram and made claims someone brutally beat her and tried to shoot her inside her home. Yikes! In the caption of her IG post, she wrote she was attacked and during the altercation the person dropped their gun. She thanked God her daughter wasn't home during the incident, said she would be MIA for a while, and asked for prayers.
"Thank god my daughter wasn't home and I'm thinking god I'm still alive. Came to shoot me in my own home and dropped your gun !! I'm out of commission for a few. Pray for me," she captioned a picture of the aftermath.
WARNING! The photos and video of the bloody scene and her bloody face she posted are graphic: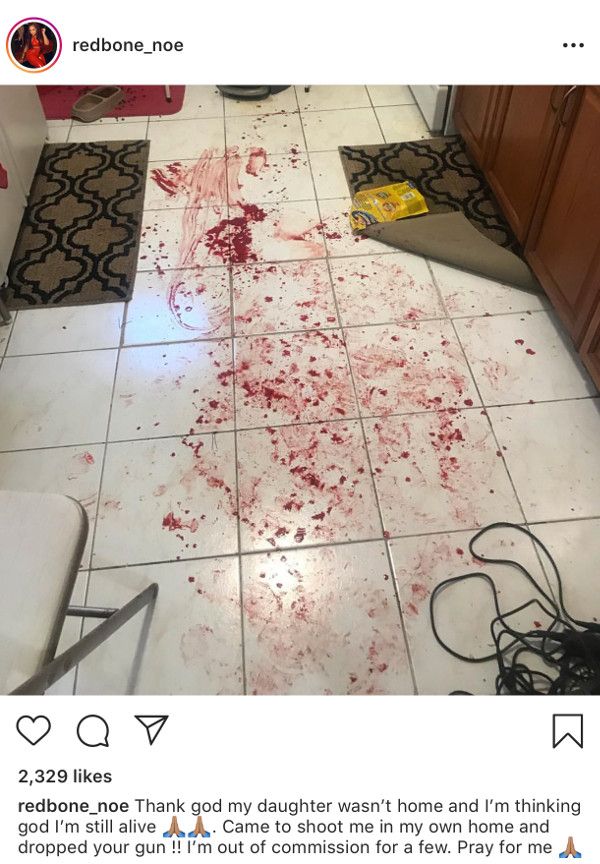 After she posted the picture of the crime scene, she hopped on IG Stories to show the injuries to her face from the attack.
"I'm just happy to still be here," she said:
People have been dragging Noelle in her comments, accusing her of lying about the attack.
Here are some of the comments:
"You post a crime scene? Haha! If u where shot u be in the hospital. Okay"

"You gonna post a crime scene on INSTAGRAM? this is super fake."

"Why you lying? If someone came to 'shoot you in your own home' why the first thing you do is come on Instagram?????"

"You THAT thirsty for attention sis"

"I hope you filed a police report before you posted this cause they are gonna question the authenticity of your story and not to mention the hospital is gonna take pictures of you and collect evidence as well if this is staged I honestly recommend you just take this post down stop before you get in serious trouble for making false claims its just not worth 15 minutes of ig fame I can get on here and bash you like people are doing in the comments but i rather drop some common sense on ya to save you the trouble and embarrassment!"
Also, a woman named Vanessa Hicks went on Facebook to call Noelle out for allegedly lying:
It's unclear her relation to Noelle or the woman named Jazzy she pointed out in her post. It's also unclear about their credibility.
You'll recall, Noelle hopped on IG back in December to share how hurt she was when Kenneth, who Nicki allegedly "stole," called it quits with her. She initially said she didn't know she and Kenneth were broken up until she saw him with the "Chun-Li" rapper like everyone else. Then, she said she and her ex were moving on.
So unfortunate. Prayers up that she recovers.
In splitsville news...
Keshia Knight Pulliam just scored a victory in court against her ex-husband Ed Hartwell.
A Georgia judge ruled in her favor, shutting down Ed's attempt to get a new custody trial after the "Cosby" star was awarded full custody of their 2-year-old daughter, Ella Grace Hartwell.
According to The Blast, the former NFL star will not be granted another trial to determine if he should be given joint custody of their daughter. The judge wasn't swayed by Hartwell's arguments, so the judge left their custody arrangement as is.
Hartwell requested a new trial last year after he accused the judge of making several mistakes when Keshia - who was represented by attorney Tanya Mitchell-Graham - was awarded primary custody. In the motion, he made claims Keshia kept their daughter away from him, stating she denied visitation for eight weeks while she was filming "Celebrity Big Brother." He also said she violated his scheduled visitation when she traveled to another state to show her support for her former TV dad Bill Cosby during his sex assault trial in Pennsylvania.
TheYBF.com exclusively reported Ed filed for divorce from Keshia less than eight months after their surprise New Year's Eve wedding.
He cited irreconcilable differences, "such as constant disagreements on life changing decisions that couples typically make together."
Last month, Ed married the woman Keshia accused him of cheating with, Tonya Carroll. His new wife made the wedding announcement via Instagram. They also recently welcomed a baby girl named Sevynn Elíse.
Chile...
Photos: Noelle's IG/Instagram
-------
Hey! Now you can leave comments in a BIGGER & BETTER way on this story (and every story we post)! Directly below, sign in to our VIDEO COMMENTING widget called Yappa. Talk to us, talk to each other, just talk. It's like Facetime for comments. Be amongst the first to get in on this. We'll be talking to you too!


​ ​
​ ​ ​