R. Kelly's Ex-Andrea Kelly & Kids Join 'GUHH: ATL' + Kelly's Legal Team Demands To See Alleged Sex Tapes, Wants To Go On Dubai Royal Visit
​
Mar 22 | by _YBF
​ ​ ​ ​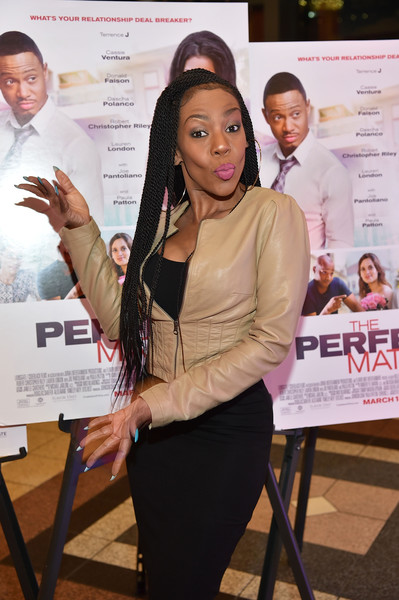 R. Kelly's ex-wife Andrea Kelly is joining her 2nd reality show. She'll be starring on a new season of "Growing Up Hip Hop: Atlanta." Chile...
Watch the sneak peek, plus get the latest on Kelly's defense in his sex abuse case inside...
R. Kelly's ex-wife Andrea Kelly - who appeared in "Surviving R. Kelly" - is gearing up for reality TV again.
After appearing on "Hollywood Exes," the dance choreographer will now be starring on a new season of "Growing Up Hip Hop: Atlanta."
She'll be joining other new cast mates, including TLC singer T-Boz, Waka Flocka and his wife Tammy RIvera (they're getting those WETv checks aren't they?). A new season of "GUHH: ATL" returns this summer.
Here's the sneak peek below:
Drea and R. Kelly's kids will also be featured on the show. However, the singer will not be the focal point of storyline on the show.
Sources told The Blast, Drea didn't ask for permission, nor did she inform R. Kelly they would be starring on the show. The site reports:
Two of the three children are over the age of 18, but we're told there is zero communication between Drea and Kelly, so she never ran anything by him.Furthermore, sources close to Drea scoffed at the notion she would seek out Kelly's blessing for any business opportunities after it took jail time to get him to pay up on back child support.

We're told all three of Kelly's children, including Joann, Jay and Robert Jr., will be featured on the show. However, Joann's aspiring singing career will be the focal point.

We're told Joann, who performs under the name Buku Abi, was adamant regarding "not talking" about her controversial father, as he is not someone actively involved in her life. The R&B singer actually shared a birthday message for her this week, but we're told the two have still not spoken.
We're curious what their storyline will be since they claim they aren't going to be discussing R. Kelly. What would be the purpose of being on this show?
As for R's latest antics...
A woman yelled, "I love you Kells!" as R. Kelly walked into the Leighton Criminal Courthouse today.

The singer is attending a hearing at which a judge could rule on whether or not the singer can travel to Dubai to perform several concert dates next month https://t.co/fkHDF6i3Cz pic.twitter.com/6UJQgN8fvH

— Ashlee Rezin (@Ashlee_Rezin) March 22, 2019
The "I Believe I Can Fly" singer has a court hearing today. On his way inside, a female fan was heard yelling, "I love you Kells!" as he and his legal team walked inside the Leighton Criminal Courthouse this morning.
The Grammy Award winner is appearing in court to find out if a judge will grant his request to travel to Dubai to perform next month. He needs the money. As you know, Kelly was ordered to turn over his passport after he was indicted with 10 aggravated sexual abuse charges.
Kelly's legal team is demanding to see the two alleged sex tapes that were turned in to Cook County prosecutors by lawyer Michael Avenatti and they're hoping to walk out of court with them today so they can start building his defense. The singer's lawyer Steven Greenberg told TMZ prosecutors will begin handing over discovery materials for the case today. He said there's no gurantee what they'll get, but they'll likely receive police reports, and case material from Kelly's 2008 trial.
Greenberg claims he hasn't seen the tapes, so he hasn't been able to build a defense. But, once he does, here's what he said will happen:
He'll immediately order a full forensic analysis of the tapes ... if he and Kelly believe the tape does show the singer. If they don't think it's Kelly, Greenberg says he'll speed things up to trial.

For now, it's a waiting game since Kelly's team has no idea what prosecutors will hand over.

Kelly might also ask the judge to let him travel to Dubai for work -- he had to surrender his passport when he got arrested. Sources close to the singer tell us he could potentially get a gig there, but doesn't have anything booked yet.

Greenberg says he's not sure the judge will hear that request Friday, but it's on their "to do" list because -- make no mistake -- Kelly's desperate to make some cash.
Kelly's legal team intends to question the morality of his accusers and argue that IF Kelly had sex with them, it was consensual and that he thought they were of age. In the videos Avenatti turned over to prosecutors, it's believed the female featured in it is underage. It's reported there were several instances where they both referred to her body parts as being "14-years-old."
Greenberg has also signaled he may push to have some counts tossed on grounds statutes of limitation ran out or because some are too closely related to crimes for which Kelly was acquitted at his 2008 child pornography trial. Greenburg has been vocal about "double jeopardy," but he obviously doesn't know the true meaning of the phrase, being that Kelly isn't being brought up on the same charges as his 2008 child pornography case.
On the day Kelly was arrested, Greenberg said he thinks "all the women are lying," so they'll likely be singing that same tune in court. A mess.
Stay tuned...
Also:
R. Kelly hasn't posted since he was indicted, but he surely popped up this week to sing "Happy Birthday" to his daughter Joann Kelly, who's turning 21-years-old. You'll recall, Joann spoke out about her father, calling him a "monster" in an emotional IG post. They haven't spoken in years. The convenience.
Photo: Getty
​ ​
​ ​ ​