Vegan Cam Newton Says He's Giving Up Sex For A Month? + Papa Shaq's?! He's Papa John's Newest Investor & Board Member
​
Mar 22 | by _YBF
​ ​ ​ ​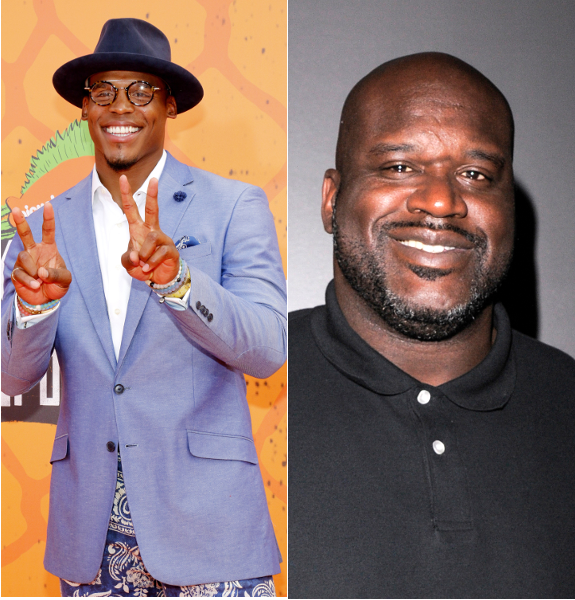 Cam Newton is giving up climaxing for a month and Shaq is giving away free pizza. This should be interesting. More inside...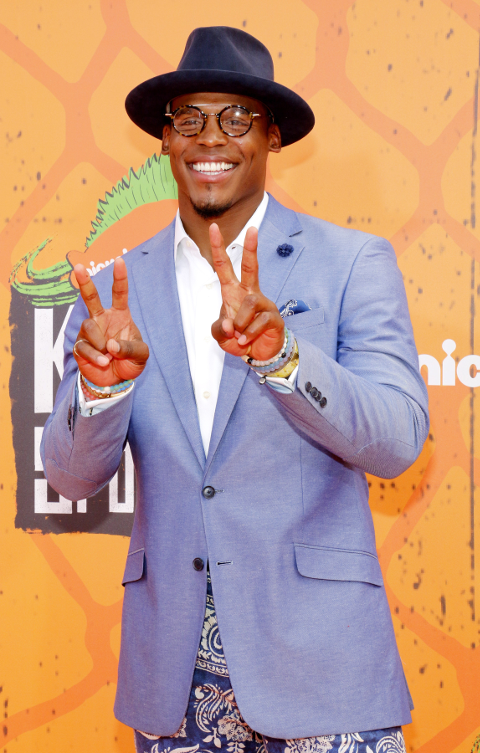 NFL star Cam Newton is a father of three, but he's giving up sex...well, for a month.
The Carolina Panthers quarterback appeared on "The Late Late Show with James Corden" and he revealed he's giving up sex for an entire month.
Since being on the off-season and recovering from a shoulder injury, he said he's been looking for ways to challenge himself in different ways. The 29-year-old, who underwent shoulder surgery in January, said during off-season he wants to do "certain things that challenge me," so he'll be in a better place when football starts up again.
Of course, a super difficult challenge he thought of was fighting off sexual urges. Because, men.
For January, Cam he decided to give up gambling. In fact, he said he's going to try to go the whole year without gambling. In February he decided to go vegan. It hasn't been super hard for the professional athlete since he has been pescatarian for the last 7 years. However, he said the later it gets, the harder it is to get vegan food while out and about.
For this month? No sex!
"And then March, I'm giving — I hope this is an adult crowd, it looks like it is — no climax," he shared.
Well, could he smash and just not climax? Is he basically trying to edge his way through March?
We wonder how his longtime girlfriend/childrens' mother Kia Proctor took the news when he first told her.
Oh, and he's also banning himself from using Wi-Fi.
"It makes my mind stronger," he explained. "I feel like, if I go back and I say, I did those things, I'm mentally stronger."
Check it:
As for another baller...
Shaq is making more money moves.
The NBA legend has teamed up with Papa John's for a new business venture. He's joining the embattled pizza chain's board of directors and he's the first African-American on the board. Not only that, he's investing big time in the company. According to reports, he's investing in nine Papa John's stores in Atlanta and he'll also become an ambassador for the brand in advertisements. And there's more...
Papa John's will pay Shaq $8.25 million over three years for the endorsement deal. That's one way to flip your negative publicity after the founder's N-word fiasco.
We know what you're thinking. Shaq is doing business with a company who was deemed racist? Not exactly.
He appeared on "Good Morning America" with Michael Strahan to explain why he decided to get involved with a company who was involved in racist controversy. He reminded everyone that Papa John's founder John Schnatter resigned from his company. He said racism is not acceptable and they're under new management. He said they reached out to him because they wanted to diversify their leadership.
Also, the NBA All-Star revealed he's serious about his DJ skills. He talked about how being DJ Diesel gives him that same spark as when he used to get on the basketball court.
Peep his interview below:
Shaq is no stranger to the food business. He owns a Krispy Kreme Doughnuts franchise in Atlanta, a Big Chicken fast casual fried chicken joint in Las Vegas, and Shaquille's restaurant in Los Angeles.
The "Inside The NBA" analyst also shared his Final 4 in March Madness:
Who's in @shaq's final 4? He gave us the scoop! #MarchMadness pic.twitter.com/hKyAtgmR5G

— Good Morning America (@GMA) March 22, 2019
Photos: Tinseltown / Ron Adar/ Shutterstock.com/Instar
​ ​
​ ​ ​