R. Kelly Reportedly Goes To The Mall After Court + Meeting With Kelly's Girlfriend Joycelyn Savage & Her Parents Gets Canceled
Mar 23 | by _YBF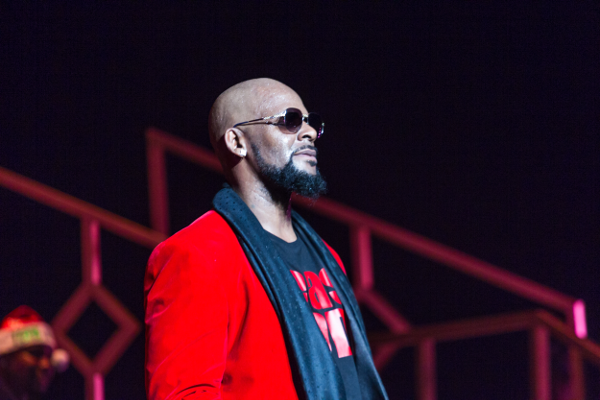 R. Kelly made a trip to the mall after his court hearing yesterday. Also, the meeting his girlfriend Joycelyn Savage was supposed to have with her parents got canceled. Get it all inside...
R. Kelly has no limits and clearly is going to do him.
After appearing in court yesterday, the embattled singer made his way to the mall...of all places. You'll recall in the "Surviving R. Kelly" docu-series, several of his accusers and people who used to be in his camp said he would go to the mall to pick up girls. It shouldn't come as a shock really since he went to McDonald's after he was released from jail earlier this month. And we all know McDonald's is another location he would go to on his quest to pick up females.
According to The Blast, Kelly was spotted perusing sunglasses at a Sunglass Hut inside a Macy's inside Water Tower Place mall - while wearing a pair of sunglasses - chatting on the phone. It's unclear if he made a purchase.
EXCLUSIVE: What did R. Kelly do after court today? He went to the mall. https://t.co/JxJYA8glVJ

— The Blast (@TheBlastNews) March 22, 2019
The "Ignition" singer went before a judge yesterday after his attorney put in a request to allow him to travel to Dubai to perform. Kelly had to turn his passport over after he was indicted on 10 counts of aggravated sexual abuse and he's not allowed to travel outside of the state of Illinois. In court, he argued he needed to keep working so he could pay his child support payments. Sure.
Kelly's legal team then decided they needed more time to put together the details of the trip. His laywer Steve Greenberg assured the singer isn't a flight risk, stating, "If he goes to Dubai, he is going to come back from Dubai."
"The more money you make, the more money you spend," said attorney Steve Greenberg. "His expenses are substantial." Greenburg added, "I think that there were some more details that needed to be filled in to give the judge a certain comfort level. He wanted some more information so we'll get that information to him."
Kelly's girlfriend Joycelyn Savage's parents don't seem to think so. They're fearful if the judge allows him to travel to Dubai, he'll never return. Sources tell The Blast that the Savage family fears the singer is trying to avoid prosecution because the United States doesn't have an extradition treaty with the United Arab Emirates.
It's been reported that Kelly plans to meet with the Royal Family in Dubai. The Savages are fearful that he could establish high-powered contacts that could facilitate any accommodations and arrangements he needs to permanently stay there and they'll never see their daughter again.
Tim & Jonjelyn Savage were supposed to get a meeting with their daughter Joycelyn Savage, but that has since been canceled.
According to TMZ, Kelly's team was supposed to arrange a meeting between Joycelyn and her parents, but the two parties can't agree on a location.
Kelly's publicist Darrell Johnson said Joycelyn would meet with her parents, but she only wants to meet with them in Chicago. The Savages want to meet at a neutral location outside of Chicago, preferably at Joycelyn's grandmother's home - outside of Chicago - who is battling cancer.
Kelly's team agreed to letting Joycelyn meet with her parents two weeks ago, but it hasn't happened yet.
Kelly's rep Darrell Johnson provided audio of a phone conversation with the Savages' attorney Gerald Griggs from two weeks ago where they tried to agree on a meeting location. Take a listen below:
After Kelly appeared in court, his publicist was questioned about the meeting between the Savages and their daughter and it got heated. Check it:
#RKelly's publicist gets fired up when I asked him about allowing #AzrielClary and #JoycelynSavage's families to see their daughters. Darrell Johnson previously said he was working on allowing those families to see their daughters. @MichaelAvenatti @AttorneyGriggs @fox32news pic.twitter.com/TwYzO0VQ6n

— Tia A. Ewing (@TIA_EWING) March 22, 2019
While Joycelyn's meeting with her family is seemingly canceled, Kelly's other girlfriend Azriel Clary is scheduled to meet with her family soon:
One lawyer representing a family confirmed there is a meeting scheduled this month. They will sit down with their daughter after more than 4 years that she's been living with #RKelly.

— Tia A. Ewing (@TIA_EWING) March 22, 2019
Just spoke to @AttorneyGriggs there's been no planned meeting for the Savage Family to see #JoycelynSavage. @MichaelAvenatti says there is one scheduled for the Clary's to see #AzrielClary. https://t.co/qUSQuhcYab

— Tia A. Ewing (@TIA_EWING) March 22, 2019
Part 1: #RKelly's publicist Darrell Johnson made it seem like there were meetings in place. Look at the text messages he sent to @AttorneyGriggs regarding the Savage family meeting with their daughter #JoycelynSavage. @fox32news pic.twitter.com/ef7eiU3JMp

— Tia A. Ewing (@TIA_EWING) March 22, 2019
Part 2: #RKelly's publicist Darrell Johnson made it seem like there were meetings in place. Look at the text messages he sent to @AttorneyGriggs regarding the Savage family meeting with their daughter #JoycelynSavage. @fox32news pic.twitter.com/7x93GsS2Mz

— Tia A. Ewing (@TIA_EWING) March 22, 2019
Also, R. Kelly's daughter Joann Kelly - who's starring in the upcoming season of "Growing Up Hip Hop: Atlanta" - has responded to his "Happy Birthday" message he posted for her 21st birthday:
#RKelly's daughter responds to him singing her happy birthday! pic.twitter.com/VaM8rpIUoj

— Tia A. Ewing (@TIA_EWING) March 22, 2019
Photo: Jamie Lamor Thompson / Shutterstock.com