Raz B Is Going Through It Again! Explains Why He Walked Off Stage Mid-Performance, J Boog Cracks Jokes
​
Mar 25 | by _YBF
​ ​ ​ ​
This "Millennium Tour" stays with some drama, mainly from the reunited boy band B2K. Raz B walked off stage mid-performance and now he's explaining why. Hear his explanation, plus see his band mate J Boog poke fun at his meltdown inside...
For the fans' sake, let's hope all of the drama going on behind-the-scenes at during the "Millennium Tour" doesn't eventually stop the show.
A few weeks ago, Raz B announced he was quitting the "Millennium Tour" because he, as he said, he didn't feel "safe" with their former manager Chris Stokes around. Not long after, he came back to announce he was rejoining the group and will continue pushing through on the tour.
Now, there's more drama. While performing in Nashville, TN over the weekend, Raz B abruptly walked off stage mid-performance:
Afterwards, he hopped on IG Stories to vent his feelings:
It seems he's having trouble keeping up with the group and he hates the intro. "I suggest nobody talk to me!," he wrote on IG Stories. "Cause none of ya'll understand what I am walking through! Change the f*cking intro I hate IT!"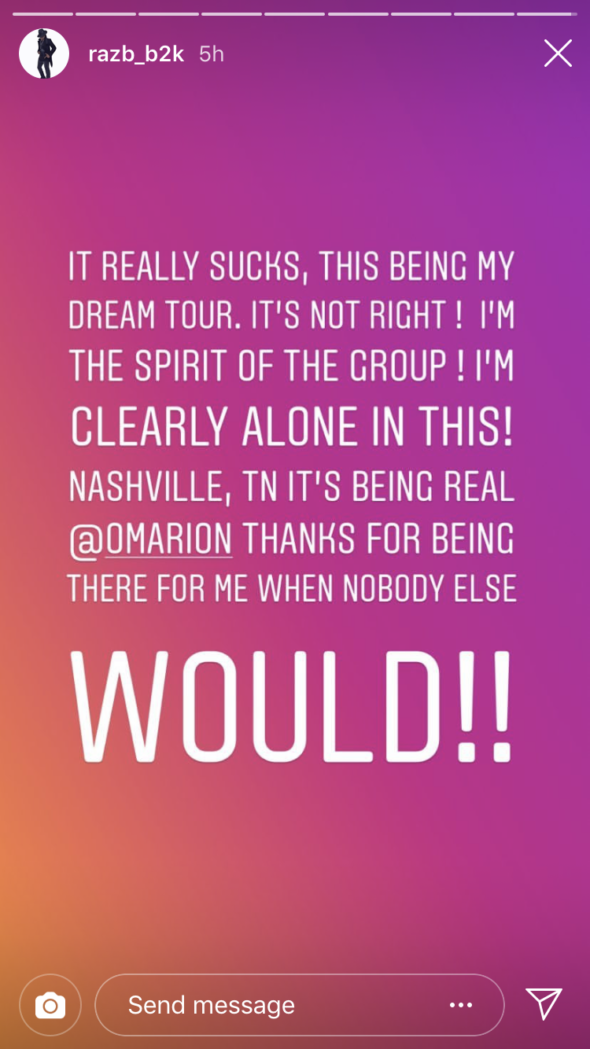 In another post, he said the tour isn't right and then thanked his band mate Omarion for stepping in when it counts. "It really sucks, this being my dream tour. It's not right! I'm the spirit of the group! I'm clearly alone in this! Nashville, TN it's been real @omarion thanks for being there for me when nobody else WOULD!!," he wrote.
B2K singer J Boog hopped on IG and poked fun at Raz's meltdown:
Folks have been dragging him on social media over the video and he eventually deleted.
Raz B then hopped on IG Stories again to explain why he stormed off stage. It had nothing to do with Chris Stokes or his B2K band mates. Apparently, his microphone was giving him trouble and frustrated him to no end:
Hmm.
In the past, Raz B spoke out about Chris Stokes allegedly sexually assaulting him and other B2K members, but Chris has adamantly denied he ever sexually assaulted anyone in the group.
BONUS:
Pretty Ricky's Baby Blue took a tumble on stage during a recent Millenium Tour stop, but he got right back up like a pro.
Photos: Raz B's IG
​ ​
​ ​ ​