Cardi B Reacts To #SurvivingCardiB Hashtag After She Admits To Drugging & Robbing Men Back In The Day
​
Mar 26 | by _YBF
​ ​ ​ ​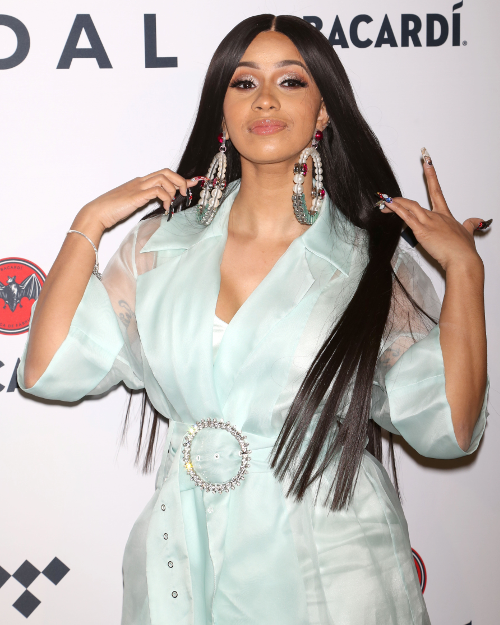 Cardi B is responding to the social media backlash she's receiving since revealing she drugged and robbed men back in the day while trying to survive herself. See the clip and her reaction to the backlash inside...
UPDATE:
Cardi B hopped on Instagram to respond to all the negative backlash she has been receiving.
----------------------------------------
Cardi B is getting dragged on social media with the #SurvivingCardiB hastag, and y'all know she has all the things to say about it.
So, how did all this ish start in the first place? Well, an old clip from a video Cardi posted years ago popped up where she shares things she has gone through in her life to get where she is now. She's been responding to haters all week who are criticizing her "Okurrr" trademark news and saying she doesn't deserve her success.
She emotionally revealed to her fans she used drug and rob men to get money during her stripper days.
"I had to go strip, I had to go, 'Oh yeah, you want to f*ck me? Yeah, yeah, yeah, let's go back to this hotel,' and I drugged n*ggas up, and I robbed them. That's what I used to do."

"I am a rapper. I am a b*tch that came from the streets that came to the industry. I wasn't a Disney channel star. I wasn't a nun. I wasn't a saint."
It's unclear if she did these things because she feared for her safety. She said she has been through a lot of ish, and she plans on writing a book about her life.
Peep the clip below:
After the clip began making its rounds online, it kicked off the hashtag #SurvivingCardiB, a reference to LIFETIME's "Surviving R. Kelly" docu-series that explored the sexual assault allegations brought against embattled singer R. Kelly. People started comparing her to Bill Cosby and called for her to be arrested.
Well, she's responding to the drama because we all know she's never one to NOT react when she's a trending topic:
I never claim to be a angel I always been a street bitch Ya be glorifying this street rappers that talk and do that grimmey street shit but they can't stand a street bitch!

— iamcardib (@iamcardib) March 24, 2019
Don't come harassing me on my page and when I reply back ya get upset .GTFOH! If you not BARDIGANG then why the fuck you here ?

— iamcardib (@iamcardib) March 24, 2019
Mood ! pic.twitter.com/xgJkTOjhdu

— iamcardib (@iamcardib) March 24, 2019
Lmaaaaoooooooo exactly https://t.co/okvxjp6ggj

— iamcardib (@iamcardib) March 24, 2019
When they try to cancel me on Twitter and instagram pic.twitter.com/a19gI006Xk

— iamcardib (@iamcardib) March 24, 2019
The "Be Careful" rapper then said she was leaving Twitter for a few days:
Okay I'm off Twitter for a few days Have fun.

— iamcardib (@iamcardib) March 24, 2019
IM THAT BITCH THEY LOVE TO HATE,IM THAT BITCH THEY HATE TO LOVE and I love it

— iamcardib (@iamcardib) March 26, 2019
Sheesh.
Tell us your thoughts on Cardi B opening up about her past and fans' reaction in our YAPPA app below! Post an audio or video message, just like you're Facetiming your friends!
Photo: JStone / Shutterstock.com
​ ​
​ ​ ​