FIGHTING WORDS! Porsha Williams Reveals BRUTAL, Body-Shaming Nasty Texts NeNe Leakes Sent Her + Porsha Nabs Her Own Baby Special
​
Mar 29 | by _YBF
​ ​ ​ ​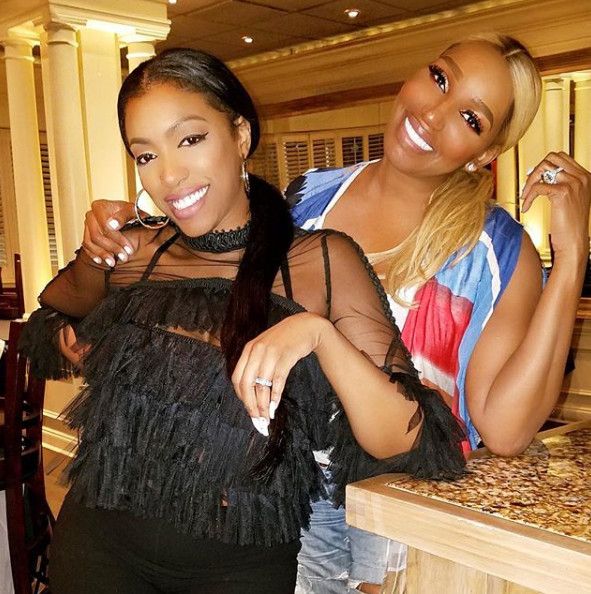 NeNe Leakes and Porsha Williams are at WAR! Find out why the "RHOA" play sisters are at each other's necks, plus deets on Porsha's new baby special inside...
Listen, NeNe Leakes is still PISSED over the "Real Housewives of Atlanta" episode where Porsha Williams and Kandi Burruss went into her closet after she repeatedly asked them not to.
The self-proclaimed "RHOA" HBIC spilled behind-the-scenes tea on her YouTube series "Life of NeNE!" to share her side of what really went down. NeNe told fans that this never-ending closet situation wasn't as dramatic as it appeared on television, and it was all thanks to editing. She claims the audio where we hear Porsha say "I'm scared, get me out of here" (which had us cackling by the way) was recorded in the studio and edited into the scene.
"And on the show when she [Porsha] said 'I'm scared, get me out of here,' she filmed that in the studio and did a voice over and they put it in the show. So they got her to say 'I'm scared get me out of here,' she said that in an interview in the studio and they actually inserted it in the show," she revealed.
Peep the clip below:
This is so petty to even discuss.
You can check out NeNe's full Youtube episode below:
Also, here's the scene NeNe was referring to in case you haven't seen it:
After TSR posted a clip of what NeNe said, Porsha hopped in the comments and popped back. She said, "@NENELEAKES you are a bald edges lie! Nothing was taped and added! I said that the exact moment you were assaulting people on camera! Just the same way Marlo yelled "she's pregnant!! *back to breastfeeding I go*!"
By the way, NeNe never addressed Marlo Hampton's comment about Porsha being pregnant, which was also heard during the closet drama.
Today, new mommy Porsha had time to hop on IG and release nasty text messages NeNe just sent her after she posted that IG comment. And these words RIGHT HERE...are grease-your-face-with-vaseline fighting words. Peep their exchange below: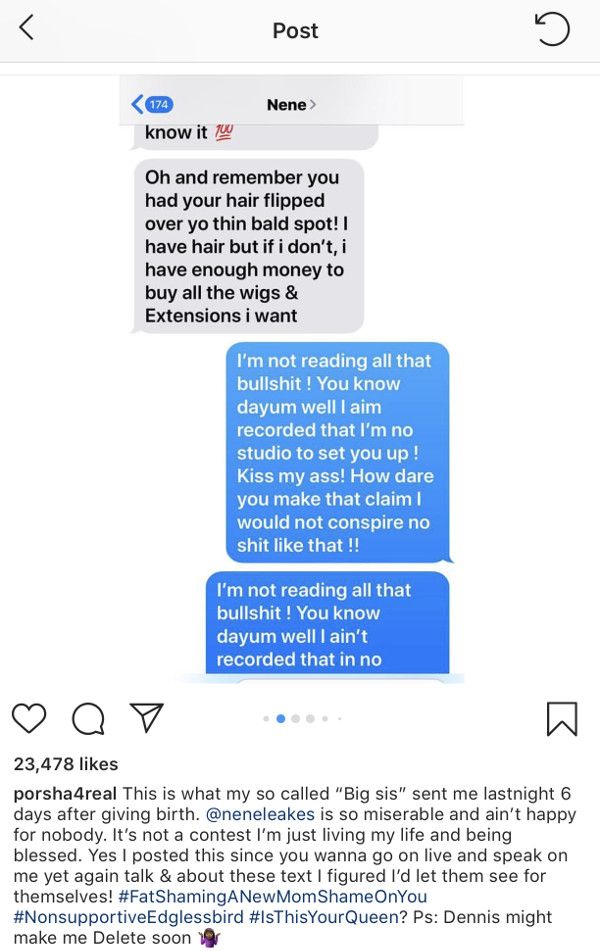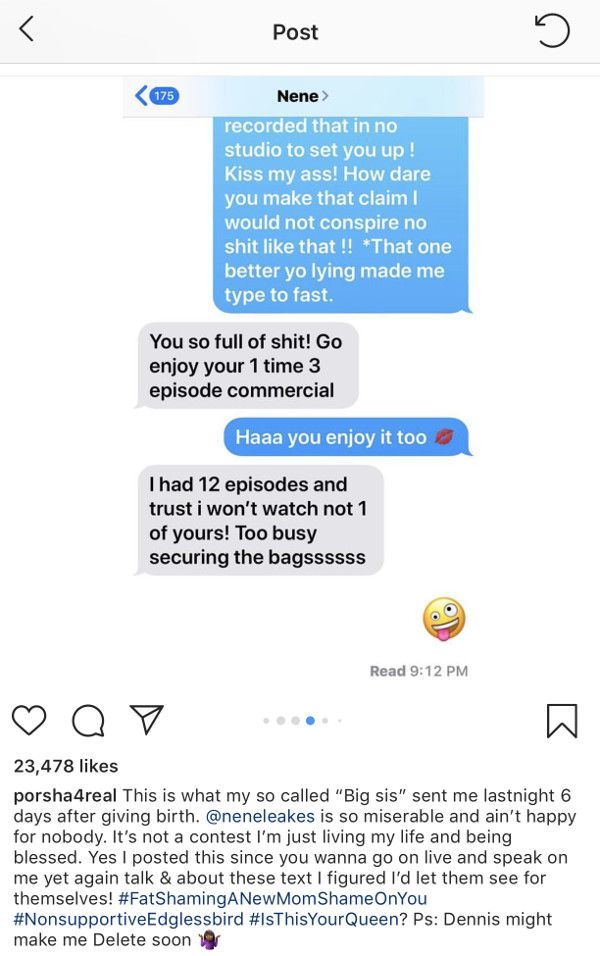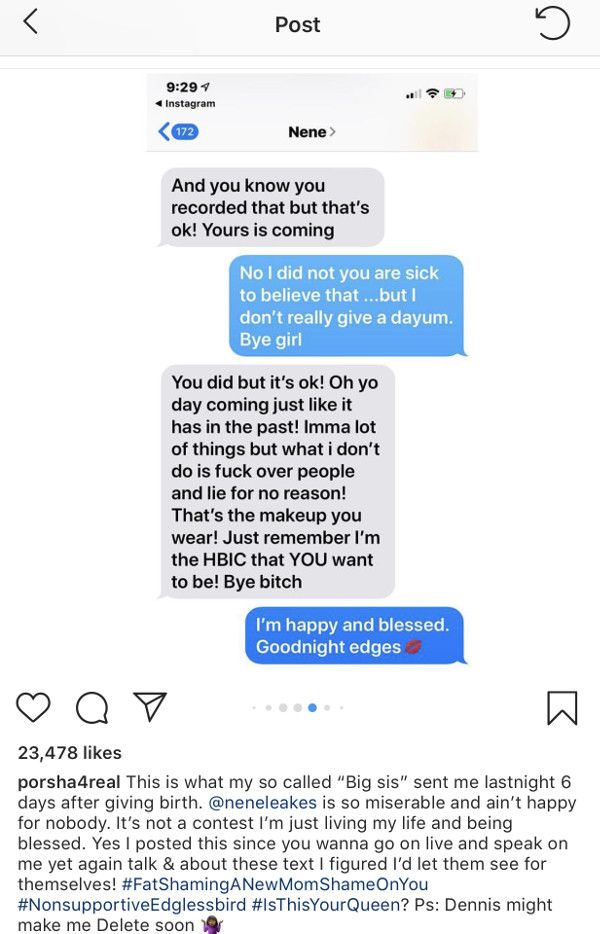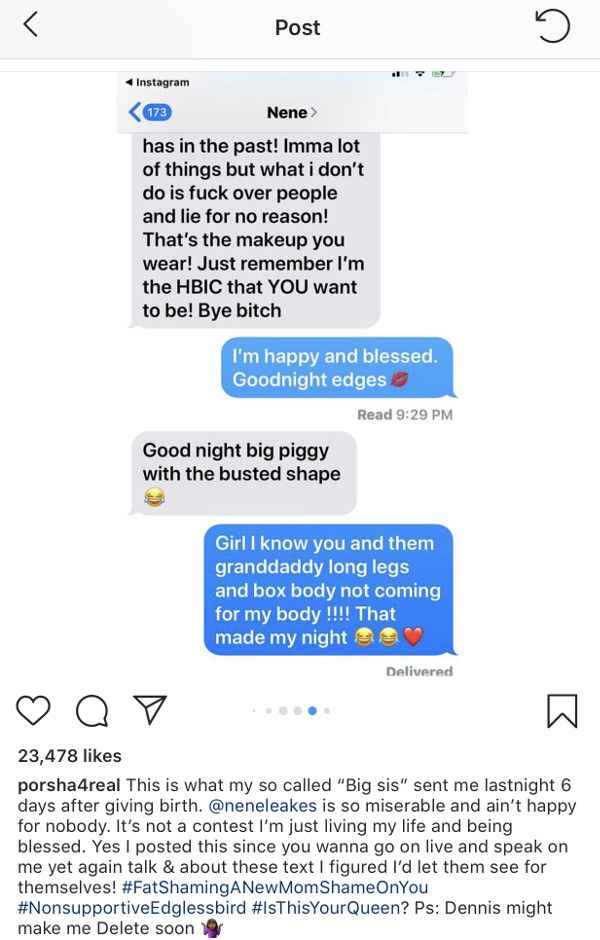 NeNe then took some screenshots of her own to share what she originally sent to Porsha after the birth of her baby, Pilar Jhena McKinley. She was clearing up the timeline of when she sent those hateful texts Porsha exposed: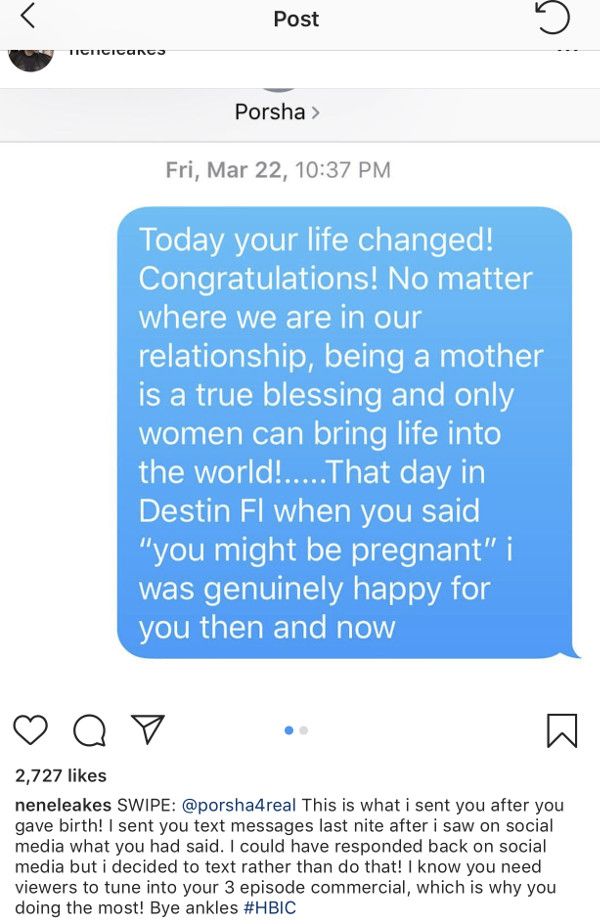 Whew, chil-lay. With "sisters" like these, who needs enemies?
On a brighter note:
Porsha Williams has nabbed her own baby special! The "RHOA" star and her fiance Dennis McKinley will share everything they went through on their road to parenthood. The three-part special titled, "Porsha's Having A Baby," will premiere on Sunday, April 28th following part 3 of the "Real Housewives of Atlanta" reunion.
We see Porsha is on new-celeb-mom duties, creating an Instagram page for her daughter, Pilar Jhena McKinley:
If you haven't seen the first glimpse of baby PJ, click HERE.
Photo: NeNe's IG
​ ​
​ ​ ​