LIFETIME & Queen Latfiah Greenlight Miniseries Based On Salt-N-Pepa & The Clark Sisters - Cast Announced!
Mar 29 | by _YBF
Your fave girl rap group and fave female gospel group are about to get the miniseries treatement. More inside...
LIFETIME is gearing up to release two new music-themed projects. We know LIFETIME can sometimes miss the mark, but the fact that Queen Latifah's Flavor Unit production company is behind BOTH projects, we think these new projects will be done right.
At the cabler's upfront presentation at New York's Jazz at Lincoln Center, it was announced Salt-N-Pepa's story about how they became one of the hottest rap groups in the game will be told in a miniseries. Woot! We love a good miniseries as it provides more details than a movie can.
Cheryl "Salt" James and Sandra "Pepa" Denton went from nursing students to representing for the ladies as one of the pioneering female rap groups in the male dominated world of Hip Hop. And to think, it all kicked off after they recorded a track for a friend's school project.
According to Deadline, the series will look at the pair who were unafraid to talk about sex and share their thoughts on men. Of course, the series will show how the ladies cooked up their greatest hits, including "Let's Talk About Sex", "What a Man", "Shoop" and "Push It". It'll also show how Spinderella joined the group.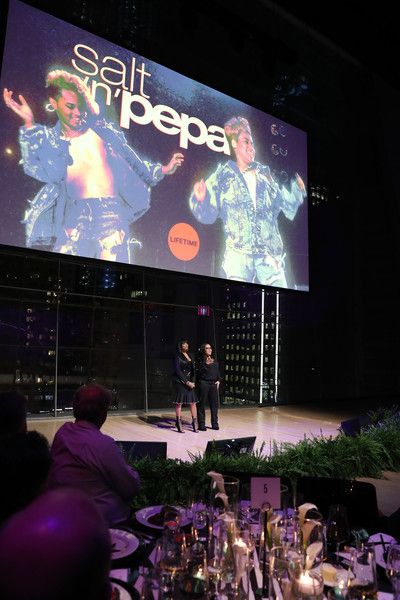 Cheryl James, Sandra Denton and Jesse Collins have signed on as executive producers as well as Queen Latifah and Shakim Compere from Flavor Unit. The miniseries is written by Abdul Williams. Andy Horne, Dionne Harmon and James "Jimmy" Maynes are co-exec producers.
It's still in the early stages, so the cast hasn't been revealed just yet. We can't wait to find out who will play the ladies. Whoever they end up choosing, they better bring it.
Also...
We told you Queen Latifah, Mary J. Blige and Missy Elliott were working behind-the-scenes to serve up a biopic about The Clark Sisters. And now, we're here! Finally.
Deadline reports Queen, Mary and Missy will be executive producing a TV movie about the lives of the four gospel singing sisters titled, The Clark Sisters: The First Ladies of Gospel.
Karen Clark-Sheard, Dorinda Clark-Cole, Jacky Clark-Chisholm, Denise Clark-Bradford, and Elbernita "Twinkie" Clark-Terrell will be sharing their humble beginnings, struggles to find their place, to later becoming the best-selling Gospel group in the music world.
And the cast is set. "Quantico" star Aunjanue Ellis will star as the sisters' mother, Mattie Moss Clark, while Christina Bell stars as Twinkie, Kierra Sheard as Karen, Sheléa Frazier as Dorinda, Raven Goodwin as Denise, and Angela Birchett as Jacky.
The movie will feature re-recordings of some of The Clark Sisters biggest hits like "You Brought The Sunshine". Loretha Jones exec produces with Holly Carter for Revele Entertainment and Shakim Compere for Flavor Unit. Christine Swanson ("Chicago P.D.") will direct based on a script written by Sylvia L Jones.
Their story totally needs to be told as they are one of the pioneering gospel music groups to go mainstream. Not only that, they're a group of powerful black women who changed the music game.
No premiere dates have been set for either project, but we'll def keep you posted.
Tell us who you think they should cast as Salt-N-Pepa! Post an audio or video message in the Yappa app. It's like Facetime for comments!
Photos: Getty/Instar/LIFETIME