Oprah Felt 'More Empowered Than Ever Before' At THR's Empowerment In Entertainment Event + Ciara, Alicia Keys, Anthony Anderson & More Show Love
May 01 | by _YBF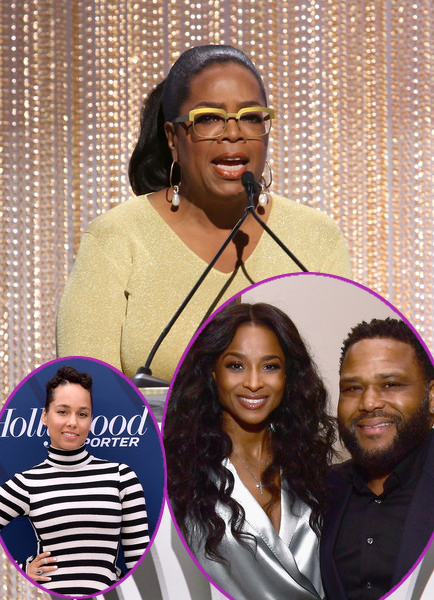 Oprah Winfrey was showered with love for all of her accomplishments at The Hollywood Reporter's inaugural Empowerment in Entertainment luncheon. Several celebs were in attendance to pay homage to the media queen. Get it all inside...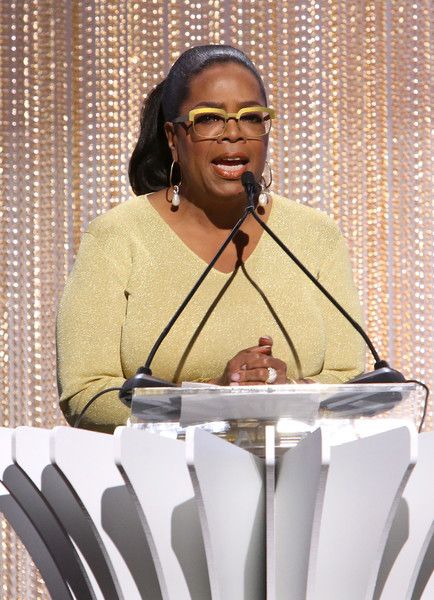 Oprah Winfrey is getting her flowers while she's still here.
The media queen was honored with first-ever Empowerment in Entertainment award at The Hollywood Reporter's inaugural Empowerment in Entertainment luncheon in LA. The award honors those who have created opportunities for people of color, women, members of the LGBTQ community and other emerging voices in the industry.
Not only did she receive the first award of its kind, the award will be called the Oprah Winfrey Empowerment in Entertainment Award going forward.
The gala also launched the Young Executives Fellowship, which provides 20 hand-picked L.A. high school students with industry mentors, internships and, for some, college scholarships. At the event, 20 local high school juniors - who had been selected for the program - were in attendance. They were awarded with FULL scholarships to Howard University and Emerson College, and all of them received a laptop as well. Nice!
As the students were presented with their scholarships, Lady O was brought to tears - tears of joy, of course.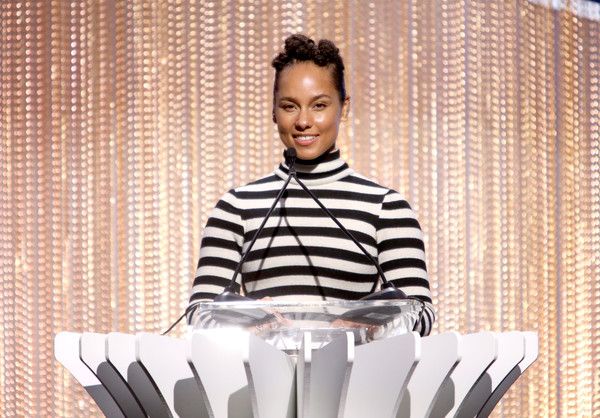 Singer Alica Keys presented Oprah with her award and shared how she always looked up to her for inspiration.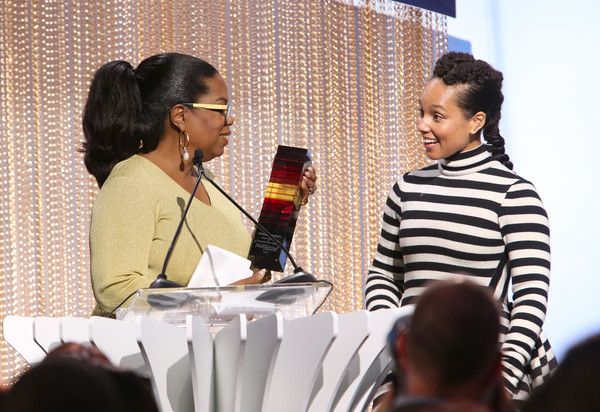 "As a woman, especially a woman of color, I rarely saw a role model like her," the singer-songwriter said. "We were shown that the only way to be successful was to be domineering, demanding, harsh, an old white guy in a three-piece suit, banging on a conference table. But Oprah shows us that you can have tenderness and sensitivity; you can care about the world and the people in it; you can have a heart and still be a badass."
Peep a clip below:
"She proves that you can be super successful and shine light at the same time." @aliciakeys praises "candid, funny and vulnerable" @Oprah as a role model at @THR's #Empowerment event. Watch her full speech: https://t.co/hO2I8mHJh9 pic.twitter.com/sHwgJeyV36

— Hollywood Reporter (@THR) April 30, 2019
The media mogul - who covers THR's Empowerment issue - served up a speech filled with gems and motivational words.
"I think a whole lot of us in this country have been feeling a kind of impotent rage, as a result of the micro-inequalities and the macro unfairness we see every single day. Well, I'm here to tell you, that there is a time to let things happen, and there is a time to make things happen," she said. "This new program and this extraordinary award is a declaration that now is the time to actually make some things happen."
Lady O recounted how she always had to fight for equal pay for herself and others throughout her career. In her early beginnings, she was paid less than her male co-workers as a reporter in Baltimore. She talked about speaking up about getting paid more and how she fought at The Oprah Winfrey Show so that her female producers would get a fair raise.
"Empowerment is authority. It's a signed permission slip to seize the day," she continued. "It's the process of getting stronger and more confident and more engaged. To be empowered is to move through the world without fear or apology, and with these gifts, come an even deeper privilege — the ability to take charge of your own life and claim your rights."

"I stand here today, feeling more empowered than ever before. I come as one and I stand as 10,000, grateful beyond words to look around this room and know that we are all here to fulfill the dreams of those who came before us," Winfrey said. "We are here not merely to bear witness, but to be the new voices of an extraordinary new age."
At the end of her speech, she turned her attention to the youth in the room, telling them:
"When I look at you, Young Executives, I see the hope in your eyes, and it reminds me of the way my daughter-girls from my Academy in South Africa look on graduation day as they cross the stage to accept their diplomas. I see the sacrifice and work that it took to get you there. But more than that, I see the ways in which your lives are forever changed because of the opportunity you were given and the choices you made to step up into leadership roles and end the cycles of abuse and poverty that your mothers and grandmothers and fathers have endured."

"I am proud that we are all stepping into our power to make a lasting impact on the next generations. Our power to say no to assholes," added Winfrey, thanking Shonda Rhimes for coining the line. "Our power to say that the way things were done yesterday does not define how we will still do them tomorrow."
Peep a clip from her speech below:
"I'm here to tell you there is time to let things happen and there is a time to make things happen." Watch @Oprah accept the inaugural #Empowerment Award: https://t.co/NBm9lwgEmH pic.twitter.com/noqJ2tdROM

— Hollywood Reporter (@THR) April 30, 2019
Congrats, Lady O!
Other celebs in the mix...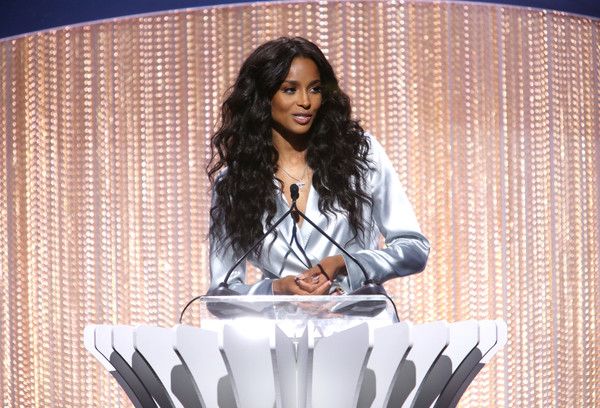 Singer Ciara and CNN's Don Lemon also took the stage to speak during the gala.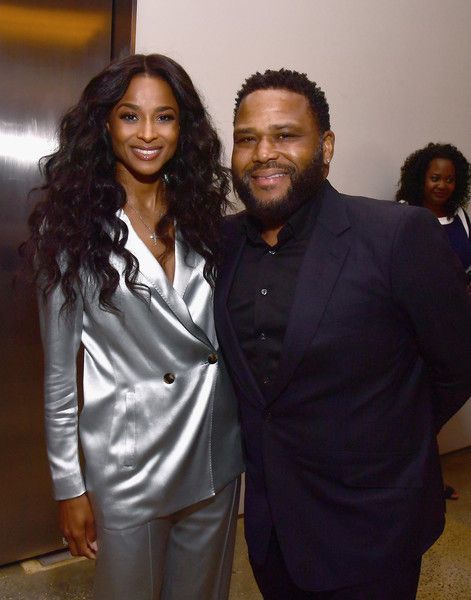 "The Greatest Love" singer - who looked chic in a metallic Alejandra Alonso Rojas silk jacket and pants - snapped it up with "Suits" star Gina Torres and "black-ish" star Anthony Anderson.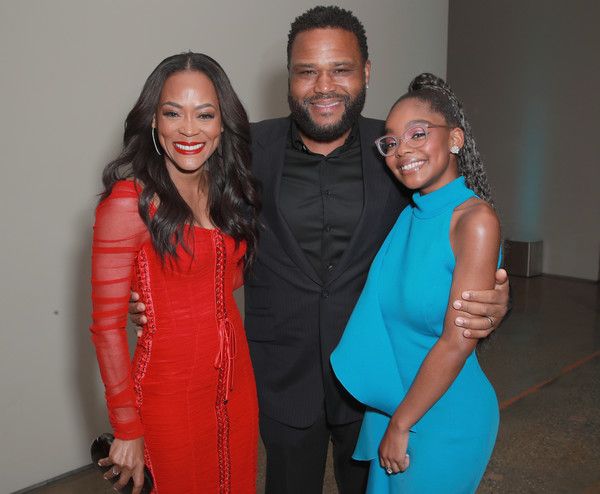 "Ambitions" star Robin Givens and Anthony's on-screen daughter Marsai Martin was spotted in the mix backstage.
On the carpet...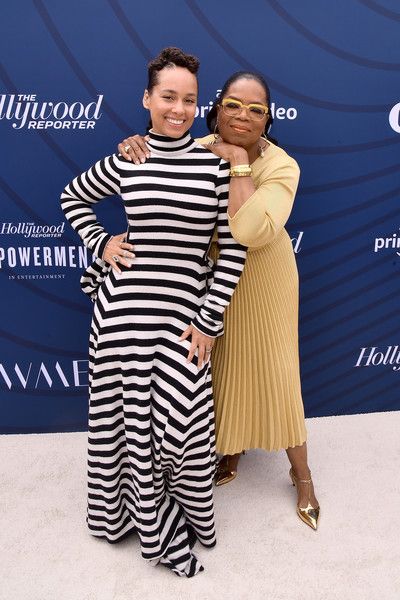 The Grammy Award winner embraced the lady of the hour on the carpet before hitting the stage.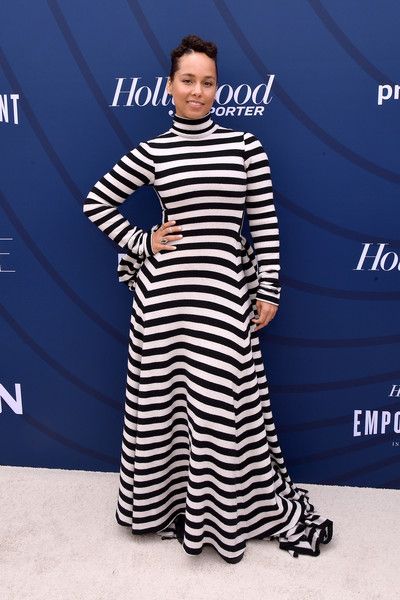 The fresh-faced singer posed it up in her stripped Marc Jacobs gown on the carpet.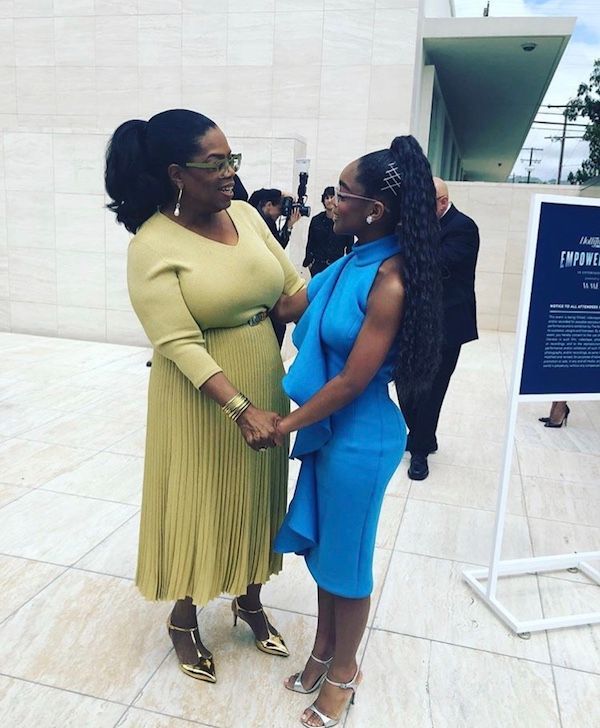 "black-ish" actress Marsai Martin had a fan girl moment when she bumped into honoree Oprah.
"I....honestly have no words. Even though I have words lol. I am so honored to have even had a seat at the table. You are an inspiration to me to stretch and reach even higher... every single time I hear you speak, you unlock a new level of greatness that I aspire to reach. Thank you. Ms. @oprah we all love you."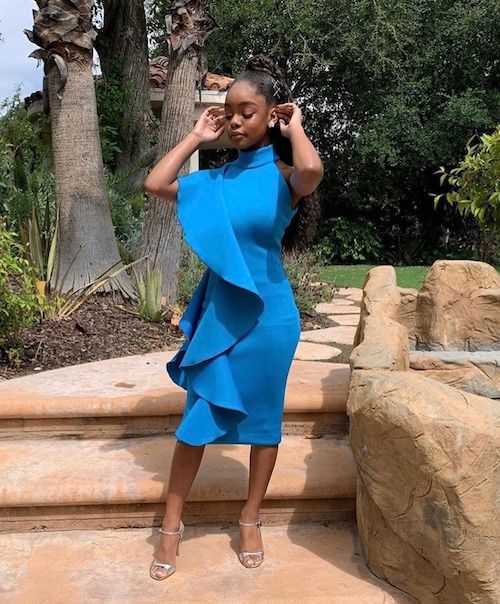 The LITTLE star was picture perfect in a blue Jovani dress and Schutz sandals.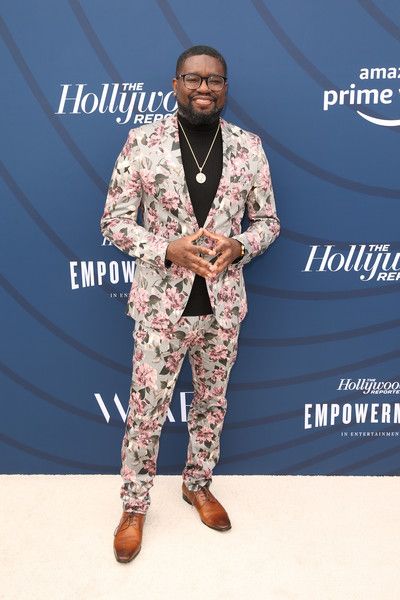 We love Lil Rel Howery, but this suit...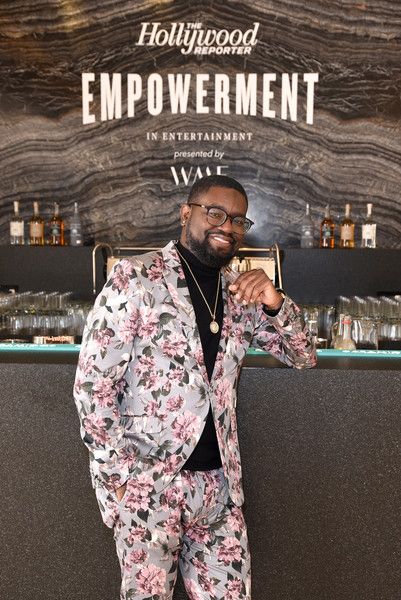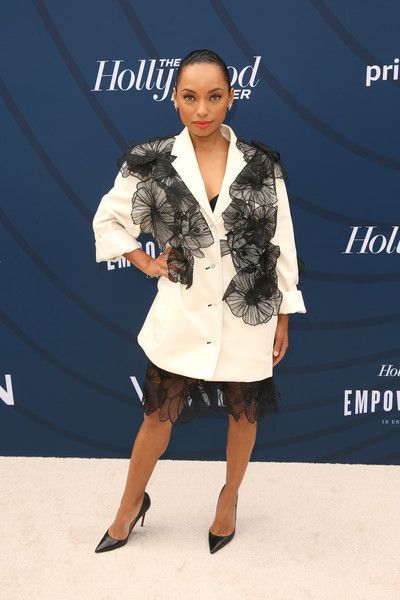 "Dear White People" star Logan Browning was all about lace in this Claudia Li number when she rolled up on the scene.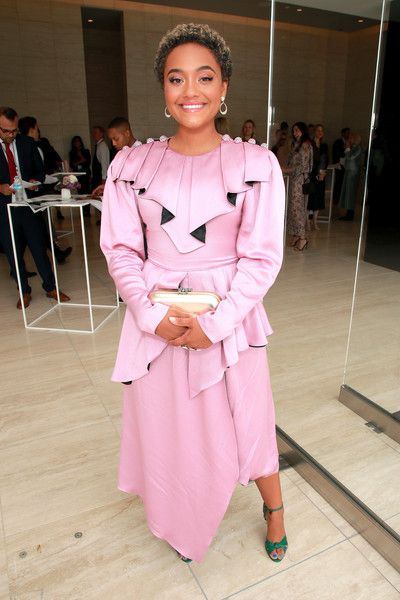 Fresh from a vacay in the Carribean, DOPE actress Kiersey Clemons was all smiles in this pink number.
Spider-Man: Homecoming star Laura Harrier kept it simple and chic in Alexa Chung.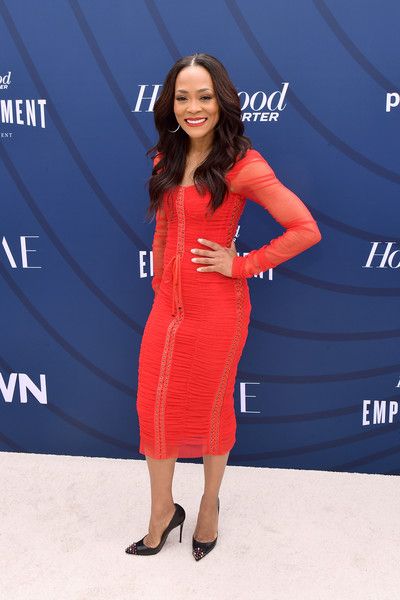 Robin Givens served up baddie realness on the carpet. Will Packer's "Ambitions," starring Robin, is set to premiere on OWN this year.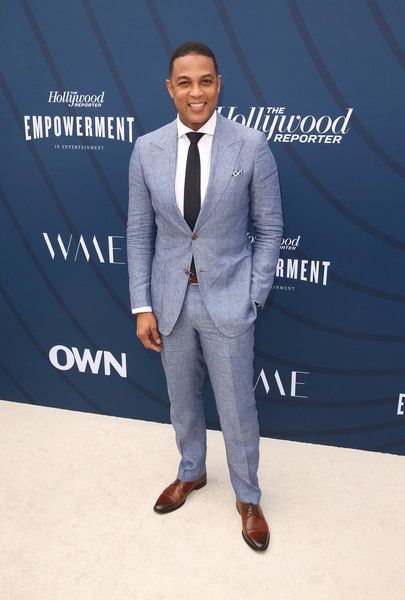 The fellas came to represent. Looking good, Anthony Anderson and Don Lemon.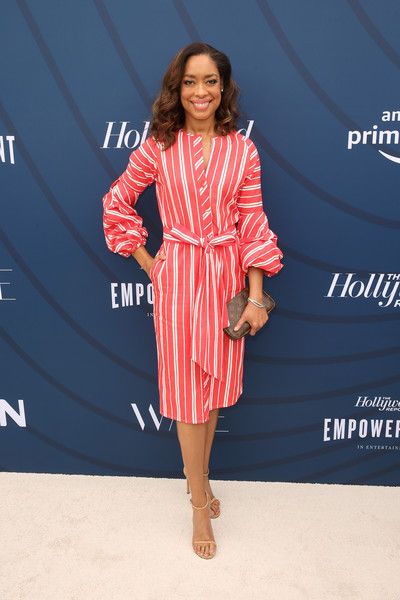 "Suits" Gina Torres looked spring ready in a stripped dress before making her way inside.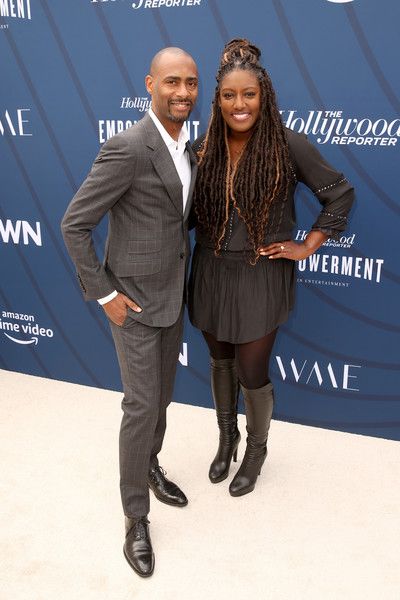 Sorry To Bother You producer Charles D. King and brought his wife Stacey King as his date for the luncheon.
On the magazine front:
Oprah got all glammed up for the cover of The Hollywood Reporter's Empowerment issue.
In the cover story, she talked about the foolery that was going on at 60 minutes that made her leave, advice she gave to her bestie/"CBS This Morning" co-anchor Gayle King, and not being worried about the backlash from the "Leaving Neverland" interviews.
Here are the highlights:
On why she recently left 60 Minutes: I've removed myself from that. It was not the best format for me ... How should I say this? Never a good thing when I have to practice saying my name and have to be told that I have too much emotion in my name…. I think I did seven takes on just my name because it was 'too emotional.' I go, 'Is the too much emotion in the Oprah part or the Winfrey part?' I was working on pulling myself down and flattening out my personality — which, for me, is actually not such a good thing.

On advice she gave Gayle King on renewing her CBS News contract: I said, "Get what you want. Get exactly what you want because now's the time. And if you don't get what you want, then make the next right move." Even without me, she was going to do that. But that was my advice, and I actually called up her lawyer, Allen Grubman, and I said, "Allen, she should get what she wants." And Allen goes, "What the F do you think I'm doing here? I said the same thing to her!" The negotiation was already happening before her R. Kelly interview.

On her reaction to the R. Kelly interview: I sent her a text saying, "Jesus looooves you." But [the R. Kelly interview] could not have been better if I had done that myself. I think every interviewer thinks, "What would you have done in that moment?" And what she did was absolute perfection.

On whether she regrets getting involved with Leaving Neverland: I don't regret it ... I saw it, and I was shaken by it. I wasn't even shaken by the fact that it was Michael Jackson, I was shaken by the fact that [filmmaker] Dan Reed had done a really good job of showing the pattern, and for years, I had been trying to show people the pattern. I'd been trying to say it's not about the moment, it's about the seduction. The first thing I said to Gayle when we watched it was, "Gayle, you've got to get those guys [on CBS This Morning]." She Instagrammed about it, and I go, "No, you shouldn't Instagram, you should just get those guys."

On the blowback: Oh, the hateration? Honeeeeey, I haven't had that much hateration since "The Puppy Episode" with Ellen [Winfrey guested as the therapist on the 1997 Ellen sitcom episode in which Ellen DeGeneres' character comes out], and it made me think, "Thank goodness Ellen's coming out was before social media because can you imagine?" During "The Puppy Episode," I had to take the people who were on my switchboard at Harpo off the switchboard because of the vitriol. They were scared..
You can read her full interview here.
Photos: Getty/Marsai's IG