Taylor Swift's 2019 BBMAs Performance Looked Like An Unseasoned Beychella Knockoff
​
May 01 | by _YBF
​ ​ ​ ​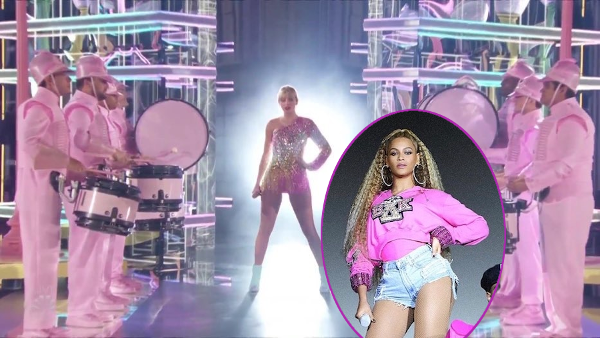 What in the gentrification hell? Taylor Swift's opening performance looked REAL familar and quite unseasoned. Was it Beychella inspired? Decide for yourself inside...
Taylor Swift tried it, y'all!
The Pop singer was tapped to open the 2019 Billboard Music Awards and soon as that drumline came out, we knew something was up.
Once Taylor Swift appeared, we (and the rest of the Internet) were done. Chick came out to perform her track "ME!" looking like a Beychella Weekend 2 knockoff. She totally gentrified Beyonce's epic (and VERY black) Coachella set, except her performance had ZERO flavor, as expected.
This isn't a reach. A blind man can see the similarities in her set and Bey's Coachella performance. The whitewashed drumline, the pink 'fits - all the makings of Beychella.
Twitter users were quick to point out the resemblelance:
Taylor Swift gentrified Beychella #BBMAs pic.twitter.com/YBifE8WLhm

— Tyler Conway (@jtylerconway) May 2, 2019
I--
Wow, is Taylor Swift really trying to serve us a flavorless pink meat version of Beychella? I have to laugh. pic.twitter.com/yz54osyk7X

— TODDY (@cunteez) May 2, 2019
VIDEO: Taylor Swift opens the #BBMAS with her new song ME! ... .but is it ME! or does this look like a #Beychella knockoff? pic.twitter.com/eWItzwd6i2

— Opinionated Me (@opinion8dmecom) May 2, 2019
Here come the #Beychella jokes against Taylor Swift.... #BBMAs

— Nelson (@Noble_Nels) May 2, 2019
WAIT FOR THE NECK SNAP RT @jtylerconway: Taylor Swift gentrified Beychella #BBMAs pic.twitter.com/b8aG9iK3ln

— Chantellephone (@mariechantelle) May 2, 2019
I literally just got Twitter right not to be online, big mad about #TaylorSwift and her blatant RIP-off #Beyonce #Beychella #Homecoming performance on the #BBMAs #gentrification #sorrynotsorry #IcanheartheBeyHivebuzzin

— TiredFeminist (@TiredFeminist1) May 2, 2019
Wait a min, man. Taylor Swift really bit Beychella and didn't even try to make it tight. I hate her so much, man. So very much.

— Arya Stark Stan Account (@B_Wash5) May 2, 2019
Taylor Swift really opened the #BBMAs with a (whitewashed) drumline a la Beyoncé pic.twitter.com/IeXjoOn0mn

— Saroja (@yoitssaro) May 2, 2019
This bitch Taylor Swift really tried it! From Beychella to Salmonella..... Gtfoh Patty mayonnaise https://t.co/I73wDUS7MR

— Ape $hit (@CdoTMoody) May 2, 2019
Sigh....
We understand the Queen is the ultimate inspiration, but she clearly copied and pasted Beyonce's performance. Chile...
What did y'all think of Taylor's performance? Beychella inspired or nah?
Photos: Beyonce.com/Screenshot
​ ​
​ ​ ​