Chiefs WR Tyreek Hill Denies Child Abuse Allegations In Letter Sent To NFL, Accuses Fiancée Of Being The Abuser
​
May 03 | by _YBF
​ ​ ​ ​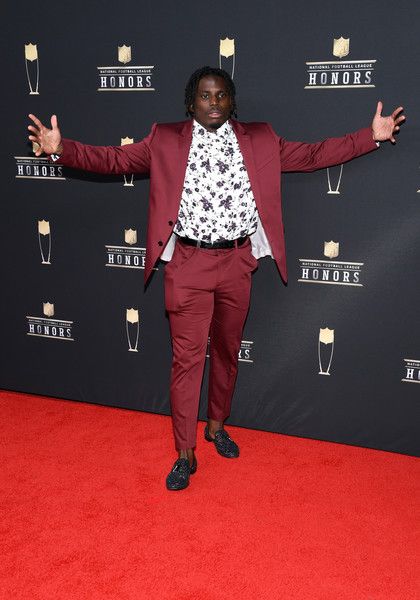 Kansas City Chiefs wide receiver Tyreek Hill is speaking out to deny child abuse allegations made against him. He's also accusing his fiancée, Crystal Espinal, of abusing their 3-year-old son. More inside...
Kansas City Chiefs wide receiver Tyreek Hill is trying to clear his name after he has been accused of abusing his 3-year-old son, whom he shares with his fiancée Crystal Espinal. By the way, she's currently seven months pregnant with twins.
Hill's attorney issued a detailed letter to the NFL denying the child abuse allegations made against him in a recording that was released/"leaked" last week. In the letter, he also accuses his fiancée of abusing their young son.
In the audio, Espinal confronts Hill about how their son got a broken arm (seen above in a cast), how he punches their son in the chest, how their son is seemingly terrified of him, and how she defended him from state child welfare investigators. The case against Hill and Espinal had previously been closed by a judge after he could not find enough evidence to charge them with a crime.
The judge (and prosecutors) reportedly indicated at the time that it was clear a crime had been committed. It simply wasn't clear who committed said crime. After the audio was released, the district attorney has re-opened the case against Espinal and Hill.
In the lengthy letter sent to the NFL, Hill's attorney N. Trey Pettlon went through the key accusations made by Hill's fiancée in an 11-minute recording she secretly made as they were walking through Dubai International Airport. The recording was reportedly sent to a friend for "safe keeping." It ended up getting passed around, and then it was shared on KCTV in Kansas City on April 25th.
In the recording, Espinal says, "He kept saying, 'Daddy punches me,' which you do when he starts crying. What do you do? You make him open up his arms, and you punch him in the chest."
Take a listen below:
Hmm...
According to KCTV, the 3-year-old has been removed from their custody by Child Protective Services and he's with a family he is familar with. They noted, the family he's staying with are not relatives.
In the denial letter, Hill's attorney writes there has been times when Hill has tapped his son on the chest and told him "man up, buddy" or "don't cry, my man." He denies ever grabbing his son's arms as a form of discipline.
"He [Hill] categorically denies he has ever 'punched' his son in the chest or anywhere on his body, or otherwise touched him in the chest in a mean-spirited manner or as a form of discipline," Pettlon writes.
Hill also denies he played any role in breaking their son's arm, noting the child was examined at the hospital and his injury was considered an accident. Hill also denies that their son is "terrified" of him like Espinal claims in the audio. During Hill and Espinal's recorded conversation, Hill tells her, "You need to be terrified of me, too, b*tch." In the letter, Hill lawyer writes that his comment was "inexcusable." Hill also cites text messages that prove Espinal admitted to leaving marks on their son.
"Crystal you know I didn't cause any bruising or harm to [our son.] But for some reason I still may be charged," Hill sent to Espinal in a text.
"I know you didn't. I did. I hurt [our son.] I'm the one that did it. I was hurt and mad at you so I blamed you for everything," Espinal responded.
Click on the thumbnails below to read the full letter:
Following the release of the audio, Hill was barred indefinitely from all team activities by the Chiefs. Over the weekend, Chiefs owner Clark Hunt said the team is conducting an internal investigation into the matter. Hill's attorney says the NFL player is willing to meet with NFL investigators and will cooperate with the investigation "to the extent that he can under the law."
Thoughts?
Photos: Getty/@lilcheetah
​ ​
​ ​ ​