Sudanese Model Ajak Deng Blasts Her Modeling Agency & Brings Up Suicide, IMG Models Ripped To Shreds
​
May 03 | by Natasha
​ ​ ​ ​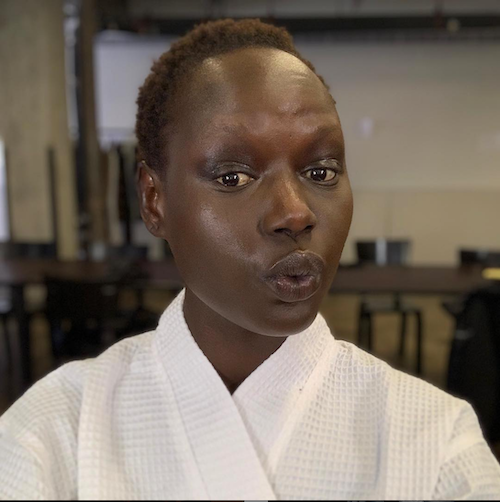 Ajak Deng is well on her way to supermodel status, but the road has clearly been a super rough one. She now has fans worried and frantic after bringing up suicide during a rant about her mistreatment from her modeling agency. The latest inside.
29-year-old Ajak Deng is THE face. You've seen the Sudanese goddess gracing every runway and every magazine since her runway debut with Chloe back in 2010. She had already busted down several hurdles to even get there - being a refugee in Kenya with her 7 siblings, moving to Melbourne at age 11 and being accepted into Australia because her mother died of malaria.
But something else is breaking her down these days, and it seems to be at the hands of her agency IMG Models. Ajak posted this disturbing, extremely emotional video the other day that made fans flood her with love and concern, making sure she's ok. She later posted a message saying she's doing better.
Her fans lit IMG Models' comment section UP.
Mentioning suicide is no small matter. It's also not her first time lashing out at the industry. She "quit" for a short time back in 2016.
Ajak has modeled for top fashion brands like Valentino, Lanvin, Givenchy, Chloé, Maison Martin Margiela, Dior, Jean-Paul Gaultier, Oscar de la Renta, Alexander Wang, Louis Vuitton, Gap, Hermes and plenty more. So a lack of work wasn't the problem. The fakeness of the modeling world was.
She posted to her Instagram three years ago that she was "officially done with the fashion industry" and would be "moving back to Australia in order to live the life that she fully deserved." She called that life "real life."
It's no secret that modeling agencies like IMG - who reps the Hadid sisters and plenty of Victoria's Secret models - have been handing out contracts to celebrities, influencers with tons of followers and offspring of famous models more than ever. Those people are often also put on a pedastal that many would say they didn't earn. Models who have succeeded without using social media status or nepotism are sometimes overlooked or treated differently. We're not sure if this is what Ajak is referencing, but it's possible.
Get into Ajak's fabulousness below. Keep ya head up chick!
Photos: Instagram
​ ​
​ ​ ​