CAMP READY AT THE MET GALA! Tiffany Haddish Tapped Her Inner Pimp in Zebra Print Suit & Fried Chicken In Her Bag!
​
May 06 | by _YBF
​ ​ ​ ​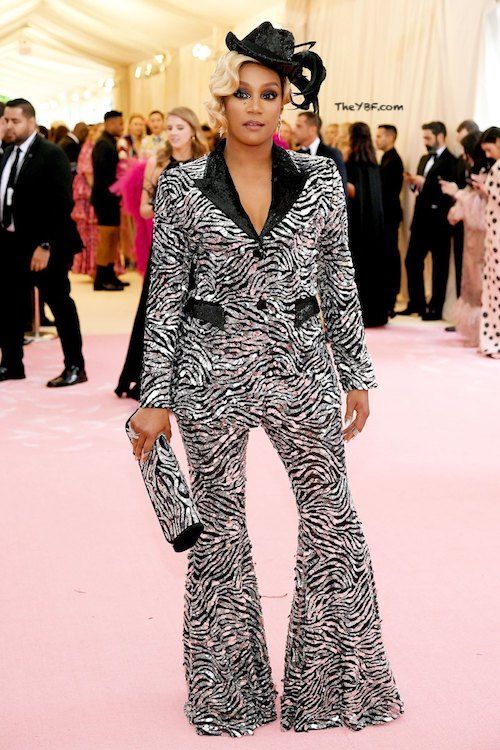 Leave it to Tiffany Haddish to do something crazy! She pulled up to the 2019 Met Gala with fried chicken in her bag! More inside....
After hitting the Met Gala for the first time last year, Tiffany Haddish came prepared for this year's big event. Chick brought her own bag of fried chicken that she stuffed in her clutch. And that gimmick saved this because it's not a look we're loving.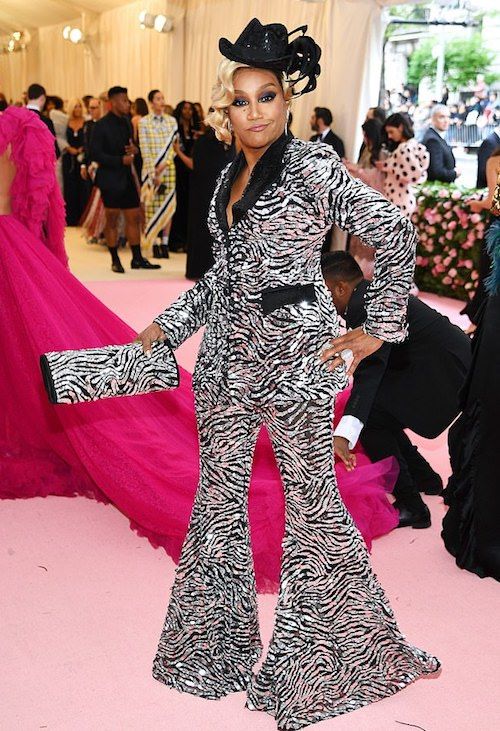 The Night School actress dubbed herself as "Pimperella" when she hit the pink carpet in a sparkly silver and black Michael Kors pantsuit topped with a black glitter top hat. She accessorized her look with Butani earrings and rings by Djula and Hueb. She was turned up on the carpet last year and this year wasn't anything different.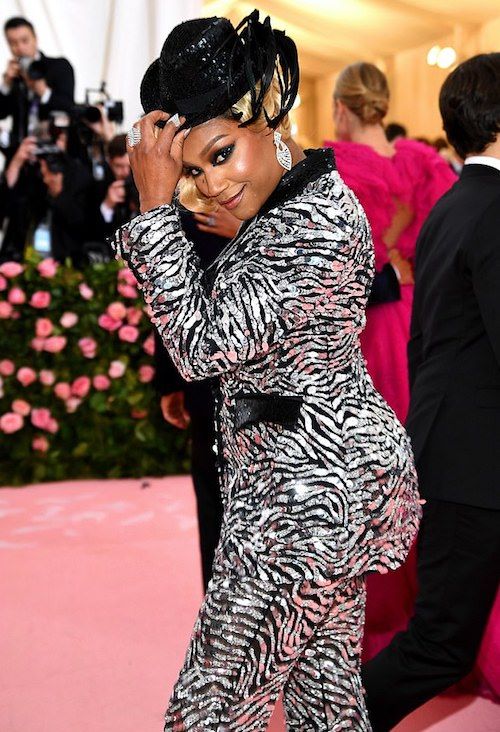 "Last year I came… it was not enough food, you feel me?" the comedienne said. "I was hungry, and when I'm hungry my attitude is not good. So I said, 'I'm gonna be prepared this year,' so I brought chicken."
And no, she didn't buy this chicken. She cooked it before hitting the carpet.
"No I didn't go to KFC," she told PEOPLE. "We don't worry about it. See, Tiffany knows how to cook. I don't know if you know this but I have my own seasoning salt."
Ha!
Black Camp from Tiffany Haddish.

Pimp/Player style is very Camp! The Player's Ball as a whole is such a display of Camp. When we think about Pimp films like SuperFly - Those exaggerated displays of masculinity/peacocking are indeed camp. Call Bishop Don 'Magic' Juan! #MetGala pic.twitter.com/rKKeI6Uydh

— Shelby Ivey Christie (@bronze_bombSHEL) May 6, 2019
Tiffany Haddish brought fried chicken in her purse. Again, Camp has an element of "spoof" or "trolling" - Making fun of cultural + societal moments.

Love that she's trolling to this friend stereotype of blackness while dressed as a pimp #MetCamp pic.twitter.com/kfjUxK3O4f

— Shelby Ivey Christie (@bronze_bombSHEL) May 6, 2019
The Girls Trip actress also shared how she got schooled about this year's CAMP theme: "When I first heard the theme, I though it meant you wear like a wife beater and some walking shorts," Haddish said. "But now I know that it means you are glamorous and over the top and ready to have a good time. I kind of feel like Patti LeBelle, but on some pimp stuff."
Watch the EMMY winner pass out fried chicken to the media below:
Tiffany Haddish came READY with chicken in her bag. #MetGala #ERedCarpet pic.twitter.com/03GPfTbEz4

— E! News (@enews) May 6, 2019
TIFFANY HADDISH MADE AND BROUGHT FRIED CHICKEN TO SHARE AT THE MET GALA AND SHE IS ABSOLUTE #GOALS.@TiffanyHaddish#SheREADY#MetGala2019#MetGala#MetCamphttps://t.co/YPOjpX7cGi pic.twitter.com/ohDQ7m1kZ5

— Good Morning America (@GMA) May 6, 2019
Before the MET, "The Last O.G." star linked up with designer Michael Kors for a crash lesson in CAMP. Check it:
Y'all feeling her look?
Photos: Splash/Getty/Wire
​ ​
​ ​ ​