Odell Beckham Jr. Rocked A Kilt With A Sleeveless Thom Browne Jacket At The Met Gala - Here's Why!
​
May 07 | by _YBF
​ ​ ​ ​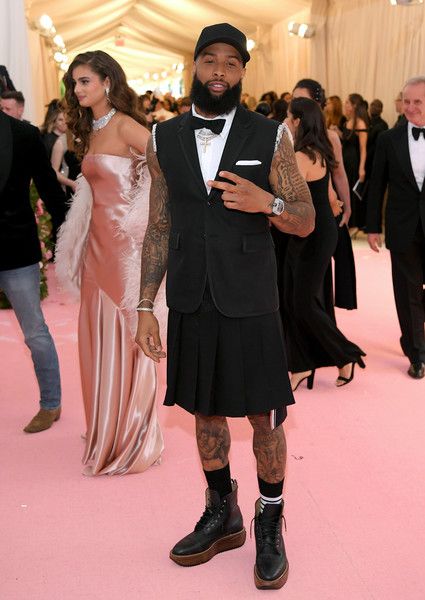 Ballers love fashion! Go inside to find out why NFLer Odell Beckham Jr. decided to rock a kilt at the Met Gala....
We all know professional athletes love fashion and love dressing up. In fact, they probably like the extra attention they get when they wear certain pieces. NFL star Odell Beckham Jr. knew he would get tongues wagging if he showed up at the Met Gala in a kilt. So, that's exactly what he did.
The Cleveland Browns wide receiver (who was recently traded from the Giants) knew he wanted to do something with a WOW factor, but he was nervous about being able to pull it off in the beginning.
Odell Beckham Jr. wearing a hand-cut Thom Browne sleeveless tuxedo jacket, shirt and pleated skirt to the #MetGala pic.twitter.com/7oFjgWaf1c

— queeN (@jojibria) May 7, 2019
At first, he was going to wear shorts. While doing fittings at Thom Browne's headquarters, he chopped it up with GQ about how his entire look came about during a fitting at Thom Browne.
"I told [former Giants teammate Saquon Barkley] about wearing shorts [to the Met] and now he's trying to wear shorts," Beckham told GQ. "He's like, 'Is it going to be weird if we both wear shorts?' I'm like, 'It doesn't matter, I'm going to look better than you anyway.'"
A kilt hanging on a rack catches his eye, he picks it up, and wonders if he could pull it off.
"Would you wear that [jacket] with the kilt?" Beckham asked out loud. He talks himself into and out of it simultaneously.
"You know when somebody wears something and you're like, 'Nah, that ain't it'?" he asked. "I haven't had too many fits where it's like, that ain't it." On the other hand: "I definitely could pull it off."
Kilt, check!
Next, he decided to have the tailor rip the sleeves off of a multi-thousand dollar jacket, Hulk-style. ,
"We've never cut the sleeves off for anyone before," a Thom Browne employee told Beckham. "Thom wanted you to know that."
He's cutting up, breaking all of the fashion rules. The hand-cut Thom Browne sleeveless tuxedo jacket with the kilt was the out-of-the-box look Beckham was looking for.
And he's finally in a good spot in his life.
"I'm probably the happiest I've ever been in my life," he shared.
Not even mad. Keep doing you OBJ!
By the way, his former teammate Saquon Barkley did rock shorts on the carpet:
.@saquon and @obj turned heads at the #MetGala pic.twitter.com/qdB8oCm7aQ

— GiveMeSport NFL (@GMS_NFL) May 7, 2019
Photo: Getty
​ ​
​ ​ ​