Reginae Carter's On-Again Off-Again Boyfriend YFN Lucci's SUV Shot Up In Miami, Tons Of Bullet Holes
May 15 | by Natasha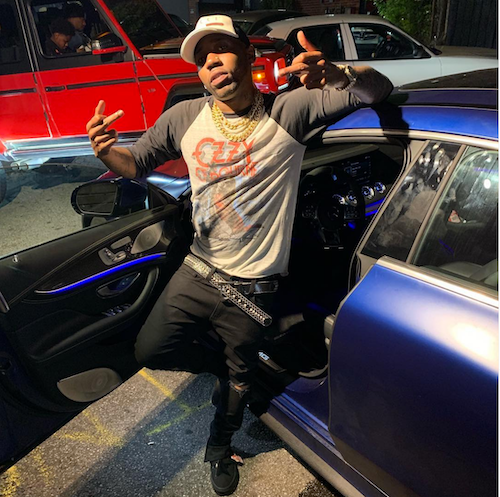 This doesn't look good for YFN Lucci. The rapper, who is also Reginae Carter's on-again off-again boyfriend, had his car shot up in Miami Friday night, and one person was injured. It seems his sometimes girlfriend may have also been in Miami. Details inside.
Rapper YFN Lucci was down in Miami on Friday when his Mercedes Benz G-Wagon was reportedly shot all the way up. There's video proof of the scary damage as well. According to TMZ:
YFN Lucci's Mercedes SUV was shot up Friday night in Atlanta, and when police responded, they found a man suffering from two gunshot wounds. We're told the victim was not Lucci, and the rapper isn't listed on the police report.

....

Our sources say the gunshot victim told cops he was driving when shots started ringing out, piercing through the vehicle and striking him in his left shoulder.
While the car is reportedly registered to his mother, folks claim it's definitely Lucci's. The SUV is pictured in the background of his Instagram pic above as well, which was posted on April 13th. The car was also used in one of his music videos.
The bullet holes are a-plenty, so somebody def had it out for him. The SUV was shot up on the driver's side, passenger's side, passenger windows on both sides, side doors, the rear window, the rear door, the bumper and even one of the rear tires. While one person has been injured, there have been no fatalities reported, thankfully.
Lucci reportedly picked up his shot-up ride from a salvage yard earlier this week. A mess.
As for whether Reginae was with him, it's unclear. She has yet to comment about the incident, but it appears both she and her mom Toya Wright were in Miami this past weekend celebrating Mother's Day with fam and friends:
Photos: Instagram