The Internet Wins Again With Hilarious Zion Williamson Memes After 2019 NBA Draft Lottery
​
May 15 | by _YBF
​ ​ ​ ​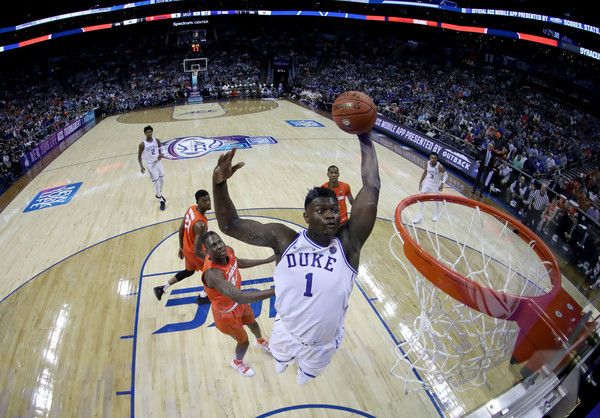 The Internet is losing it after a 2019 NBA mock draft was released. Get your laugh on inside...
The sports world was rocked after the 2019 NBA Draft Lottery was announced. The New Orleans Pelicans won the right to the No. 1 overall pick, and now folks are losing it. The reason? Duke sensation Zion Williamson. Looks like he'll be heading to N.O. although sources claim he wanted to go to NYC. Or L.A. Or literally anywhere else. Especially since New Orleans had only a 6% chance of getting said #1 spot.
Zion Williamson was QUICKLY whisked out of the room after Pelicans were announced the winner of the draft lottery. Source said the former Duke star was rooting to go to New York, but now is going to New Orleans.

— Marc J. Spears (@MarcJSpearsESPN) May 15, 2019
Rounding out the top five is the Memphis Grizzlies, New York Knicks, Los Angeles Lakers and Cleveland Cavaliers.
People are sounding off about Zion Williamson heading to New Orleans - pending any major trade news - and the memes are hilar. Get your laugh on below:
Zion Williamson's reaction when the New Orleans Pelicans won the No. 1 pick pic.twitter.com/izkx7qMRX3

— Basketball Forever (@Bballforeverfb) May 15, 2019
Reporters : How excited are you that you're going to be playing in New Orleans next year !?

Zion Williamson : pic.twitter.com/0bN1AyAzOM

— Brandon J. Lane (@HonestlyGifted) May 15, 2019
Zion when the Pelicans draft him pic.twitter.com/5y1yZf8u6v

— Ja morant pick #3 SZN (@TenThousand13) May 15, 2019
Zion when he realize it's nothing but beautiful black women in New Orleans: pic.twitter.com/hTUf3cxTb1

— Big Fish (@problematicape) May 15, 2019
Cavs & Knick's fans all year: "Tank for Zion!" "Can't want to get that number one pick!" "Change is coming!"

The NBA draft Lottery: pic.twitter.com/V59N0dr8EQ

— For The Culture (@FTC__Podcast) May 15, 2019
"Zion Williamson practicing with the pelicans so they don't draft him" pic.twitter.com/sxRr02bMyV

— David (@eurosfinessed) May 15, 2019
BREAKING NEWS: Actual footage of Anthony Davis sneaking out of New Orleans after hearing the Pelicans got top NBA draft pick. pic.twitter.com/Pjze9ckBum

— David Alan Grier (@davidalangrier) May 15, 2019
HA!
The 2019 NBA Draft goes down Thursday, June 20th.
Photo: Getty
​ ​
​ ​ ​