Trey Songz MAY Have Just Announced He's The Father Of A Brand New Baby Boy
May 16 | by Natasha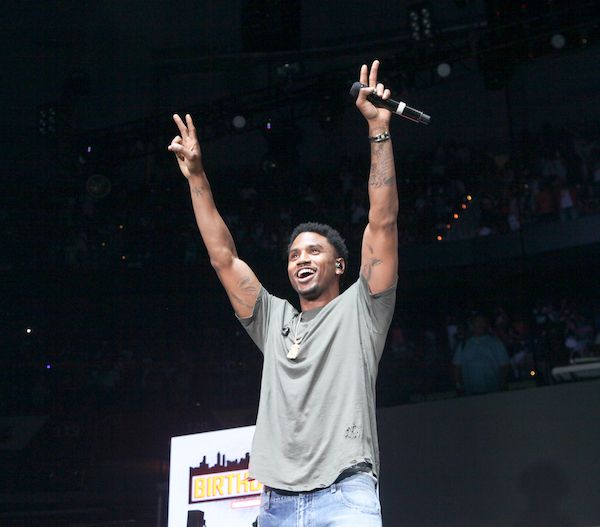 Looks like Trigga went from Zaddy to Daddy for real. We think. Deets inside on what seems to be an announcement from Trey Songz about a brand new baby boy.
Is Trey Songz somebody's baby's faavah?! He just might be.
His latest Instagram posts have folks scurrying to figure out what's really going on. The "Chi Chi" singer, who has indeed become the playboy of playboys in these celeb streets, posted up a pic of himself with a baby, whom we assume is a boy thanks to the blue heart emoji. Also, because one of his two brothers, Forrest, commented on the pic saying "Nephew." Trey also has two other siblings - a brother named Alex and a sister named Nikki - so it's possible - not sure how likely, but possible - that he's trolling with his own nephew.
His mother, April Tucker, also posted the picture saying "My Grandbaby."
34-year-old Trey posted this additional pic of the little cutie, but deleted almost immediately.
Of course, his comments from fans are in a tizzy wondering if he just made a huge announcement.
Singer Kehlani interestingly commented "Finally," as if she has some tea she's been holding on to. She didn't confirm anything more, but the new mommy did respond to a fan with an emphatic "No" when they asked if Trey is her baby's daddy. She didn't specify if it's her baby he's holding though.
If Trey is somebody's daddy now, that would further explain his very short lived relationship with Lori Harvey. Speaking of Lori, she commented as well telling him congrats and that she's happy for him.
We would think she would def know if he did, in fact, just welcome a baby boy. But knowing Hollyweird, you never really know.
Congrats Trey, if you are the father!
Photos: shutterstock.com