Lamar Odom Reveals He Used A Fake Penis To Pass 2004 Olympics Drug Test
​
May 18 | by _YBF
​ ​ ​ ​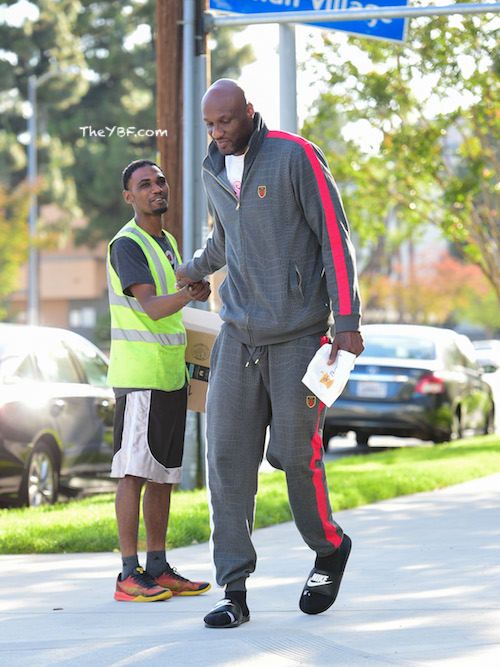 Lamar Odom went to extreme lengths to secure his spot on the USA Basketball team for 2004 Summer Olympics. More inside...
Former NBA superstar Lamar Odom - above in L.A. recently - is letting the world in on what it was like for him behind-the-scenes during the peak of his basketball career.
In 2004, Odom was offered a spot on the U.S. Men's Olympic basketball team, which he called "one of the biggest honors in my career" in his new memoir, "Darkness To Light."
In the book, the 39-year-old writes about how he used a prosthetic penis in order to pass a drug test prior to the 2004 Summer Olympics.
He said USA Basketball called him up and informed him an official would be coming to perform a drug test in the next few days. The thing is, Odom had been using drugs and he knew he wouldn't be able to pass the test, which would disqualify him from competing at the Olympics in Athens, Greece.
"There was absolutely no way I was going to pass," he writes. "I'd been smoking weed every day that summer. Panic set in."
That's when he started researching ways to pass a drug test.
"We started googling 'fake penises' and studied different ways to beat a drug test," he writes. "After an exhaustive search we ordered a giant, rubber, black c— to arrive the next day."
OMG. We can't.
Odom had his drug-free trainer trainer "to urinate into the reservoir of the phallus, which was hidden in the balls," he writes.
"He handed me the rubber penis and left the bathroom as I strapped it on," Odom writes about how his secret plan went down.
The NBA security official entered the bathroom and watched Odom use the bathroom from two feet away. Odom squeezed his trainer's urine from the fake penis and was extra careful not to get caught.
"I unzipped my pants and carefully slid the fake penis through the zipper hole. To get the pee to come out of the tip, I had to squeeze the shaft repeatedly," Odom writes.
Odom says he "was paranoid it wouldn't work," however, he ended up passing the test, all thanks to his trainer.
"He stuck a thermometer in the cup to gauge the temperature … satisfied that the pee was mine, said 'Welcome to Team USA,' " Odom writes.
Lordt. By any means necessary.
Odom ended up copping a bronze medal after appearing in eight games with Team USA.
In the book, Odom also opens up about sleeping with over 2,000 different women, how he regrets cheating on his ex-wife Khloe Kardashian, details about the night before his near fatal drug overdose, and more. Get those highlights HERE.
Photos: Splash
​ ​
​ ​ ​