The NFL 'Investigating' After Ezekiel Elliott Was Cuffed At A Festival After Getting Physical With Security
​
May 21 | by Natasha
​ ​ ​ ​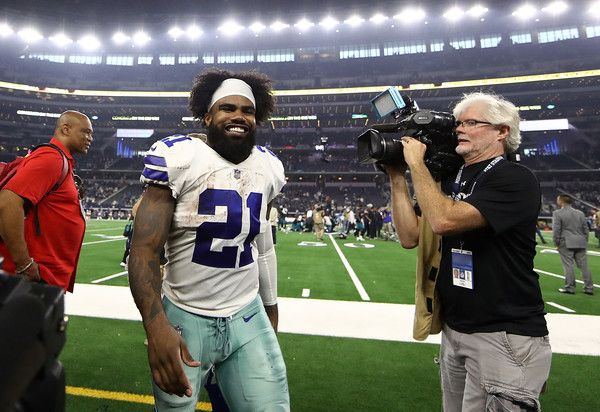 Dallas Cowboys star Ezekiel Elliott was cuffed in Vegas over the weekend after getting physical with a security guard at a music festival. The NFL, though, allegedly thinks it's "no big deal." Watch the video and get the deets inside.
Ezekiel Elliott was amongst the stars in Vegas over the weekend for the Electric Daisy Carnival (EDC) music festival. But he was likely the only one cuffed for shoving a security guard to ground.
In a video obtained by TMZ, Ezekiel is seen roaming around before the incident, physically continuously trying to get the woman he was with - allegedly his girlfriend - to stop walking away from him. Then things went further left around 3 a.m. local time that Saturday. Ezekiel - who appears to be possibly not sober - walked up to a security guard saying "You got something to say?!". The guard was shoved to the ground, either intentionally or non intentionally. Other guards swooped in and cuffed him while the woman he was with pleaded with them.
Elliott's attorney, Frank Salzano, said Zeek was released shortly after the incident. He also told ESPN's Todd Archer, calling it "an overreaction by security."
Using your body - one you get paid handsomely to be in top notch power status - to block another person, especially a woman, from moving or to intimidate is still problematic.
Cowboys owner Jerry Jones said about it all:
"What we are aware of is he wasn't arrested and hasn't been charged. We'll just continue to gather information, and that's all we can say at this time."
That's all well and good. But a source implies the investigation will be in vain. The NFL itself unsurprisingly doesn't think this situation is all that big of a deal.
A league source told ESPN's Adam Schefter in a text that the NFL is also "still gathering information," but the individual doesn't "think it's a big deal," and added, "looks like he was pushed and punch wasn't thrown."
Of course. Let's continue to minimize his childish and irresponsible off-field actions. We all know throwing a punch isn't the line that need to be crossed in order for the league to give a f---, and that's whether it's caught on camera or not. They will only (semi) care if an overwhelming public backlash happens. Ask Ray Rice's now wife (who also defended Ray).
Ezekiel was suspended 6 games in 2017 over domestic abuse accusations involving an ex-girlfriend. Interestingly, Ezekiel spoke to media at training camp the following day - before this video surfaced - about maturing off the field.
"Just kind of growing up," Elliott said. "I came into this league real young and had a lot to learn. I got those boo-boos, I messed up a couple of times and I learned from my mistakes. It made me a better person."
Comments like these from his fans - this one found on the Youtube page showing the video - shows exactly the blame shifting mindset of many:
He should probably surround himself with better people. He's such a good guy. Idk if it's the same girl from the suspension but damn man, find a better girl. With the stress pro athletes are under they have to have a super woman by their side, not one thats going get in a fight with you all the time in public. That being said, he barley touched that dude lmao. Guy was definitely an Eagles fan flopping over like that
We'll see what happens. Even though we know the answer is not a damn thing.
Photo: Getty
​ ​
​ ​ ​