Lamar Odom Believes Brothel Owner Tried To Kill Him, Says Khloe Beat The Breaks Off A Stripper, Admits He Still Smokes Weed
​
May 28 | by _YBF
​ ​ ​ ​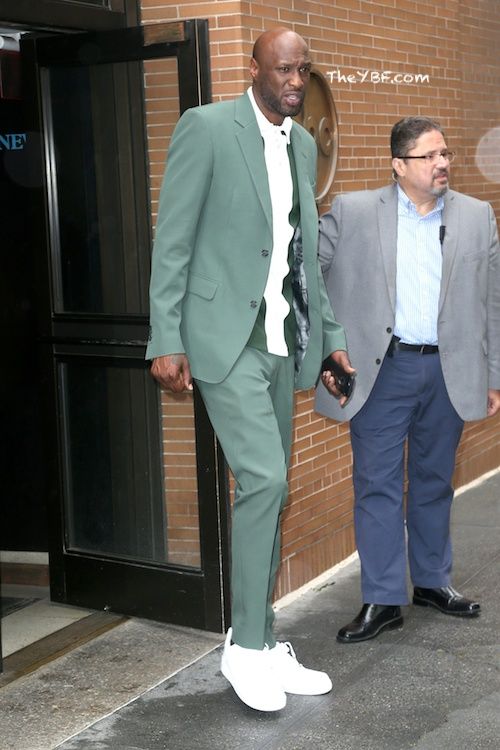 Lamar Odom is on the promo trail for his new memoir and he's still spilling tea. More inside...
Lamar Odom is on the road to recovery as he opens up more and more about his life following his near fatal drug overdose inside a Nevada brothel in 2015. He has a new memoir titled, "Darkness to Light" that's set to drop soon, so the former NBA superstar is currently making press runs to promote.
The former Lakers baller was seen looking seemingly uncomfortable and on the verge of crying after his interview on "The View" this morning. He actually looked quite teary eyed throughout it.
While chatting with the ladies on daytime television, the 39-year-old revealed he believes Dennis Hof - the man who owned the Love Ranch where Lamar almost died - tried to kill him. The reason? He doesn't know
Odom claims while he was fighting drug addiction, he did NOT take any drugs the night before he almost overdosed on drugs.
"Dennis Hof, I don't know what he had against me but I didn't do drugs that night," Odom said. "I don't know if he tried to poison me. I don't know what he had against me ... he tried to kill me."
He said his lawyer investigated and found some workers that support his claim. Wow.
Peep the clip below: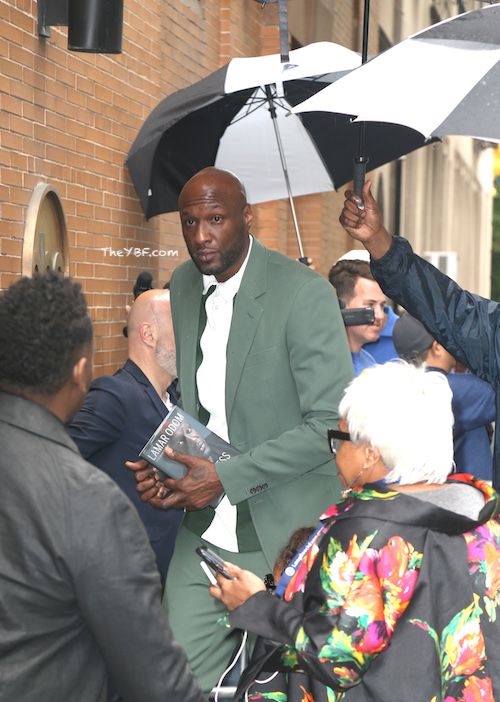 Dennis Hof died in October 2018, so that's the end of that.
In his memoir, Lamar talked about how he became a professional liar to keep his drug addiction a secret. In 2012, his then-wife Khloe Kardashian caught him with a stripper and beat the breaks off her. Oh, and her mom Kris Jenner was there as well when it all went down.
"Khloe's beating the s–t out of one of the girls who tried to protest. She's dropping vicious blows all over the top of this girl's head," Lamar wrote. Kris was "screaming" while security guards tried to intervene and stop the fight going on between Khloé and Lamar's mistress. The Good American founder allegedly told Lamar to pack his belongings while security removed "all traces of drugs" from the room.
That was one of the 2,000 women he admitted to sexing in his lifetime.
Speaking of Khloe, he said he decided to marry Khloe after only a month of being together because she reminded him so much of his mother, who passed away when he was young. Peep the clip below:
Oh.
In a different interview with ABC, the former Lakers baller revealed he still smokes marijuana and joked about still doing drugs. He was asked about the last time he did cocaine. Lamar started laughing when asked if he had done it "yesterday," and said the first time he ever tried it was "like unleashing a demon."
"I smoke marijuana to this day, just to help with some anxiety," he said.
Peep the clip below:
Odom also opened up about having to cough up cash to pay for a lot of abortions, which is a hot topic in the media right now.
"I've paid for plenty of abortions over the years. I'm not proud of it. It's the law and legal, but I don't feel proud about it at all," he said.
Watch him get candid about hiding his addiction and the effect losing his mother had on him below:
Photos: Instar/Backgrid/Splash
​ ​
​ ​ ​