NBA Commissioner Adam Silver Had A Talk With Drake About His Courtside Antics + Klay Thompson Is Skipping Drizzy's Emo Songs During Finals
​
May 30 | by _YBF
​ ​ ​ ​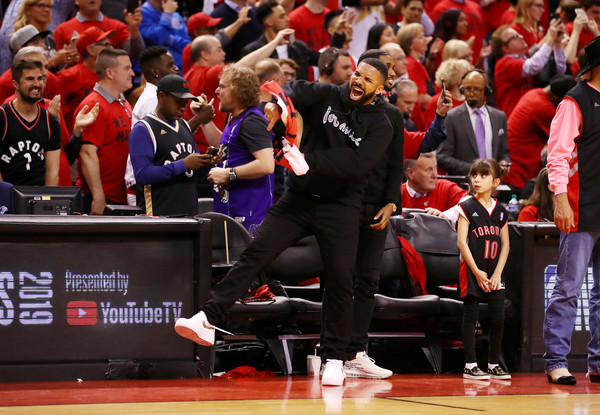 NBA Commissioner Adam Silver had to have a talk with Drake about his courtside antics. Find out what he told him, plus watch Klay Thompson talk about skipping Drizzy tracks during the NBA Finals inside...
Drake caused quite a stir during the Eastern Conference Finals as he cheered on his beloved Toronto Raptors against the Milwaukee Bucks. The SCORPION rapper was doing the absolute most, dapping up the Raptors mascot, stanning out for the players, and hugging the coach.
Drizzy - who is the Raptors global ambassador - got so out of control, Bucks coach Mike Budenholzer blasted him for being extra.
Well, his antics caught the eye of NBA Commissioner Adam Silver and he decided to have a talk with the rapper.
Silver told Yahoo Sports he spoke to Drake about his overzealous support. While he appreciates the rapper's passion, he wanted to make sure the franchise knew about boundaries.
"We appreciate how big a fan he is, and I know the Raptors do," Silver said of Drake. "He has the official designation 'ambassador' ... and he's a global star, so it's a huge deal that he's so engaged with the team and loves the NBA so much."
"Obviously, there's some lines that even ambassadors shouldn't cross," he added.
Drake took to his Instagram Story after the Bucks head coach made comments about him. pic.twitter.com/HMdZ5wupnk

— NBA on ESPN (@ESPNNBA) May 23, 2019
As you know, Drake was blasted for rubbing Raptors coach Nick Nurse's shoulders during the game. Adam Silver said Drizzy should avoid doing things like that.
"I think Drake understands as excited as he is and as appreciative we are of his support that there's got to be lines drawn. Obviously, you don't want to end up touching a coach because a coach may not realize what's going on in the middle of the action," he said.
It has also been reported the league spoke to the Raptors about Drake's sideline shenanigans during the Eastern Conference Finals, although details about that conversation have yet to be released.
With the 2019 NBA Finals set to kick off this Thursday, Golden State Warriors player Klay Thompson says he's going to chill on the Drizzy tracks.
While Klay says he's a Drake fan, he will be skipping over his tracks as he prepares for the NBA Finals. During a recent press conference, the NBA champ was asked whether he would be listening to songs by the Young Money rapper to get him in the zone.
"If it's one of his soft, R&B songs, I'mma skip it 'cause I'm in 'kill mode' right now trying to get these 4 games, so I'll skip 'Hotline Bling' and anything along that line," he said.
Ha!
"He's a great artist. Do I like him as a Raptors fan? No. But, I like him as a musician. He's extremely talented, but I will definitely skip the song if I don't like it."
Peep the clip above.
The 2019 NBA Finals kicks off tonight at 9pm EST on ABC. Let's see how Drake will act.
Photo: Getty
​ ​
​ ​ ​