Maleah Davis Update: Mother's Fiancé Allegedly Confesses To Killing 4-Year-Old, Black Bag & Bones Found In Arkansas
​
May 31 | by _YBF
​ ​ ​ ​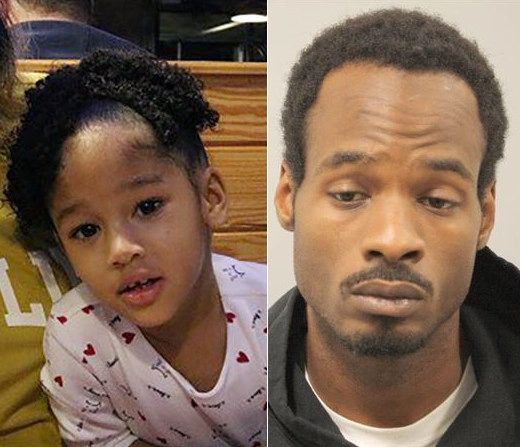 Derion Vence - the fiancé of the victim's mother - reportedly confessed to killing 4-year-old Maleah Davis and dumping her body in Arkansas. Police have found a black bag with bones and blood inside that is believed to be the little girl's body. Details inside...
Suspected killer Derion Vence has reportedly confessed to killing and dumping the body of 4-year-old Maleah Davis on a side road in Arkansas, which is over 300 miles from her home in Houston. He allegedly confessed to Quanell X, a community activist who advocated for Maleah's mother, Brittany Bowens.
Vence, the ex-fiance' of Maleah Davis' mother, is being flown to Hope, Arkansas - the place he claims he dumped the little girl's body.
Before his arrival, police in Hope, Arkansas reportedly found a black garbage bag which contained bones and blood and gave off a "foul odor."
Arkansas Sheriff: We've located a black bag with a foul odor, we can't comment further until we do forensics test. #khou11

— Brett Buffington (@BrettKHOU) May 31, 2019
It has not been confirmed if the bag contains Maleah's remains.
Quanell told reporters that Derion confessed that the girl died by accident and her body was dumped in Arkansas.
"All I can say is he told me it was an accident, and that she is dead and where he dumped her body," Quanell told reporters in a southwest Houston parking lot
The Houston Police Department has not confirmed Vence's confession and is still investigating everything they have been told by Quanell.
Quanell also spoke to The Houston Chronicle:
"He was very specific with the amount of distance and time," he told the publication. "When I was able to leave and look it up on my phone, he was to the point on the distance and time. He said that he pulled over in Arkansas, got out of the car, walked to the side of the road, and dumped the body off the road."
Vence reported Maleah was missing on May 4th after Maleah's mom left her with him on April 30th to go out of town to attend a funeral. Little Maleah was last seen alive on surveillance footage entering her Houston apartment with her mother's ex-fiancé. Days later, footage showed Vence leaving the apartment holding a black trash bag.
Vence stumbled into a hospital with his one-year-old son claiming three Hispanic men abducted Maleah after he had pulled over on the side of the road to check on a noise coming from his car. He said he was on his way to the airport to pick the mother up.
Soon after, a search for the 4-year-old launched and has been going on ever since.
After searching the family's apartment, investigators found blood evidence that matched Maleah's DNA that was collected from her toothbrush.
Vence was arrested on May 11th and charged with tampering with evidence in the disappearance of Maleah. He was originally held in the Harris County Jail on a $999,999 bond, but a judge reduced that amount to $45,000.
Quanell X claims he's no longer representing Maleah's mother, Brittany Bowens, because he believes she knows way more about the disappearance of her daughter and isn't sharing the information with police.
Peep the clip below:
Brittany Bowens has received backlash from people who don't believe she's telling the full truth. She was heckled outside of a courtroom earlier this month with people protesting and questioning her about her daughter's disappearance. She was met by a crowd of people chanting "Justice for Maleah!"
A court order banned Bowens and Vence from seeing Maleah's other two siblings on May 8th. Maleah's younger half-brother was reportedly sent to his paternal grandmother, while her older brother was put into the custody of his paternal aunt. The order was reportedly the result of separate motions by Brittany's own mother, Brenda, and the Department of Family and Protective Services. It was previously reported CPS had taken custody of Maleah last year after she was rushed to the hospital with a seizure and a head injury.
While the bag of human remains have been found, the search for Maleah continues until it has been officially confirmed it's her.
So tragic. Prayers up to everyone in Maleah's family.
Photos: Houston Police Department
​ ​
​ ​ ​