Lil Kim Reportedly Sued For Alleged Insurance Fraud & $15K In Upaid Medical Bills, Reunites With Lil Cease
​
Jun 02 | by _YBF
​ ​ ​ ​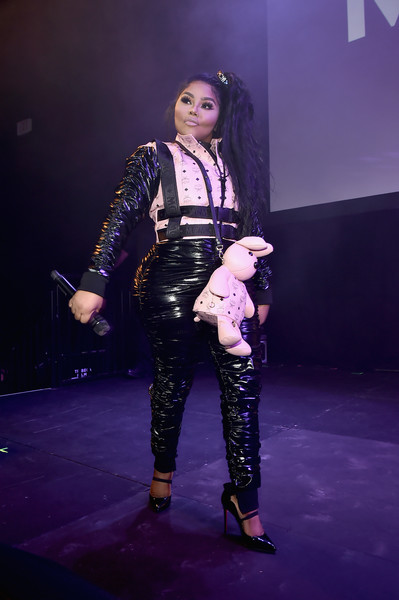 Lil Kim is being sued by a urologist who claims she's involved in insurance fraud and that she still owes him $15,000 in unpaid medical bills. Get those deets, plus see Kim reunite with Lil Cease and Brooklyn re-name a street after the Notorious B.I.G. inside....
Lil Kim has new legal issues on her hands.
The NYC raptress is being sued by New Jersey urologist, Dr. Gregory Lovallo, for breach of contract for allegedly failing to pay $15,000 for specialized medical treatment she received that the doctor believes is part of a scam.
The urologist also believes that Kim's treatment may have been related to an insurance scam that she later profited off of. Oh?
According to Bossip, the doctor doesn't go into details about what exactly made him suspect the "How Many Licks" rapper was part of an insurance scheme, but he did say that she was "unjustly enriched" as a result.
"Based upon information and belief, defendant improperly converted insurance proceeds to his/her own personal use," Dr. Lovallo's complaint states.
Dr. Lovallo is seeking $15,000, plus interest and his lawyer's fees paid.
The "All About The Benjamins" rapper hadn't responded to the case as of May 31st. If she doesn't respond by next month, a judge could put her in default over the case. Last year, Kimmy filed for bankruptcy after admitting she owes millions to creditors.
This news comes after a super busy week for the female rapper. She recently reunited with Junior M.A.F.I.A. member Lil Cease at TAO Downtown during a special birthday dinner for their friend/late rapper the Notorious B.I.G. They celebrated in honor of what would've been Biggie's 47th birthday.
It was the first time Kim had seen Cease since he snitched on her in court during her perjury case in 2005. Kimmy spent a year in federal prison. After she got out, she blasted Cease other JM members for betraying her and breaking the street code.
They've let bygones be bygone and patched things up in honor of Biggie:
She also reconnected with Biggie's daughter T'yanna, whom she posted a picture with on Instagram with the caption, "Yes this is that beautiful little girl that was sitting on my lap in The Lox "We'll Always Love Big Poppa" video."
Rappers Fabolous, Fat Joe, Jadakiss, and Styles P were also in the mix, along with Kim's manager Big Fendi:
Speaking of Biggie...
A Brooklyn street is getting the Biggie treatment.
On June 10th, the Fulton Street intersection at St. James Place will soon be known as Christopher Wallace Way, to commemorate the life and legacy of the Brooklyn-born rapper, Notorious B.I.G.
His mother, Voletta Wallace, his two children T'Yanna and Christopher Jr., as well as close friends and other family members are expected to attend.
"Honoring Biggie symbolizes more than just one man," LeRoy McCarthy told Rolling Stone in November. "It symbolizes a culture. It symbolizes a borough. It symbolizes a people, and hip-hop is worldwide."
Nice!
Photo: Getty
​ ​
​ ​ ​