Lots Of Viewers Had To Take A Break During 'When They See Us' Because It Was Too Gut Wrenching + Central Park 5 Prosecutor Linda Fairstein Gets Dragged
​
Jun 02 | by _YBF
​ ​ ​ ​
Ava DuVernay's "When They See Us" was too much for many to handle causing many to turn it off - temporarily - because it was too raw, emotional and gut-wrenching. But it's oh so necessary.
Also, the Central Park 5 prosecutor, Linda Fairstein, is getting rightfully dragged online for her role in putting five innocent teens behind bars. More inside...
Ava DuVernay's miniseries "When They See Us" just premiered on Netflix and it's too much for viewers to handle.
The Netflix miniseries tells the story of a group of Black and Latino teenage boys who were wrongfully convicted of a brutal rape in Central Park. They became known as the Central Park Five. Antron McCray, Yusef Salaam, Korey Wise, Raymond Santana, and Kevin Richardson, ages 14 to 16, were wrongfully accused of raping and nearly beating to death a white female jogger named Trisha Meili, who was a 28-year-old banker, on the night of April 19, 1989.
It became one of NYC's most notorious cases. Donald Trump - who was a real estate developer at the time - paid an estimated $85,000 to post an ad in local newspapers calling for the death penalty to be reinstated. That ad played a key role in shaping the public's opinion about the case.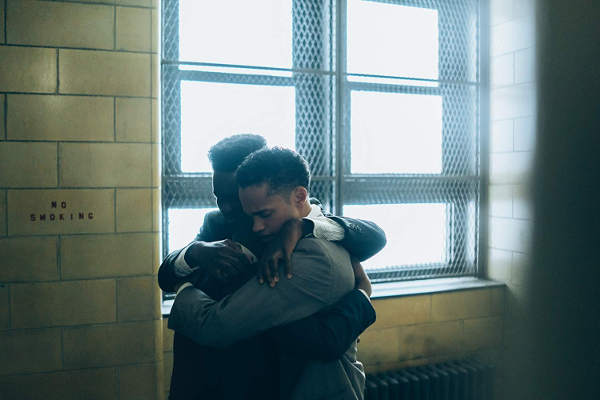 The Central Park 5 spent between 6 and 13 years in prison before the real perpetrator, Matias Reyes, came out and confessed he was the one who assaulted the female jogger.
All of their convictions were overturned and New York City reached a settlement for $41 million. Santana, Salaam, McCray, and Richardson each received $7.1 million from the city for their years in prison, while Wise received $12.2 million for his time in prison.
Korey Wise's story hits harder being that he was taken into custody when his name wasn't even on the list detectives had when they were rounding up potential suspects following the brutal attack. Wise didn't fit the description either. He only went down to the precinct to support his friend Yusef, who's name was on the list. Wise was 16 and the oldest out of the bunch, so when they were convicted, he was sent to adult prison while the others went to juvenile detention centers.
During press interviews, Ava said she wanted to humanize the boys and share what they went through from their perspective to the world.
This four-part film is for Korey, Antron, Kevin, Raymond and Yusef. And all the boys and girls across our country, who are guilty to society before they are ever innocent. Thanks to all who've tweeted and shared. It shows that you see them. #WhenTheySeeUs https://t.co/GjhpoDeUbK

— Ava DuVernay (@ava) June 1, 2019
And that's exactly what she did. In fact, she did it so well, people could barely stand it.
Viewers have been sounding off on social media, saying they had to turn the series off due to it being too emotional to watch.
Had to turn "When They See Us" off. I got too angry. To see the true story of the way the police department failed those five kids, made me angry. To see how they played them, abused them, scared them... made me angry. They knew that these boys CLEARLY Did not know their rights.

— M.Jayy (@SincerelyMJayy) June 2, 2019
So I only watched the first part of When They See Us and this is so saddening but also so true. This got my blood boiling. The worst part is that this still happens.

— Darren Shamburger (@DarrenShamburg5) June 2, 2019
I tried to watch When They See Us last night.. I turned that shit off 30 mins in..
I got too fucking angry lol

— Tanika (@MXI1011) June 2, 2019
After watching the first episode of when they see us .. I don't even think I wanna finish watching the series, Shit just pissed me off !

— B (@amornae__) June 2, 2019
I tried watching When They See Us on Netflix and the first episode pissed me off so much i couldn't finish watching

— baby girl (@jazzyyyxo) June 2, 2019
Some viewers were able to watch the entire thing, but after watching they were left fuming:
I was watching " When They See Us " and became overly emotional because I pray to God every night that my brothers, my children or any male in my life NEVER go through that. I ask for God to protect my boys daily.

— Pj (@pushaj__) June 2, 2019
"When They See Us" on Netflix truly had my blood boiling the entire time I watched it. But if you haven't seen it, please watch it.

— Tamera (@tamerakiana_) June 2, 2019
Wow! This was soooo good! Warning at times it will be extremely painful to watch. I broke down crying for these boys and what the NYPD and prosecutors did to them several times. — watching When They See Us

— Yolanda M. Jennings (@JenningsYolanda) June 2, 2019
The first episode of "When They See Us" is a punch in the gut but it is an absolute must watch.#WhenTheySeeUs
pic.twitter.com/D3t9Wf2d9c

— Jake (@JakeVK) June 2, 2019
I have a different level of hate for Trump after watching When They See Us...

— Jennifer Williams (@iamjennifer) June 2, 2019
Viewers are also dragging the Central Park 5 prosecutor Linda Fairstein, and rightfully so. She went after the five teenage boys with ZERO evidence tying the teens to the jogger's attacker and to this day she still believes their confessions are legitimate, despite the fact detectives spoke with the teens when their parents were not present, which is illegal.
In 2018, after New York City released thousands of pages of case documents supporting the decision to vacate the convictions, Fairstein wrote an op-ed in the New York Law Journal defending the initial convictions and saying the confessions weren't coerced.
Oh, and get this, she's also the same woman who helped Harvey Weinstein get out of a sexual assault charge in 2015.
In the series, Fairstein is played by "Desperate Housewives" star Felicity Huffman. She recently pleaded guilty in the college admissions bribery scheme, the biggest name to do so in the scandal.
Don't be fooled, this is the face of evil. It doesn't matter how many actual guilty people Linda Fairstein is responsible for putting away. Her corruption, racism and destruction of 5 young innocent children's lives is her legacy. Disgusting. #WhenTheySeeUs pic.twitter.com/BFf3cDV4wh

— Mariah (@Mariahs_Arrived) June 1, 2019
Can't wait to see the world rally together to finally get you up out of here @LindaFairstein. Every dog has its day and today it's yours. You might as well delete your Twitter now because you can't block us all. #CentralParkFive #WhenTheySeeUs

— Erin Danielle J. (@ErinDanielleJ) June 1, 2019
wait....so @LindaFairstein was a consultant for a sexual predator later in her life AFTER forcing innocent kids to confessing something they didn't even do? And this woman out here writing novels and living her best life!!! The FUCK?!!!! #WhentheySeeUs https://t.co/Vy2Dq5cb5t

— Doreen (@NasiDee) June 1, 2019
The Edgar Awards rescinded this lifetime achievement award to @lindafairstein after public outcry, including this thread. #WhenTheySeeUs https://t.co/RopEtaJ9KU

— April (@ReignOfApril) June 1, 2019
Glamour Magazine shouting out #WhentheySeeUs. Just so ironic because in 1993, just THREE YEARS after the CP5 were convicted, Glamour awarded #lindafairstein the "Woman of the Year" award. Never rescinded, even after exoneration. If you're not mad, you're not paying attention. https://t.co/mXdo8OiQO0

— Delilah Benson (@DelilahBenson12) June 1, 2019
I think the original quote says "stain" instead of scar, but when it comes to @LindaFairstein and what her lust for career advancement did to those INNOCENT boys' lives, BOTH fit. She is the damn stain.

May the shame she seems to NEVER feel finally find her. #FixItJesus

— yvette nicole brown (@YNB) June 1, 2019
The epitome of an "evil white bitch" #lindafairstein

— Jazzlynn Michole (@JazzlynnMichol1) June 1, 2019
Every single person in a position of power who was involved in this case deserves to BURN! Linda Fairstein, there's a special place in the pits of hell for you. #WhenTheySeeUs

— (@iZairois) May 31, 2019
Hmph.
"When They See Us" is currently streaming on Netflix, but be sure you're mentally prepared to watch because it's triggering and intense.
You can catch a behind-the-scenes look at the series HERE.
Photos: Atsushi Nishijima/Netflix
​ ​
​ ​ ​